Mice Magazine ACFBAA Page 3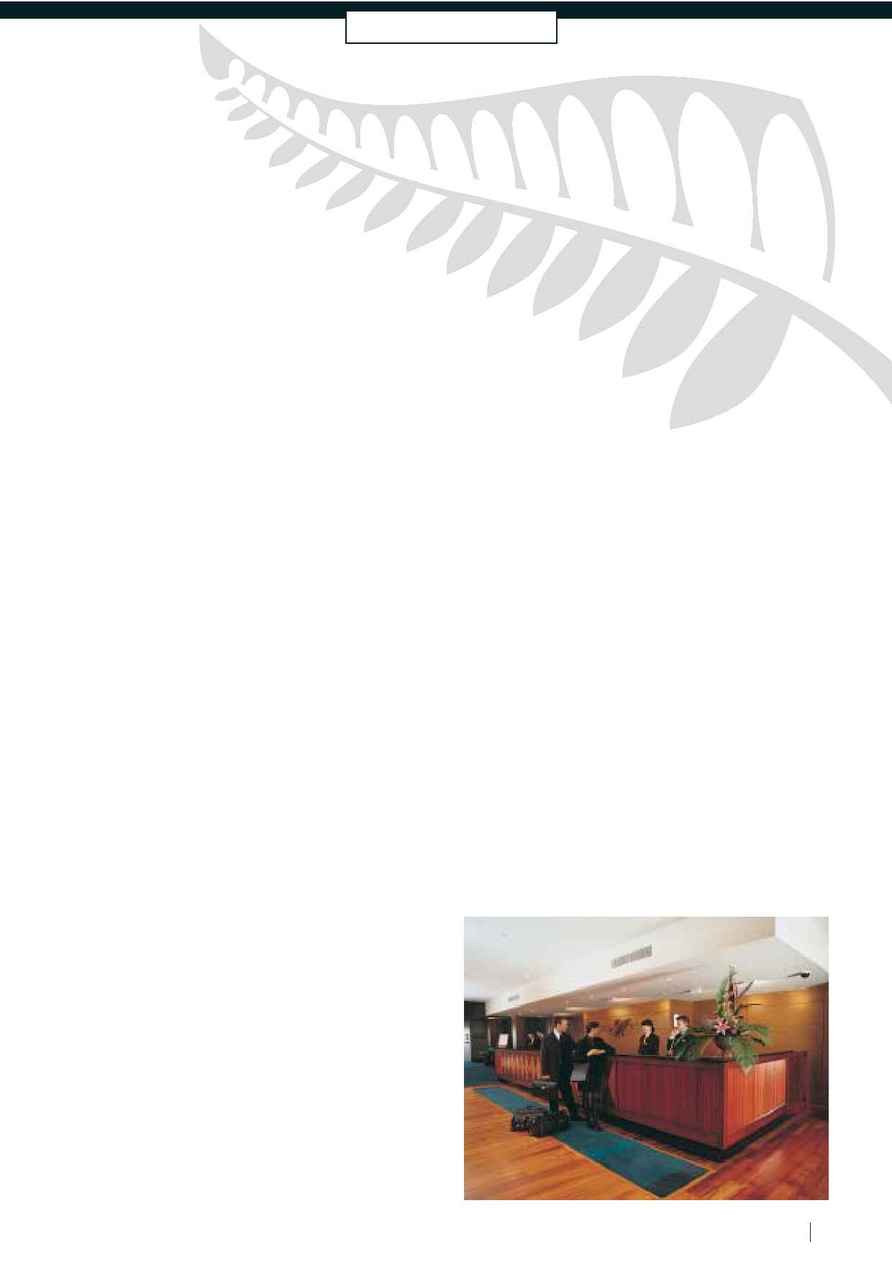 The Hyatt Regency Auckland is currently undergoing a $65
million dollar development project which involves the construction
of the new Residences Tower offering serviced apartments, the
expansion of the hotel's banqueting and conference facilities, and
the opening of a luxury health spa and fitness centre.
Opening from early in 2003, these changes will provide
Auckland with much needed quality accommodation,
conference and banqueting facilities.
The hotel's new Residences will add 132 rooms, studio suites,
one and two bedroom all suite apartments, penthouses and one
of Auckland's largest Presidential suites. The 17-floor tower
boasts New Zealand inspired dècor presented in elegant,
timeless simplicity. The design of the apartment kitchen has
already made an impact as winner of `The Kitchen and
Bathroom awards - 2000'. This new accommodation complex
will add to the hotel's existing 274 rooms that have been part of
the Auckland skyline since 1968.
Double the entertainment capacity
The conference and banqueting facilities are being more than
doubled - with new facilities providing the ability to host up to
750 guests at a banquet dinner in the Princes Ballroom and an
additional 550 guests in the Regatta room.The Regatta Room
alternately will also have the capacity to hold up to 37 standard
exhibition booths - enabling the hotel to host conferences of
up to 600 delegates with great ease.
The involvement of Staging Connections, one of
Australasia's foremost providers of audiovisual facilities, ensures
the most up to date electronic concepts and equipment
available in the marketplace. This makes the hotel one of the
largest inner city residential conferencing and banqueting hotels
In recognition of the increasing requirements of the incentive
market worldwide, also under construction is `Spa at the Hyatt',
a health club and luxury spa and fitness centre with a 25 metre
Star people and excellent service
To accompany these world class facilities, the hotel has
recruited a highly experienced executive team with
international experience to spearhead the project. The team is
ably led by Uli Hoppe, a general manager of 25 years standing
with Hyatt, who has supervised the launch of many new Hyatt
properties across the globe.
The Heritage Auckland is not only the largest hotel in New
Zealand with 467 accommodation rooms, but it is also one of the
best equipped city properties, for facilities, recreational opportunities
and conference possibilities. All with it's own classic style and
historic charm.
The hotel is a conversion from an historic department store into
a celebrated city hotel, already the recipient of several design
awards, and host to many yachting and fashion elite.
The largest conference venue is the spectacular seventh
floor Grand Tearoom overlooking the Viaduct Village and
Waitemata Harbour. Original deco detailing and an abundance
of natural light, offer a rarely found elegance for conferences
and gala banquet events up to 300 people.
Heritage Auckland has 12 other meeting rooms including a
second ballroom catering for up to a 300 people theatre style
and 200 for a banquet dinner.
For delegates on conference breaks or for accompanying
partners, there is plenty to do under the roof of Heritage
Auckland. There are two health clubs to choose from, a roof top
swimming pool, jacuzzi, sauna, an all weather lap pool, tennis
court, beauty shop and hair salon.The Viaduct Village or Queen
St shopping are just a short stroll away.
There are a selection of dining options at Heritage
Auckland and a lobby bar open till late. Hectors, the hotel's
signature restaurant, continues to impress with 13 culinary
awards in the last year to its credit. Resplendent in a seven story
high atrium, diners can relax amongst live tropical palm trees,
and cuisine by renowned executive chef, Brendon Coffey.
Heritage Auckland has a daily delegate package of just
$49.50 per person including GST. The package includes
tea/coffee on arrival, morning and afternoon tea, working
luncheon, standard audio-visual equipment and conference
room hire. Additional charges apply for use of the Grand
Tearoom. Conference package is valid until 30 November 2003.
For more information on a holding a conference at the Heritage
Auckland visit www.heritagehotels.co.nz
For images visit: www.images.heritagehotels.co.nz