Mice Magazine 006 Thumbs updown E Page 1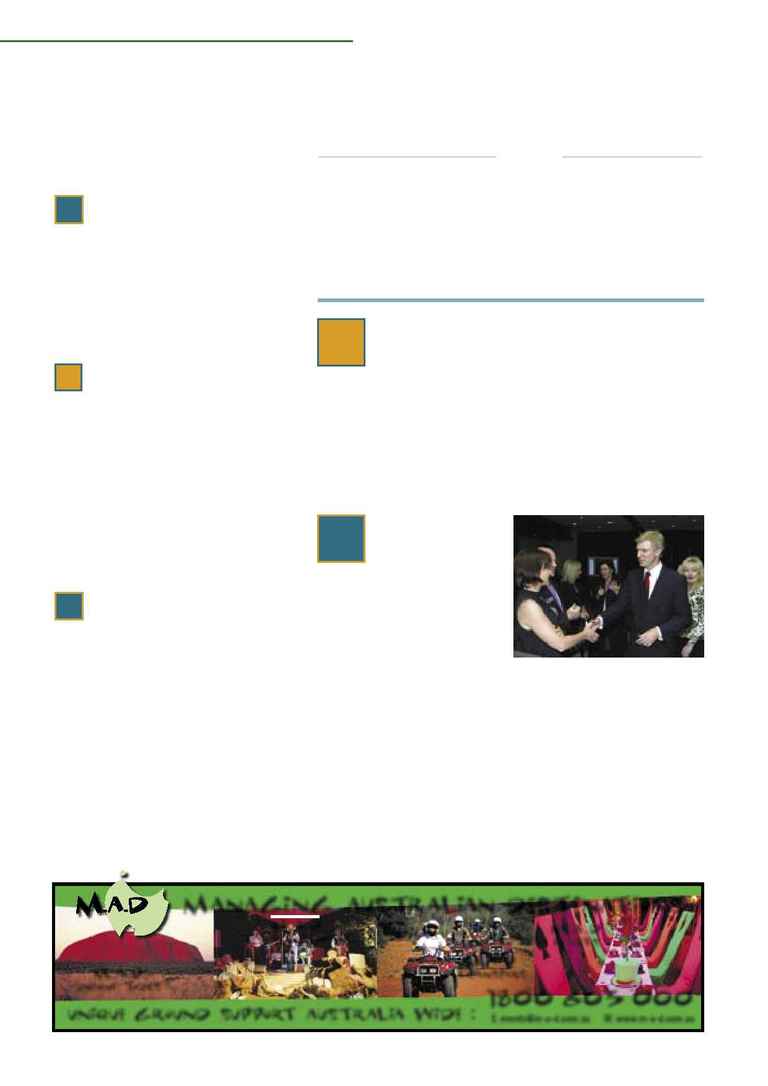 A judge at the Hotel Motel Association Awards in Sydney recently told
us the MC efforts of Getaway's Catriona Roundtree were not as good
as expected, particularly with her numerous references to the television
show. The judge said to liven up their own experience of the event (and her banter)
those seated on his table agreed they would skull a drink every time the G word was
mentioned. They were apparently well on the way to being drunk not long into her
anecdotes on being a travel reporter. But the bigger thumbs down came because when
asked what her favourite hotel in Australia was she said she preferred properties in
New Zealand or the Cook Islands.
earlier than usual to attend
a breakfast in the city. Even so, when
you do make the effort you are ever-
hopeful that the event will be worth the
extra effort. No such problem with a
breakfast organised by the Canberra Convention Bureau (with a little help from Peter
Jones Special Events). Held at Establishment in Sydney this breakfast was typical
Canberra: creative, different, entertaining and above all informative. From the frisking
and wisecracks by security guards at the front door to presentations by George W.
Bush and Chinese President Hu, this laugh-a-minute breakfast certainly gave invitees
the impression that Canberra does it well, and does it with a point of difference.
Even a real-life case study by Woolworths' Scott Eames was short, to the point, and
informative. Well done to Canberra...yet again!
UP / DOWN
It's not often we give a thumbs up to a
political party but we can't help ourselves
this time following the announcement by Victorian
Premier Steve Bracks of his Government's plans to
construct a 5000 seat conference centre adjacent
to the Melbourne Exhibition Centre. The new centre
is expected to be opened by 2008.
We have just one criticism from the
Meetings Industry Association of Australia's
annual conference in Melbourne in May - staging in
the main plenary hall. The opening act was no doubt
fascinating for those seated in the front rows of the
room but disappointing for many others because
the flat floored seating meant that seeing what was
going on was next to impossible. No doubt there are
plenty of reasons why the stage wasn't made higher
than it was...and we'll sure hear of them now.
Still at the conference, it would be remiss of
us not to mention the fantastic food at Crown
Promenade where meeting sessions were held. The
venue served up a variety of morning and afternoon
tea snacks - pastries and cakes one morning, iced
donuts and ice creams one afternoon - and plenty of
staff to help hungry and thirsty delegates. Lunches
were equally as tasty (and different). Hot and cold
buffet, gourmet sandwiches, mini hotdogs, and one
day soup to die for, were all waiting for delegates at
the lunchtime breaks. A pat on the back all `round to
the team at Crown Promenade!
Managing australian destinations
unique ground support australia wide :
E: events@m-a-d.com.au W: www.m-a-d.com.au