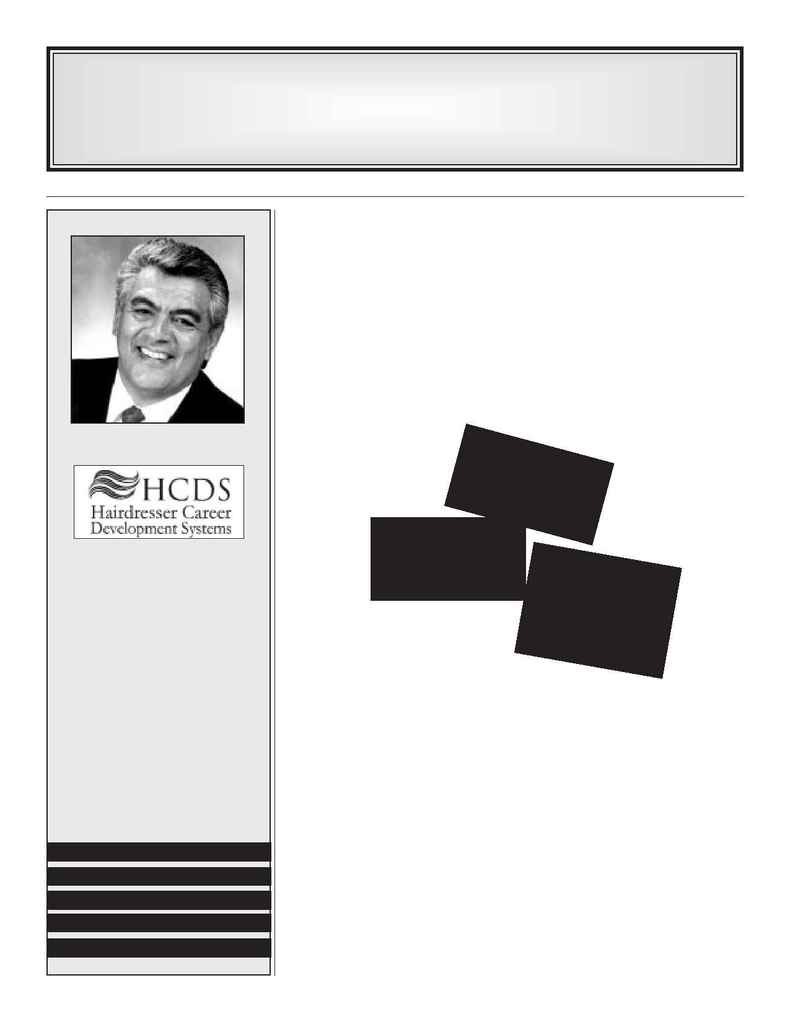 HELPING SALON OWNERS & MANAGERS MEET THE CHALLENGES OF SALON OWNERSHIP
HELPING SALON OWNERS & MANAGERS MEET THE CHALLENGES OF SALON OWNERSHIP
Junior Stylist Training Program
Hairdresser Success Tips
Business Tips
Next issue:
Jon Gonzales
Huntington Beach, CA 92649
"Education is our
business,
Excellence is our
standard!"
As I travel throughout the
United States conducting my
Business Management Seminars
and as a guest speaker at top hair
shows throughout the country,
one of the top questions I'm asked
over and over from salon owners
and managers is about the diffi-
culty of finding quality hair-
dressers. My answer to
this difficult question is
grow and train your own.
You as a salon owner
must take full responsi-
bility for your own
salon's
success or
failure. You
and you
alone must
establish
your own high quality control
standards. Excellence does start
at the top.
Traditionally most salon own-
ers depend on hiring staff that has
a clientele. Many more offer
enticements such as higher com-
missions, booth rental, special
privileges etc. This is the easy
solution, unfortunately many
salon owners fall victim to this
approach, which may be a tem-
porary solution, but long term,
and this can hinder the long term
growth and profitability of your
business. Hiring and soliciting
hairdressers and client list from
another salon owner is wrong,
you'll be creating an atmosphere
of dishonesty within your own
salon, many of these hairdressers
will walk on you when another
more enticing offer from another
salon owner comes along. You will
EMPLOYEE TRAINING AND
DEVELOPMENT
be creating conditions that can
hinder your salon's long term sta-
bility and growth. No salon can
continue to grow and prosper with
a constant merry go round of staff
turnover and instability. What you
should be looking for are potential
staff members that share your
vision, business goals and who
are stable. There will be times
when hairdressers may need
reasons for leaving prior employ-
ment, making sure you verify their
references .
The key to employee training
and development begins in the
hiring process. Refer to my book,
Creating your Salon,
help you develop a staff develop-
ment program, which is essential
to creating a successful and
profitable hair salon.
If your new prospect is unwill-
ing to share your business goals
and respect your leadership and
share your vision, these people will
be hard to train and develop.
selecting your winning team is hir-
ing them right out of beauty
August 2006
August 2006
Issue
Issue
BEAUTY SCHOOL FORUM
for students. Frequently
asked questions.
www.HCDS4you.com
(click beauty school forum)
B U S I N E S S T I P :
Redirecting problem
employees can be a better
solution then firing them.
B U S
I N E
S S
T I P
:
Build the reputation of
the salon, not the
reputation of a hairdresser
.