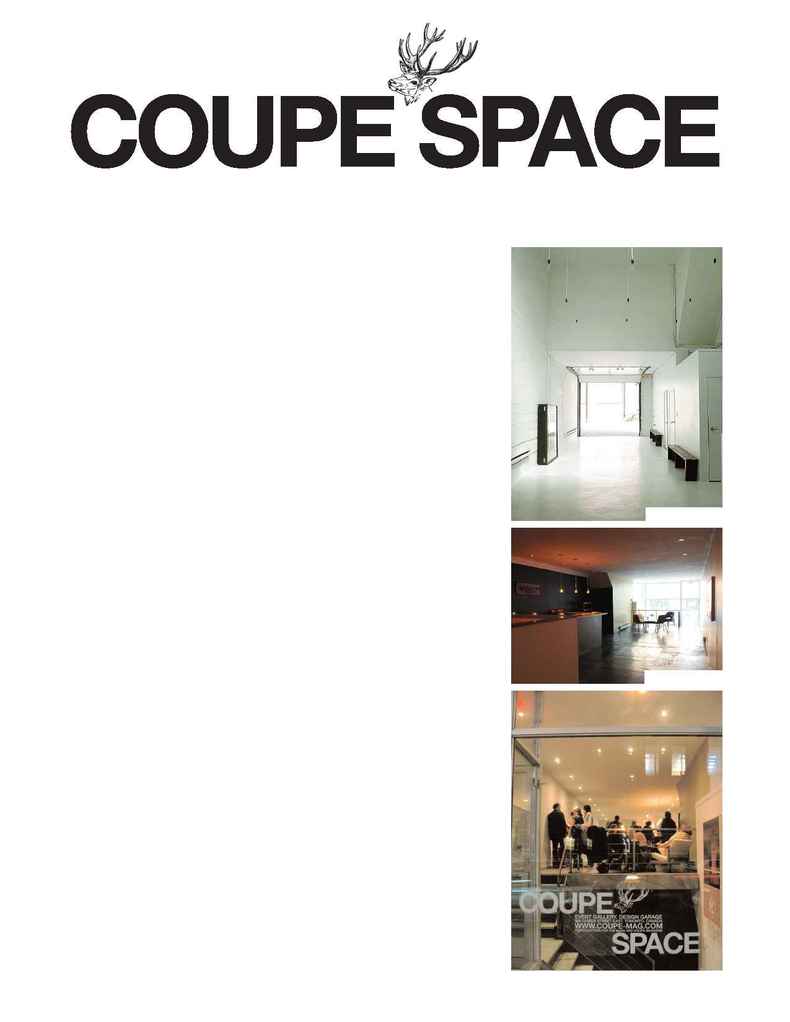 THE VENUE
Coupe Space features 2,000 square feet of versatile urban space located directly
on Queen Street East. Our 2 uniquely-designed connected rooms provide a flexible
venue for any size or style of event, from 10-170 guests.
Coupe Lounge is the perfect locale for intimate events and standing parties of 10-
60 guests. The Lounge is a cozy and eclectic 2-level space with polished concrete
and dark wood floors, huge windows, wood bar, modern open kitchen, and seating
area with sleek vintage furniture.
For larger events, the Lounge opens directly into
Coupe Gallery, an industrial-chic,
all-white space with soaring 20-foot ceilings, restored cedar table, satellite bar, dark
wood benches and a roll-up back wall that opens to the outdoors.
With both rooms combined,
Coupe Space can accommodate up to 170 guests for
stand-up parties and up to 70 guests for sit-down dinners.
CATERING
+
BEVERAGE
+
EXTRAS
Coupe Space offers a delicious, abundant, stylish and seasonal event menu with
hors d'oeuvres, platters, dinners, tasting stations and lunches to suit any budget.
Ask about our signature Tasting Club Events for corporate/private groups.
For extra flexibility, you may also arrange catering through a preferred caterer.
Staffing and rentals are arranged through chosen caterer.
At Coupe Space you can supply the alcohol for your event under a Special
Occasion Permit. There is no corkage fee. We can connect you with our preferred
wineries or breweries for delivery of product, or arrange your own.
Need help with event planning, guest chefs/sommeliers, flowers, décor, invitations,
music, specialty bars, gifts and more? Just ask us.
LOCATION
+
PARKING
Coupe Space is minutes from the downtown core and the Gardiner/DVP at Queen
Street East and Carlaw. There is ample street parking on Queen and surrounding
streets (free after 6pm) and direct TTC access (Queen Streetcar). Coupe Space
has drive-up garage area for easy unloading and set-up.
VENUE RENTAL RATES 2007
Coupe Lounge Only
Day (8am-4pm): $700
/ Sun-Thurs nights (5pm+): $800 / Fri-Sat nights (5pm+): $1000
Coupe Space: Lounge & Gallery
Day (8am-4pm)
/ Sunday-Thursday nights (5pm+) for under 100 guests: $1000
Friday-Saturday nights (5pm+)
/ Events anytime over 100 guests: $1300
GST not included. Coupe Space offers special rates for not-for-profit or arts/publishing events. Set-
up times can be flexible, availability permitting. For Lounge only, guest count must be under 60.
All-inclusive rates available for Tasting Events.
CONTACT: SACHA DOUGLAS (CHEF/EVENT SPECIALIST)
SPACE@COUPE-MAG.COM
+
416.469.9656
+
COUPE-MAG.COM
998 QUEEN STREET EAST. TORONTO. CANADA. M4M 1K1