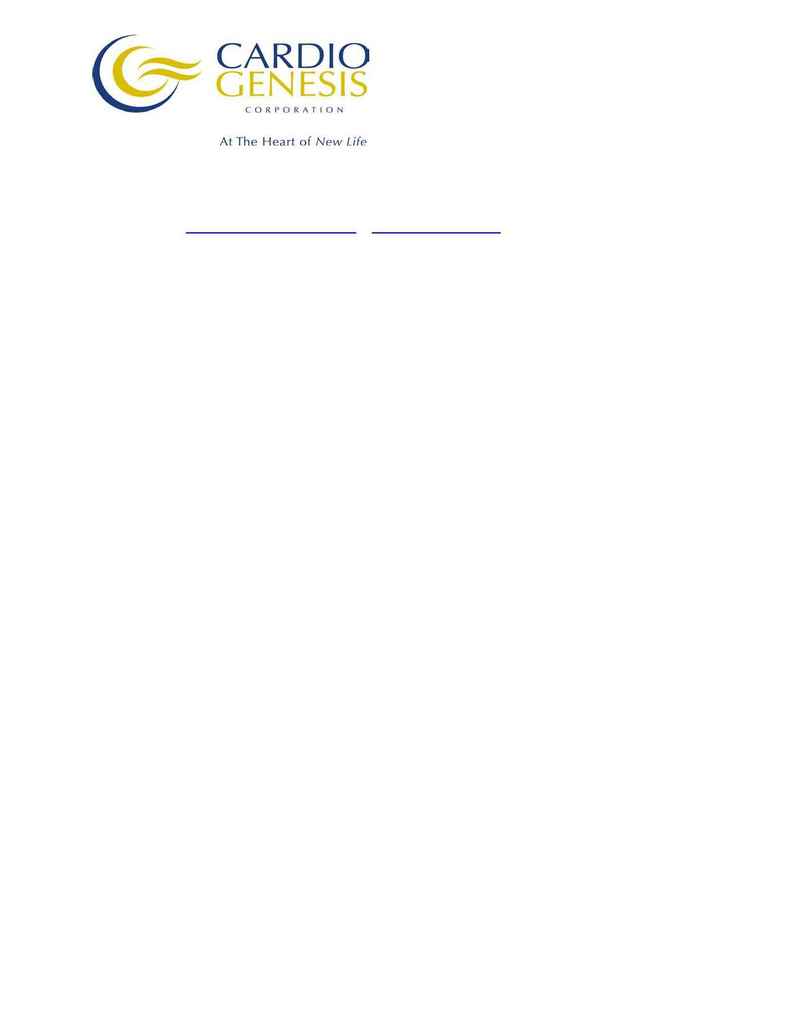 Contact:
CardioGenesis
Len Hall (media) Darrell Eckstein, President
CARDIOGENESIS REPORTS 2002 FOURTH QUARTER, YEAR END RESULTS
Fourth Quarter Revenue Level Highest in last Five Quarters
FOOTHILL RANCH, CA (February 25, 2003) . . . CardioGenesis Corporation (Nasdaq:CGCP),
the market leader in angina-relieving Transmyocardial Revascularization (TMR) and
Percutaneous Myocardial Revascularization (PMR), today announced results for its fourth
quarter and year ended December 31, 2002. Chairman and CEO Michael J. Quinn said that
strong TMR hand piece sales combined with laser sales and placements in the 2002 fourth
quarter increased revenues to the highest quarterly level in five quarters, which the Company
believes is a good indication of the renewed and growing interest in its TMR procedure.

"We are pleased with our performance in the fourth quarter and the progress we have
made with TMR for the year as a whole," Quinn said. "It is clear that TMR is becoming used
more widely as evidenced by the strong fourth quarter sales of hand pieces and lasers and the
number of cardiothoracic surgeons expressing renewed interest in the procedure. We have
increased the number of TMR procedures being performed over the last few quarters while
streamlining and effectively focusing our sales staff. We have also continued to narrow the
operating losses of the Company with a strong focus on cost control and resource management,
and our cash burn in the fourth quarter of 2002 continued to decline as a result of those efforts."

Revenues for the 2002 fourth quarter rose 31 percent over the fourth quarter of the prior
year and were up sequentially 14 percent over the third quarter of 2002. Revenues for 2002,
which had declined year-to-year for the first nine months, also declined for the full year,
although revenues attained in the 2002 fourth quarter reversed a trend of year-to-year declines in
quarterly revenues and narrowed the gap by nearly $900,000. When compared to the prior year,
the decline in 2002 revenues was primarily due to a stepped up focus throughout the year on
increasing TMR procedure volume in the US installed base, which had the effect of reducing the
average revenue per hand piece. Revenues in 2002 were also impacted by a decline in
international sales. Gross profit margins, as a percentage of sales in 2002 continued to improve,
increasing to a record 80 percent in the fourth quarter and 78 percent for the full year, up from 63
percent and 59 percent, respectively, for the 2001 fourth quarter and full year.

Revenues in the fourth quarter of 2002 grew to $3.7 million from $2.8 million in the prior
year period, with the Company reporting net income of $149,000 or $0.00 per fully diluted share
for the 2002 fourth quarter. The results for the fourth quarter of 2002 included the effects of a
$598,000 reduction in accrued liabilities recorded in prior years for research and development
costs associated with estimated clinical trial obligations, and a $567,000 reduction in accrued