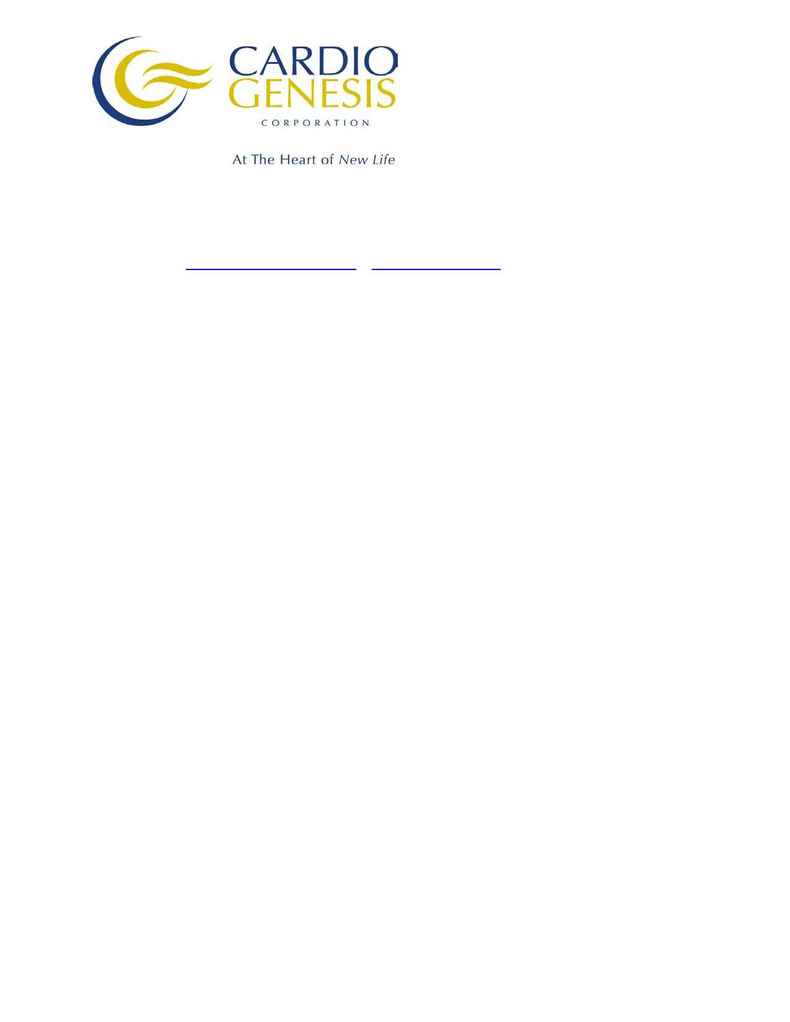 Contact:
CardioGenesis
Len Hall (media) Darrell Eckstein, President
CARDIOGENESIS CORPORATION REPORTS 2003 FIRST QUARTER RESULTS
Strong Laser Sales Lead to Profitable First Quarter
FOOTHILL RANCH, CA (April 23, 2003) ... CardioGenesis Corporation (OTCBB:CGCP.OB),
the market leader in angina-relieving Transmyocardial Revascularization (TMR) and
Percutaneous Myocardial Revascularization (PMR), today announced results for the first quarter
ended March 31, 2003. Chairman and CEO Michael J. Quinn said the Company had a profitable
first quarter based on strong sales of the Company's Holmium:YAG cardiac laser system that led
to an 8 percent year-over-year increase in revenues. Quinn said that results for the 2003 first
quarter reflected a continuation of the trend of growing interest in the CardioGenesis TMR
procedure for the treatment of severe angina pain. He also said that the Company was cash flow
positive in the 2003 first quarter, resulting in an increase in cash from the balance at the end of
2002.

Revenues in this year's first quarter grew to $3.4 million from $3.2 million in the same
period last year, with the Company reporting net income for the 2003 first quarter of $121,000,
or $0.00 per fully diluted share, compared to a loss of $1.2 million, or a loss per share of $0.03
for the first quarter of 2002.

"This year's first quarter profit is the result of solid operational performance in all areas
of the business combined with a strong and growing interest in our TMR procedure," Quinn
added. "We saw over the last few quarters that a trend was developing as more and more
cardiothoracic surgeons expressed interest in TMR, and based on the number of lasers sold in the
first quarter, we expect to see this renewed interest continue as we move through this year."

Quinn went on to say that the Company is growing its TMR business each quarter, and
believes it is positioned to be profitable in 2003. "Our operating expenses are now in line with
our revenue ramp and we expect gross margins to remain within the current range," Quinn said.


Gross profit margins as a percentage of sales rose to 82 percent in the first quarter of
2003, up significantly from 74 percent in the prior year's first quarter and in line with the upward
trend in gross margins seen in prior quarters. Total operating expenses in this year's first quarter
declined 25 percent to $2.7 million from $3.6 million in the prior year's first quarter.