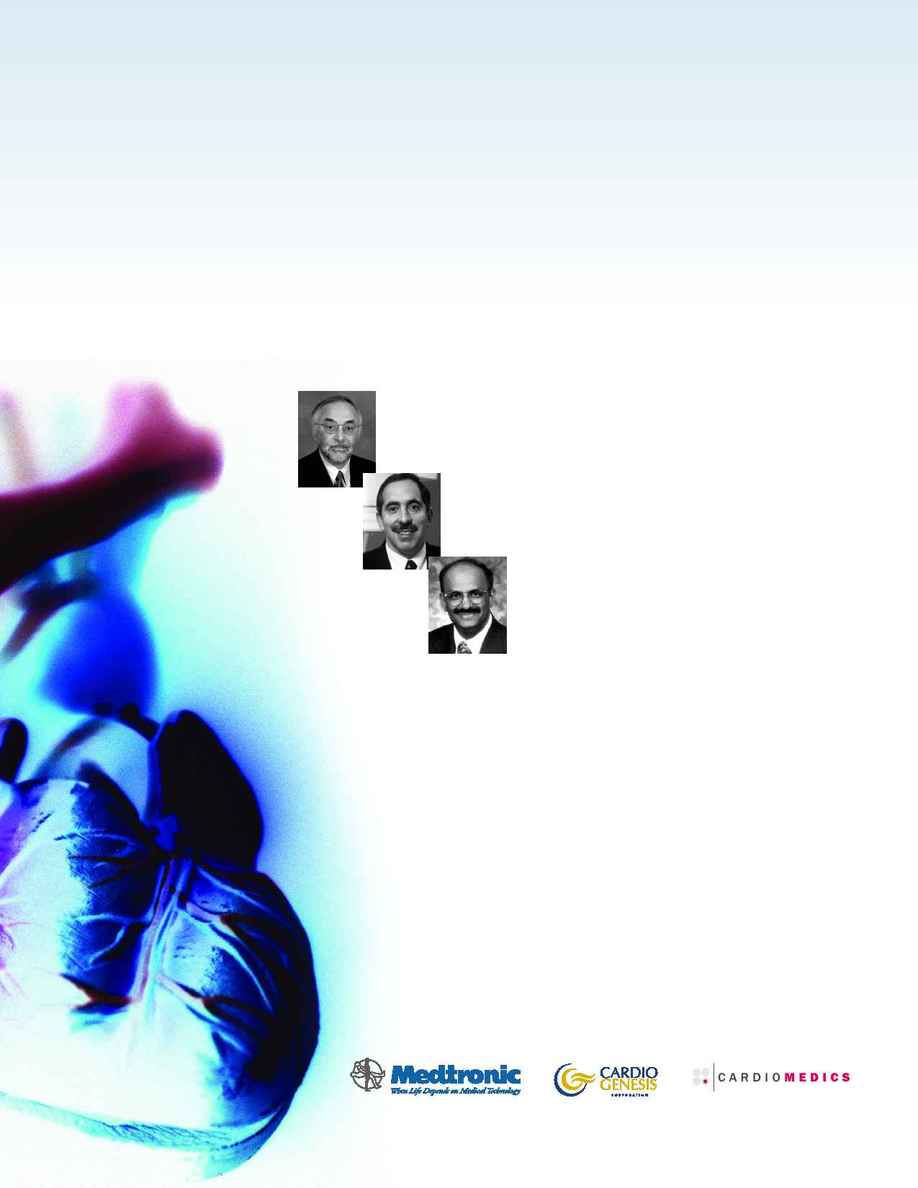 Current and Future Treatment Options for the Persistently Symptomatic Patient
S AT U R D AY, M A R C H 6 , 2 0 0 4
7 : 0 0 ~ 9 : 3 0 P M
Loews New Orleans Hotel -- Louisiana Room
300 Poydras Street, New Orleans, Louisiana
ens of thousands in the United States and Canada
suffer from chronic angina that is persistently
symptomatic (sometimes referred to as "refractory" or
resistant) to standard therapies. Despite best efforts to
help them with lifestyle changes, medications, stents and
surgery, they live with ongoing pain and a severely
limited ability to undertake normal daily activities. This
symposium will bring together key thought leaders in
Cardiology, Electrophysiology and Interventional
Cardiology to review the currently available treatments
for these challenging patients as well as discuss research
underway which could lead to future therapies.
Distinguished Professor of Medicine, Pharmacology, and Toxicology; Director, Division of
Cardiology and the Krannert Institute of Cardiology, Indianapolis, Indiana
Distinguished Associate Professor of Medicine at Midwestern
College of Osteopathic Medicine in Glendale, Arizona; Director
of the Heart Failure Program and Clinical Research at the
Arizona Heart Institute, Phoenix, Arizona
John M. Lasala, M.D., PhD
Associate Professor of Medicine at Washington University School of Medicine;
Medical Director of the Cardiac Catheterization Laboratory and Director of
Interventional Cardiology at Barnes-Jewish Hospital, St. Louis, Missouri
This educational symposium is sponsored by Medtronic Incorporated, CardioGenesis Corporation and CardioMedics Incorporated.
To register, call toll-free 1-866-860-9154
Dean MacCarter, M.S., PhD
*Caution: Investigational study. Limited by U.S. law to investigational use.
This event is not part of the official ACC Annual Scientific Session as planned by the Annual Scientific Session Program Committee (ASSPC).