AusDesign rating requirements Page 1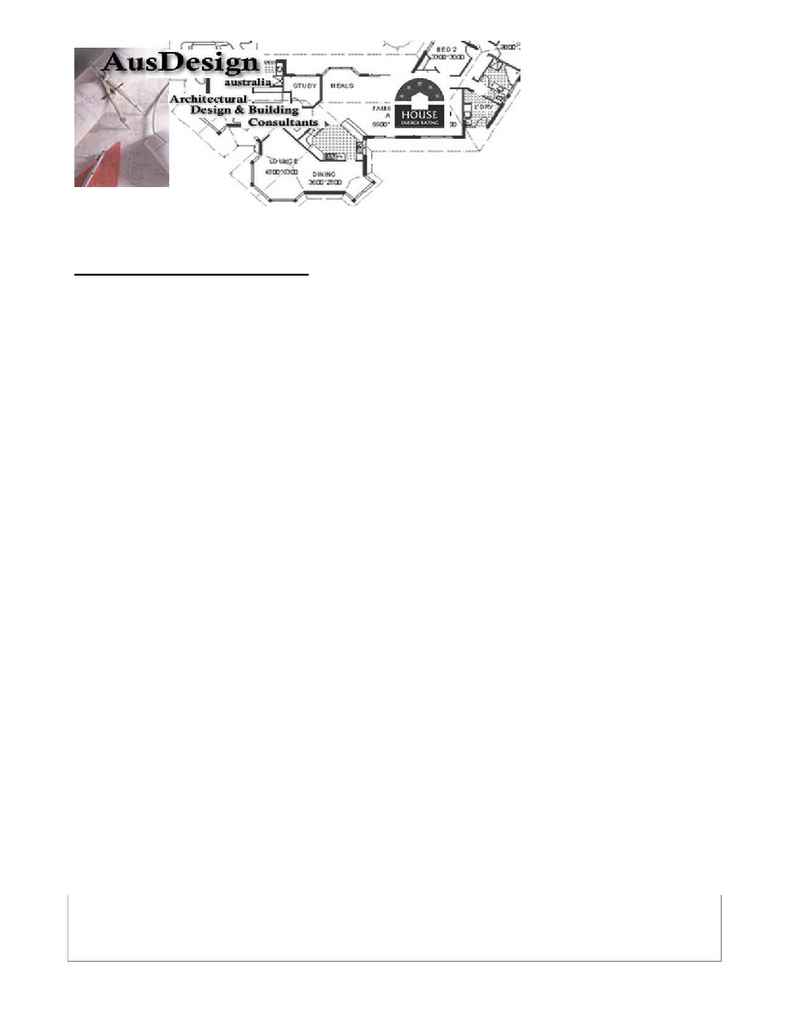 Postal Address ­ 20 Main Road Carrajung Victoria Australia 3844
Telephone ­ 61 3 5194 2245 : Fax/Data - 61 3 5194 2245 : Email ­ PeterClarkson@ ausdesign.com
Web Site Address ­ www.ausdesign.com
Information required for Energy Ratings.
Floor plan showing
· width of overhangs. (eaves, verandahs, pergolas)
· location of exhaust fans. (sealed and unsealed)
Elevations showing
· window types and glazing.
Site Plan showing
· Direction of true north.
· Distance from and height of adjacent buildings. (any building or solid object within 10 meters)
· Distance to and height of fences and any other obstructions.
If not shown on drawings.
· Insulation levels to walls and ceilings. (and floors)
· Is there foil to the underside of roofing.
· Types of floor coverings i.e. extent of any carpet or floor tiles or polished boards etc. (these should be shown to
enable a m2 calculation for each)
· Extent of any weatherstrips to doors and windows that have already been included.
· Extent of any proposed external blinds.
· Location (and number) of any vented downlights.
Note - For the final energy rating as part of a Building Permit or Planning application, we will require 2 complete
finalised sets of working drawings. One set is retained for our auditing requirements by SEAV and one set is stamped
and returned to you together with the Rating Report.
In most cases firms send us the drawing files by email, we carry out the assessment and then when the 5 Star level is
confirmed the 2 sets of finalised drawings are posted to us for documentation.
If you have any questions I can be contacted directly on 5194 2245