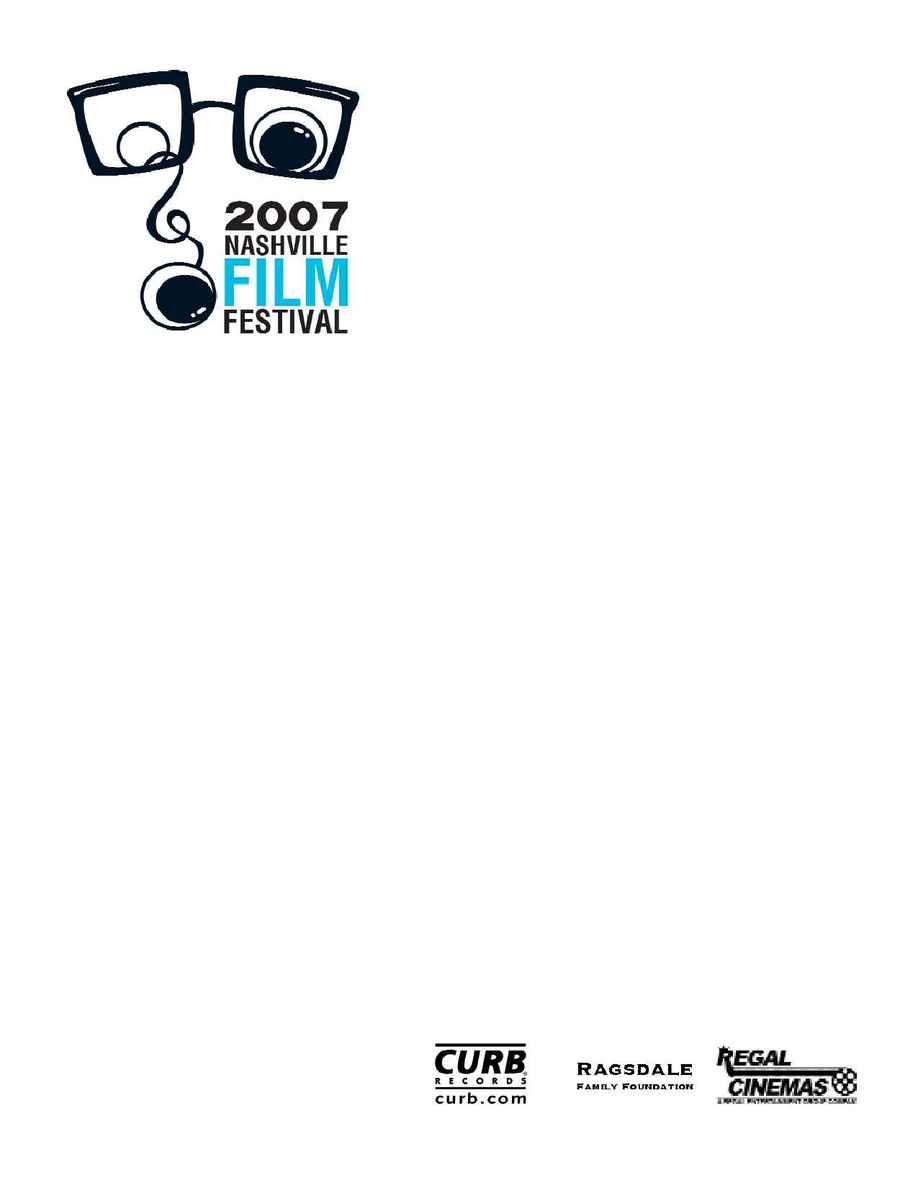 Call For
E n t r i e s
O f fi c i a l E n t r y Form
E a r l y E n t r y D e a d l i n e :
F r i d a y, Sept. 1, 2006
F r i d a y, Oct. 27, 2006
E x t e n d e d E n t r y D e a d l i n e :
We d n e s d a y, Nov. 15, 2006
Some of the Most Innovative
and Unique Filmmaker Awards
Outstanding Awards - Features & Documentaries
T h e R e g a l C i n e m a s / N a s h v i l l e F i l m F e s t i v a l D r e a m m a k e r Aw a r d e n t i t l e s the winning f e a t u r e
f i l m t o a press/industry screening i n a L o s A n g e l e s C o u n t y R e g a l Cinema theater. (Films must
not have acquired U.S. distribution prior to the Festival to qualify for this award. A 35mm print
must be available by the fall of 2007.)
Reel Current Award selected by former Vice President Al Gore, is awarded to the documentary
feature that provides extraordinary insight into a contemporary global issue.
N E W !
Nashville Public Television (NPT) Human Spirit Award acknowledges the film (feature
or documentary) that best captures the human spirit and illuminates, in a high artistic manner,
the most important characteristics of humanity. Winner receives $1000 cash award and will be
broadcast on NPT. (All rights must be cleared for broadcast on local public TV.)
Top Prize - Shorts and Animation
F i r s t p r i z e s i n t h e
S h o r t N a r r a t i v e a n d A n i m a t i o n categories (including College Student) q u a l i f y
t h e w i n n i n g f i l m s f o r A c a d e m y Aw a r d
Special Music Films in Music City Aw a r d s
NaFF celebrates Music City's heritage with unique music and film awards:
Best Music In a
Feature Film, to recognize particularly effective or innovative uses of music, whether through
original score, imaginative musical arrangements, or song selection in a feature; and
Impact of
Music Aw a r d, for the film (feature or documentary) that most effectively explores or celebrates
the impact of music on the human experience.
NEW! Young Filmmaker Scholarship Aw a r d
F i r s t p r i z e i n t h e
Young Filmmaker c a t e g o ry (filmmakers 18 and under) receives a $3000 schol-
arship to Watkins Film School (Nashville, TN).
Tennessee Independent Spirit Aw a r d
Sponsored by the Tennessee Film, Music, and Entertainment Commission, this award
acknowledges the best film (in any category) made by a Tennessee resident. Winner receives a
cash prize of $1000.
See complete list of awards on following page.
Entries 40 minutes and over:
· D o c u m e n t a ry Feature
Entries under 40 minutes:
· Short Narrative · College Student Animation
· College Student Short Narrative · Experimental
· Music Video · Young Filmmaker
(18 and under)
"One of the best programmed competitive festivals
in one of the most surprising cities in the U.S."
Nancy Gerstman, Co-President, Zeitgeist Films
"A rare breed of film festival; it's a regional festival
that can offer varied films so there's something for
everyone in the local community, but it also has
enough focus--as a showcase for music films--so
that it isn't just another generic stop along the
festival circuit."
--Wendy Mitchell, indieWIRE
nashville
film
festival.org
Nashville Film Festival is supported in part by grants from Tennessee Arts Commission,
Metro Nashville Arts Commission, Frist Foundation, Academy of Motion Picture Arts
& Sciences, National Endowment for the Arts, The Memorial Foundation, Target
Stores, and the Cal Turner Family