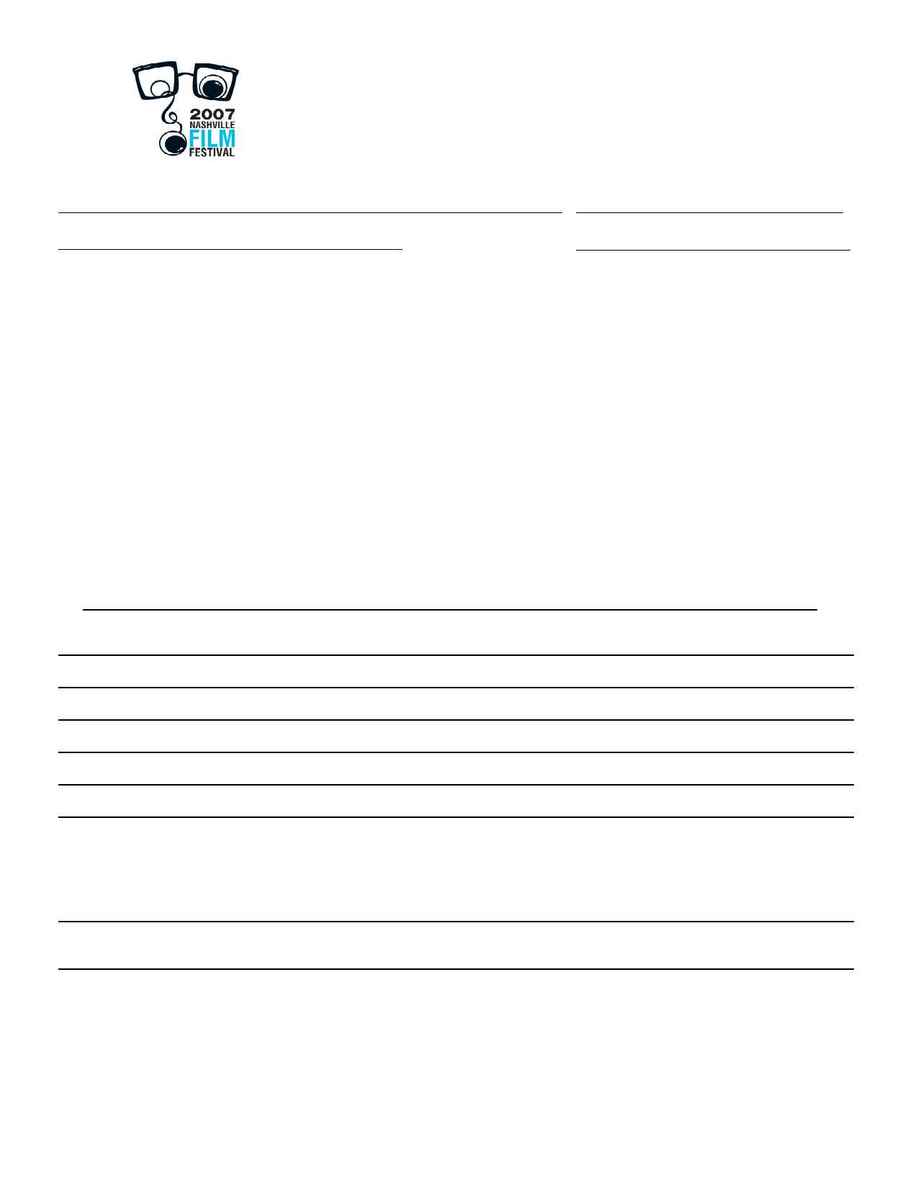 Please type or print. Entry fee must be enclosed. Only one form per entry, please.
Entry Title Director's Name
Film Completion Date (must be after January 1, 2005) Running Time (in minutes)
Film Category (choose ONE only)
40 min. or over:
Under 40 min.:
College Student Short Narra t i ve Animation College Student Animation
Documentary Short Music Video
Young Filmmaker (18 and under)
College Students: Please include a photocopy of your student ID.
Preview Format:
Screening Format:
N TSC Digibeta N TSC Beta N TSC DVD
Aspect Ratio:
1:2.85 ( A n a m o r p h i c )
Sound Format:
Entry is 35mm or DVD, DigiBeta or Beta video, entered for judging on DVD (Region 1 or 0) or VHS. If entry is selected for
Fe s t i val screening, I agree to rush a 35mm print sent on shipping reels, heads out, with a countdown leader OR NTS C
DigiBeta, NTSC Beta, or NTSC DVD (Region 1 or 0). By signing this document, I agree that I have read all of the Fe s t i va l
instructions, rules and regulations, and that I fully understand them and agree to abide by their terms and conditions.
Entrant Signature
Entrant First Name
Last Name
Company
Role in production
(producer, director, distributor, instructor, etc.)
Address
City
State
Zip/Postal Code
Country
Day Phone
Evening Phone
Fax
Email
Website to download EPK /photos
N o n - r e f u n d a b l e entry fee enclosed:$_____________________________________________________
(Check or money order in US funds, made payable to Nashville Film Festival)
Card Number
Expiration Date Security Code
Name on Card
Billing Address & Zip (if different from above)
Send entries to: Nashville Film Festival, P. O. Box 24330, Nashville TN 37202-4330, USA
If shipping via FedEx, UPS or other courier send to: Nashville Film Fe s t i val, 161 Rains Avenue, Nashville TN 37203, USA
How did you hear about the Nashville Film Fe s t i val? ___________________________________________________________
38th Nashville Festival April 19-26, 2007
n a s h v i l l e fi l m fe s t i v a l . o r g