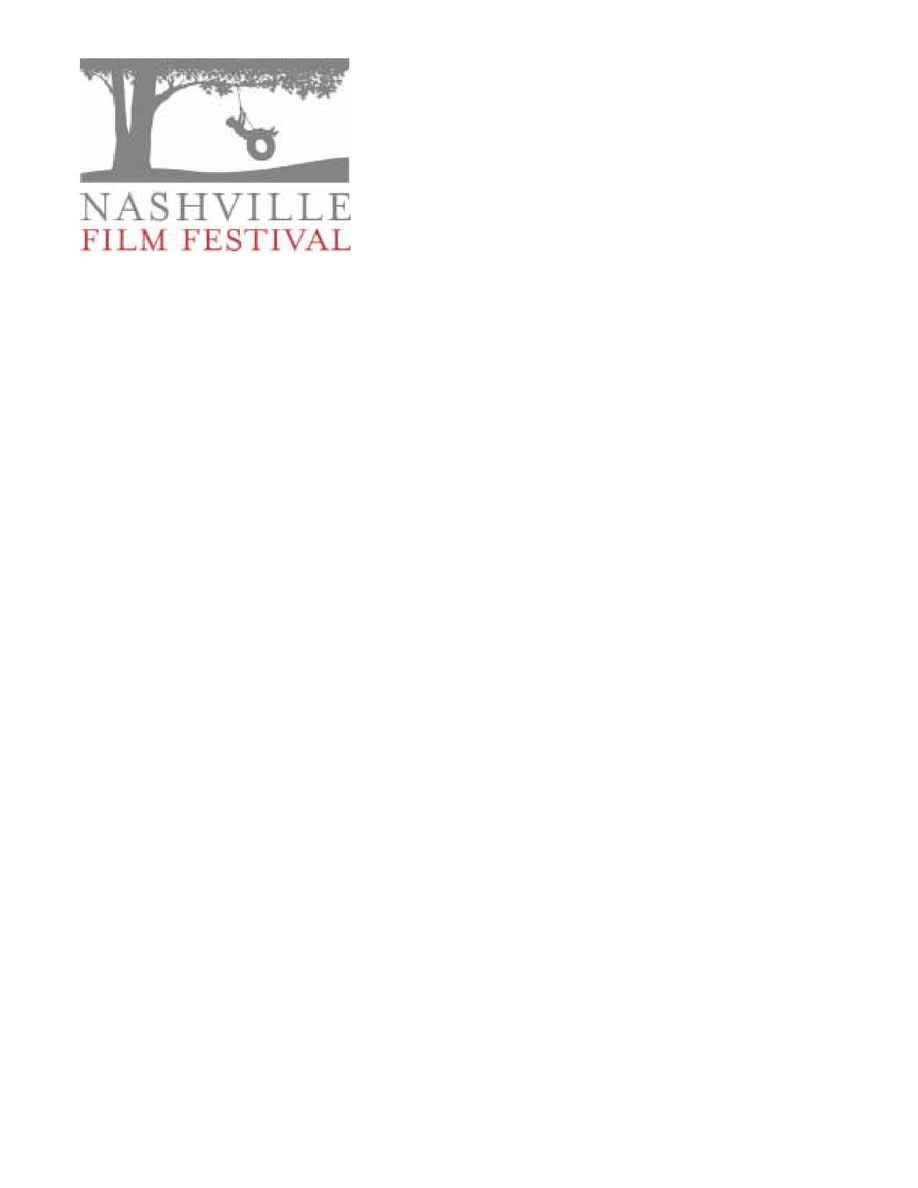 Call For
Entries
Official Entry Form,
Rules and Regulations
Early Entry Deadline:
October 31, 2003
"One of the best-programmed
competitive festivals in one of the
most surprising cities in the U.S."
> N A N C Y G E R S T M A N ,
C o - P r e s i d e n t , Z e i t g e i s t F i l m s
A Festival Like No Other
The Nashville Film Festival proudly announces its 35th annual film
festival and competition for independent and student film and video
artists. The 2004 festival, to be held April 26­May 2 at the Regal
Green Hills 16Cinemas, will include premiere screenings of award-
winning features, documentaries, shorts, animation, and experimental
film and video, and works by young (18 and under) filmmakers. The
NFF also features archival screenings, films made especially for
children, workshops, panel discussions, vendor and product expos,
guest appearances by nationally recognized figures in the film and
music industry, and special screenings and programs related to film
Among the Most Highly Respected Awards
in the Independent Film Community
Top Prize--Features
The Regal Cinemas/Nashville Film Festival Dreammaker Award, entitles
the winning 35mm feature film to a week's run in a Los Angeles
County Regal Cinema theater. The L.A. screening qualifies the film for
Academy Award consideration. (Films must not have acquired U.S. dis-
tribution to qualify for this award.)
Top Prize--Shorts and Animation
First prize in the Short Film and Animation categories qualifies the
winning film for Academy Award consideration. Cash prizes will be
awarded to works selected by the festival judges.
Backstory
The NFF was founded in 1969 as The Sinking Creek Film Festival by
Mary Jane Coleman. One of the nation's longest running film festivals,
the festival was rechristened as the Nashville Independent Film Festival
in 1997 and then broadened to the Nashville Film Festival in 2003.
These changes celebrate both the festival's continued growth and its
standing in the community. The NFF's mission is to support film and
video makers who produce work as personal and artistic statements
and who have total control of their work from concept, through all
phases of production, to completion. Past judges and guests include
John Waters, Rita Coolidge, James Cromwell, Olympia Dukakis,
Matthew McConaughey, Barbara Kopple, Bill Plympton, Michael Moore,
D.A. Pennebaker, Diane Ladd, Oprah Winfrey, and Andrew Mason.
Festival Participants
Selected films and videos will be showcased at the 35th Nashville Film
Festival, April 26- May 2 at the Regal Green Hills 16 Cinemas
located in the Green Hills area of Nashville. This area offers a unique
array of shops, hotels, restaurants and coffee houses all within easy
walking distance of the Regal Green Hills 16. Ample free parking is
available. The festival is 8 miles from downtown Nashville.
April 26­May 2, 2004
LIABILITY -- Although every possible care will be taken with tapes and films while in our possession, we cannot accept responsibility for loss or damage. Do not send original prints or tapes. Notification of accep-
tance into the festival will be made by Friday, March 7, 2004. Please keep the festival notified of any address/phone changes. SHIPPING -- The cost of shipping an entry to the festival must be paid by the entrant.
The Festival will pay the cost of shipping the print back to the filmmaker. However, the Festival will not be responsible for expedited or overnight shipping charges to other organizations. All international entries
must be sent "free domicile" to the Festival office with all transportation charges, duties, and taxes prepaid by the shipper. REPRODUCTION AGREEMENT -- Submission of an entry gives the festival permission to
have accepted work photographed, locally telecast, and reproduced, either in part or whole, for educational or publicity purposes, unless otherwise requested in writing by the filmmaker.