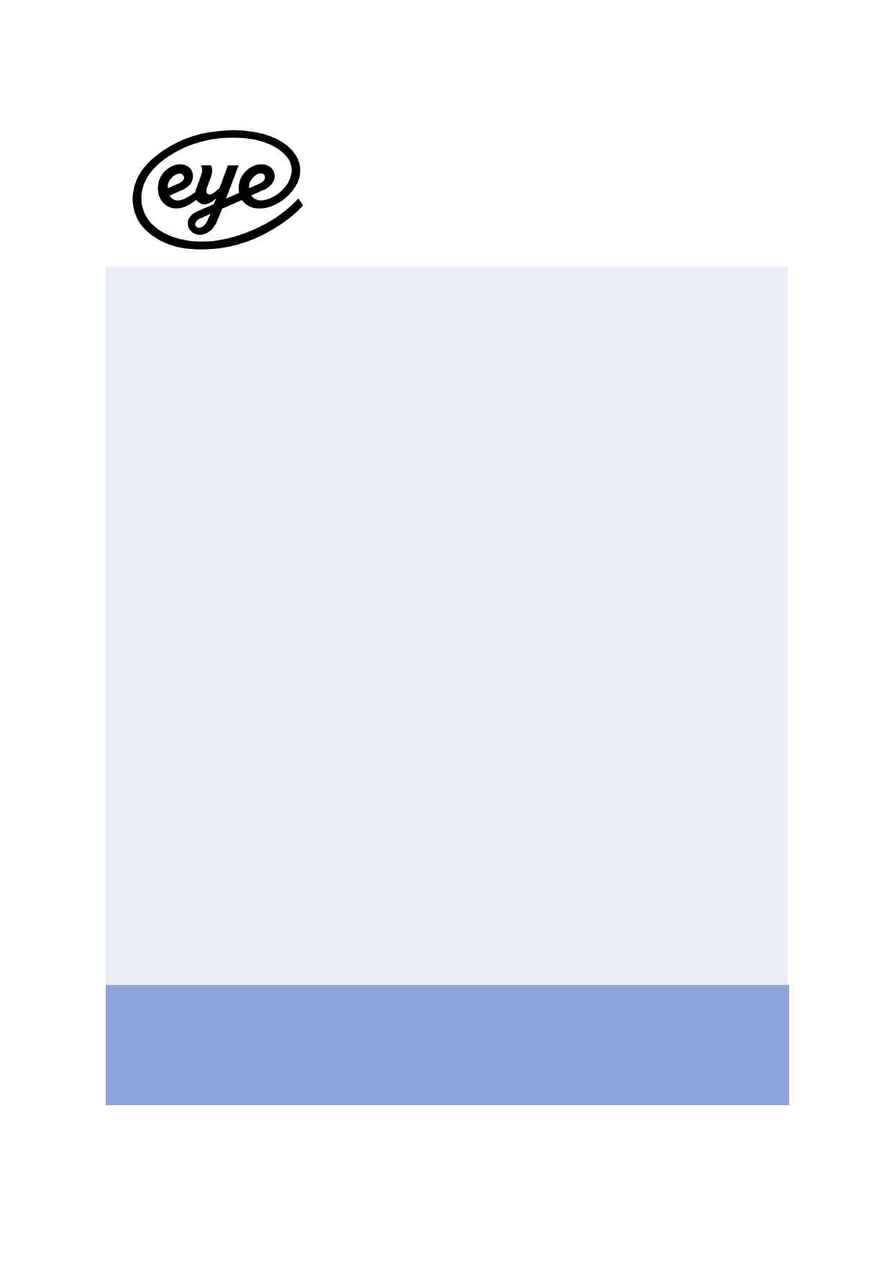 PUBLISHING PROJECT MANAGER
Vikki Baldock
T +44 (0)20 8565 4425
F +44 (0)20 8565 4480
E vikkib
@
q p p . c o . u k
COMMERCIAL MANAGER
Fran Bennett
T +44 (0)20 8565 4369
F +44 (0)20 8565 4480
E fra n b
@
q p p . c o . u k
QUA NTUM BUSINESS MEDIA
Quantum House
19 Scarb rook Road, Croydon
S u rrey C R9 1LX
w w w. e ye m a g a z i n e. c o m
EYE MEDIA PACK
1/5
An essential source of information and inspira t i o n :
Insight into design trends
Profiles with a critical edge
Incisive analysis and argument
I n-depth interviews
Design history made accessible
Reviews and critiques
E ye's writers: provocative and influential
They include journalists, academics, educationalists and
experienced practitioners ­ all with something new to say.
The contributor list includes:
Phil Baines, Andrew Blauvelt, David Crowley, Paul Elliman,
Robin Fi o r, Jonathan Jones, Peter Hall, Steven He l l e r,
Jessica Helfand, Rian Hughes, Joel Karamath, Eric Kindel,
Robin Kinross, John O'Re i l l y, Stefan Sagmeister,
Adrian Shaughnessy, James Souttar, Chris Vermaas,
Editor in chief John L. Walters, John Wa r w i c k e r,
Judith Williamson, Michael Worthington & E y e ' s
f o u n d i n g editor Rick Po y n o r
C overs the whole spectrum of visual culture
Recent issues have shown work by g t f, Neville Garrick,
John Maeda, Fernando Gutiérrez, Experimental Je t s e t ,
Pentagram, Jasper Goodall, Sister Corita Kent, Damien
H i r s t / Jon Barnbrook, Gerard Un g e r, Stephen Byram.
Eye also covers:
Ty p o g r a p h y
Print and Pa p e r
Eye is one of the world's leading graphic design magazines, a quarterly journal of
provocative, thoughtful and informed writing together with an eye-popping selection of
extraordinary visual material. More like a book than a magazine, and beautifully printed
on fine paper, Eye is a must-have design object in its own right, with a strong sense of
graphic design's rich history. It features photography, typography, art direction and
design ­ for multimedia, advertising, publishing and the Web ­ from the world's leading
practitioners, taking an independent, critical look at the social and cultural roles of
visual communicators.
Conceived amid the white heat of early 1990s graphic experimentation, Eye has now
expanded its remit to cover the broader field of visual culture. Back issues sell at a
premium and, when sold out, become highly prized collectors' items.
The stimulating line-up of interviews, profiles, history and polemic makes Eye essential
reading ­ and a highly effective way to advertise your product or service to an influential,
international audience.
THE INTERNATIONAL REVIEW OF GRAPHIC DESIGN
P h o t o g r a p h y
I l l u s t r a t i o n
New Me d i a
Pu b l i s h i n g
A n i m a t i o n
e ye m a g a z i n e. c o m .
The new website, e y e m a g a z i n e . c o m has been designed and
created to the same high standards as the magazine by a
collaboration between the E y e team and Web designers
Artificial Environments. e y e m a g a z i n e . c o m is a giant index
(covering all back issues) that enables users to track down
individual designers and writers, or intuitively browse and
search through themes and concepts: a new way to enjoy
the printed magazine and make fresh discoveries and
insights from back issues.
The site includes details on where to find E y e in bookshops
around the world, subscription information and links to
recommended sites. Every quarter a Critique by Rick
Poynor will be published exclusively on the site.
Aw a rd-winning design
Nick Bell, director of u na (London) designers was appointed
art director of Eye in 1997 and then creative director in
1999. u na's work for E y e won recognition for High Design
Quality in 1999 by Design Centre Germany and recent
covers appeared in the d & a d annual 2002. E y e and Nick
were short-listed for Designer of the Year in the 2002 ppa
awards and The Magazine Design Aw a r d s .
HEAD OF ADVERTISING
Christina Wadsworth
T +44 (0)20 8267 4920
F +44 (0)20 8267 4927
E christina.wadsworth@haynet.com
HAYMARKET BRAND MEDIA
174 Hammersmith Road
London
W6 7JP