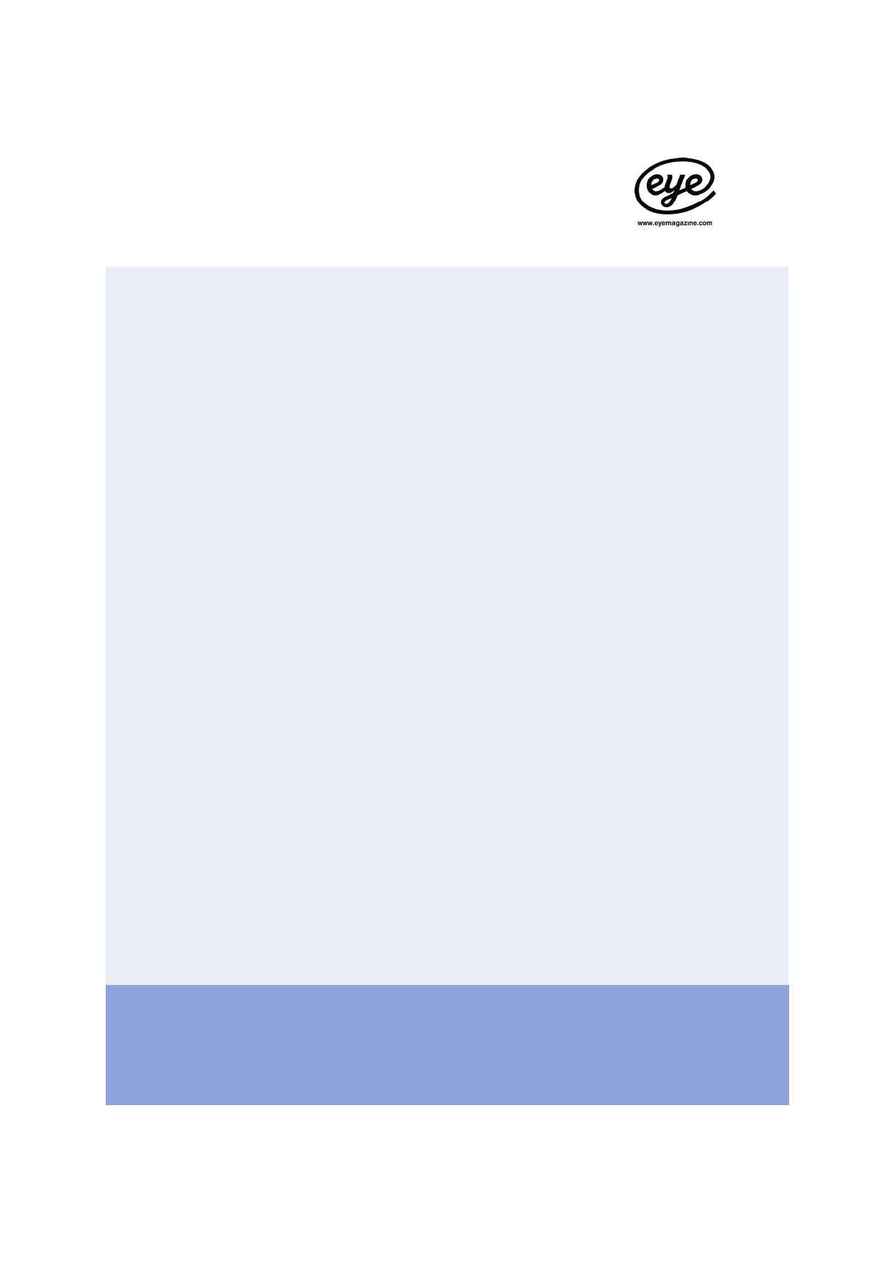 R E S U LTS OF READER RESEARCH
PUBLISHING PROJECT MANAGER
Vikki Baldock
T +44 (0)20 8565 4425
F +44 (0)20 8565 4480
E vikkib
@
q p p . c o . u k
COMMERCIAL MANAGER
Fran Bennett
T +44 (0)20 8565 4369
F +44 (0)20 8565 4480
E fra n b
@
q p p . c o . u k
QUA NTUM BUSINESS MEDIA
Quantum House
19 Scarb rook Road, Croydon
S u rrey C R9 1LX
w w w. e ye m a g a z i n e. c o m
EYE MEDIA PACK
4/5
Superior content
E y e is a valuable source of information
E y e is a source of inspiration
E y e is more valuable than other design
E y e is a high quality magazine
E y e provides high quality editorial
E y e offers informed viewpoints from expert
E y e incorporates a high standard of design, art
direction and photography
Reach over 40,000 top design
professionals worldwide
With an average pass-on readership of 3.5 each copy
of Eye is read by more than 40,000 of the top design
professionals in the world. This means through
promotion in Eye your company can directly speak to
the most influential individuals in the design world ­
those responsible for creating tomorrow's culture and
trends.
Be part of a collectors item
89% of readers spend more than one hour reading each
copy of E y e . 98% of readers retain their copy for reference
or keep as part of a collection, the remaining 2% pass their
copy on to a colleague
. This maintains visibility not just
for months but for years making adverting in Eye a cost
effective promotional solution for the long term.
A word from our readers
`And by the way, there's something I forgot to tell you:
I love your magazine!' Jesus Vicente, Art Director emap
`Congratulations on an excellent magazine. It's simply
the best of its kind' Claus Collstrup, Graphic Designer,
Denmark
`Eye undoubtedly has great influence on shaping debates
in graphic design, as well as on the evolution of the
entire profession.' Yingzhao Liu, Editor, California
`Eye gives me a chance to see design from a global point
of view. Other magazines let me know what's happening
today. Eye gives me a chance to see what's going to
happen tomorrow. That is what makes Eye priceless and
essential.' Neal Ashby, Creative Director, Washington
High standards of design, print and production
Eye creates a perfect environment to showcase your
products or services. The high stardards run all the way
through the magazine covering, editorial, design, print,
paper and advertising. Many advertisers use Eye to
showcase their own design talents and tailor make
adverts for Eye to appeal to the selective, highly design
literate audience. The limited availability of advertising
pages means each ad is part of a showcase, a gallery of
essential products or services.
Comprehensive promotional solution
Eye offers excellent visibility for advertisers through
its 40,000 readership worldwide with many issues
becoming collectors items. Now combined with
eyemagazine.com you can reach more design
professionals than ever. Eye can create an individual
communication schedule for you to maximise your
profile among the world's best in graphic design. A
choice of a wide range of promotional methods
provides a platform for all providers of quality
products or services.
We have always been confident of providing the highest standards across Eye. Reader
research* confirms this and proved that Eye readers love Eye as much as we do.
HEAD OF ADVERTISING
Christina Wadsworth
T +44 (0)20 8267 4920
F +44 (0)20 8267 4927
E christina.wadsworth@haynet.com
HAYMARKET BRAND MEDIA
174 Hammersmith Road
London
W6 7JP