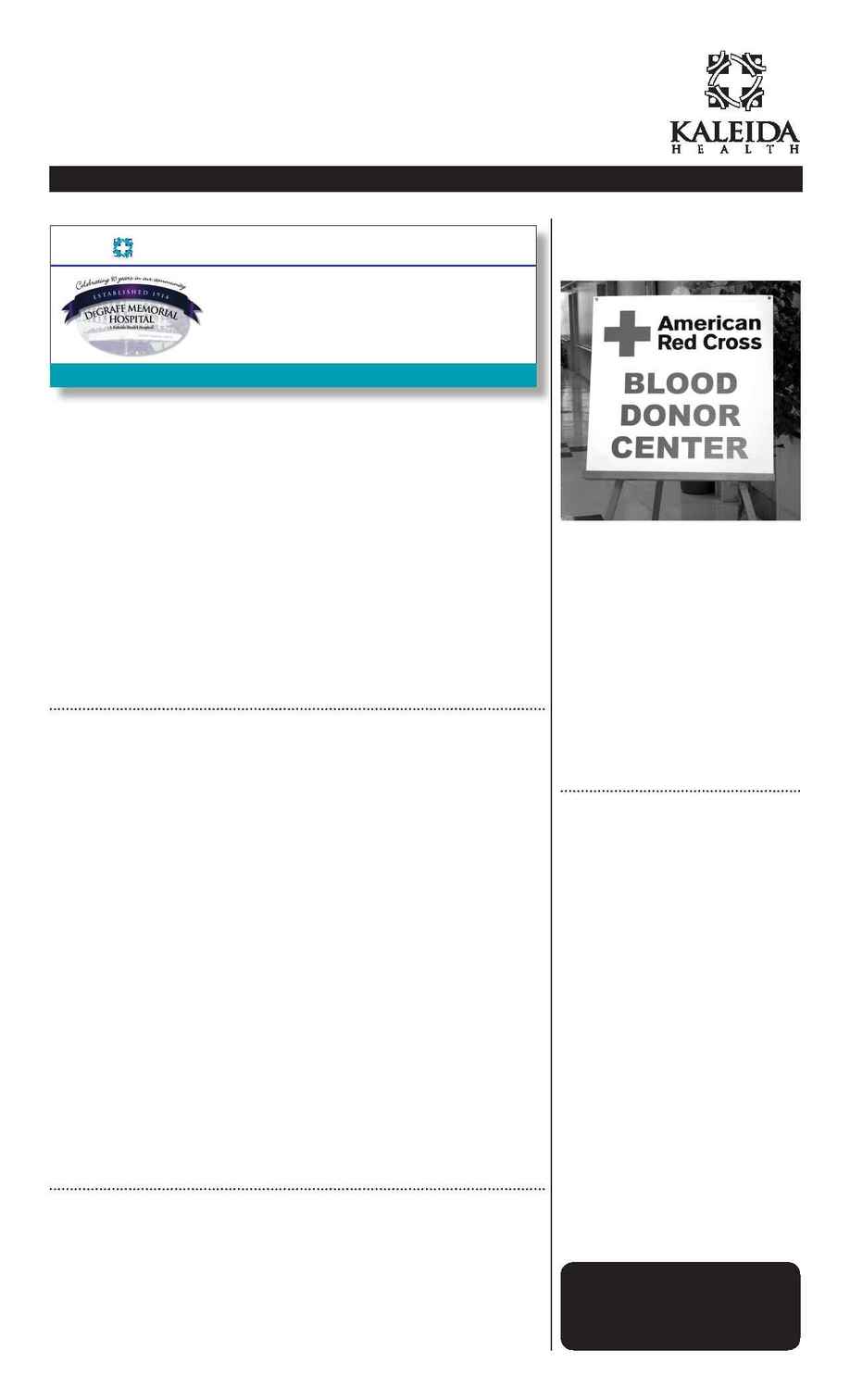 A PUBLICATION FOR THE EMPLOYEES OF DEGRAFF MEMORIAL HOSPITAL
VOLUME 2 · ISSUE 3 · JUNE 2004
THE DEGR AFF MEMORIAL HOSPITAL'S
G
RAFF
Be sure to submit your content for
next month's TeleGraff by July 16th.
Did You Know?
· LeGrand DeGraff paid $37,578.00 to build DeGraff Memorial Hospital.
· The building was officially opened on November 30, 1914.
The year 2004 marks a significant milestone for DeGraff Memorial Hospital as we are in the
midst of preparing for our 90th anniversary celebration. We are currently planning a series
of events starting Monday, November 29th through Saturday, December 4th. Anybody who
would like to participate in the planning activities should contact Cindy Fredricks at 690-
2004. The schedule is as follows:
Monday, November 29th, 2004
Kick Off ­ Employee Events
Tuesday, November 30th, 2004
Anniversary Date ­ Open House and Tours,
Birthday Cake Celebration
Wednesday, December 1st, 2004
Retiree/Former Employee Reception
Thursday, December 2nd, 2004
Friday, December 3rd, 2004
Employee Contests and Events
Saturday, December 4th, 2004
Community Day at DeGraff Adult Day Care
A Kaleida Health Hospital
T H A N K Y O U F O R Y O U R S U P P O R T
Celebrating 90 years of
caring in our community
A New Venture with the
Red Cross
DeGraff Memorial Hospital and the Red
Cross have entered into an arrangement
that is one of the first of its kind
anywhere. The Red Cross will set up a
permanent blood draw station in the
back of the lab with its own entrance.
Temporarily, they are located on 3 East.
This will allow the general public to come
to DeGraff to donate blood. Although
walk-ins will be accepted, they encourage
people to call in advance to schedule an
appointment in order to minimize any
waiting time. In order to schedule an
appointment, please call 1-800-448-3543.
DeGraff Memorial Hospital's Outstanding Nurses
This past spring, the nursing staff at DeGraff nominated from within their ranks four
individuals for special recognition and acknowledgement, peers who personify the
dedication and talent of the nursing profession. These four nurses are Clare Atkinson, RN,
Janet Kala, RN, BSN, Margaret Meyer, RN, and Patricia Ostertag, RN.
Clare Atkinson has distinguished herself over the past 25 years as a staff nurse, educator
and supervisor. Clare was DeGraff's nomination for this year's "Nurse of Distinction
Award," sponsored by the Professional Nurses Association of WNY, District I.
Janet Kala, a nurse at DeGraff for 20 years, has provided exceptional patient care for
hundreds of patients both on the nursing units and in the Cardiac Rehabilitation
Department. Janet addresses the spiritual needs of patients and family members along with
their physical and social needs.
Margaret (Peg) Meyer, a critical care nurse on the Surgical Care Unit, has worked at
DeGraff since 1993. Her manager, commenting that she is "the best of the best," notes
that Peg is highly regarded for her knowledge, teamwork, communication, and continuing
commitment to her peers, patients and family members and Kaleida Health.
Patricia Ostertag, a critical care nurse in DeGraff's ER since 1973, took her practical
experience and wrote a booklet which is being handed out to patients in all of Kaleida
Health's emergency departments. She functions as a superior role model for her peers,
excelling in all nursing standards and elevating family members so they too may provide an
integral dimension in the patient's recovery.
Janet, Peg and Pat were all nominated for the "Outstanding Staff Nurse Award," also
sponsored by the Professional Nurses Association of WNY, District I. Congratulations to
them, and to all the nurses at DeGraff for outstanding work.
Katie Gosch Memorial
Blood Drive
So often, a reminder of how precious life
is hits very close to home. DeGraff shows
continued support to the ever-important
"Life Share" program in partnership with
the Red Cross by donating blood on a
regular basis.
We will highlight our next Blood Drive
effort as "The Katlyn Gosch Memorial
Blood Drive" in memory of a special angel
taken from us all too soon. In addition,
Katie's friends from Starpoint School will
join us to help our goal go way over the
top. It is important to our overall success
that staff donate at these scheduled drives
in order for us to be credited toward the
Kaleida annual goal of 762 pints. Please
help save lives and remember Katie by
calling for an appointment @ 690-2088.
Canal Fest Parade
"I Love A Parade"...............It's that time again! The Canal Fest Parade is scheduled for
Tuesday, July 15th @ 6:30 p.m., and DeGraff will once again be in the line up. This is a
fun evening for all as we proudly make our way through cheering spectators along the
parade route. We will be highlighting our 90th anniversary. Please call Phyllis Gentner @
ext.2088 to offer your expertise with decorations and/or come along for the ride. (Note:
This event has become more popular each year limiting space on the float. For this reason
we are asking participants to be employees and volunteers, no children.)