Suzuki All Inst PD 310705 Page 1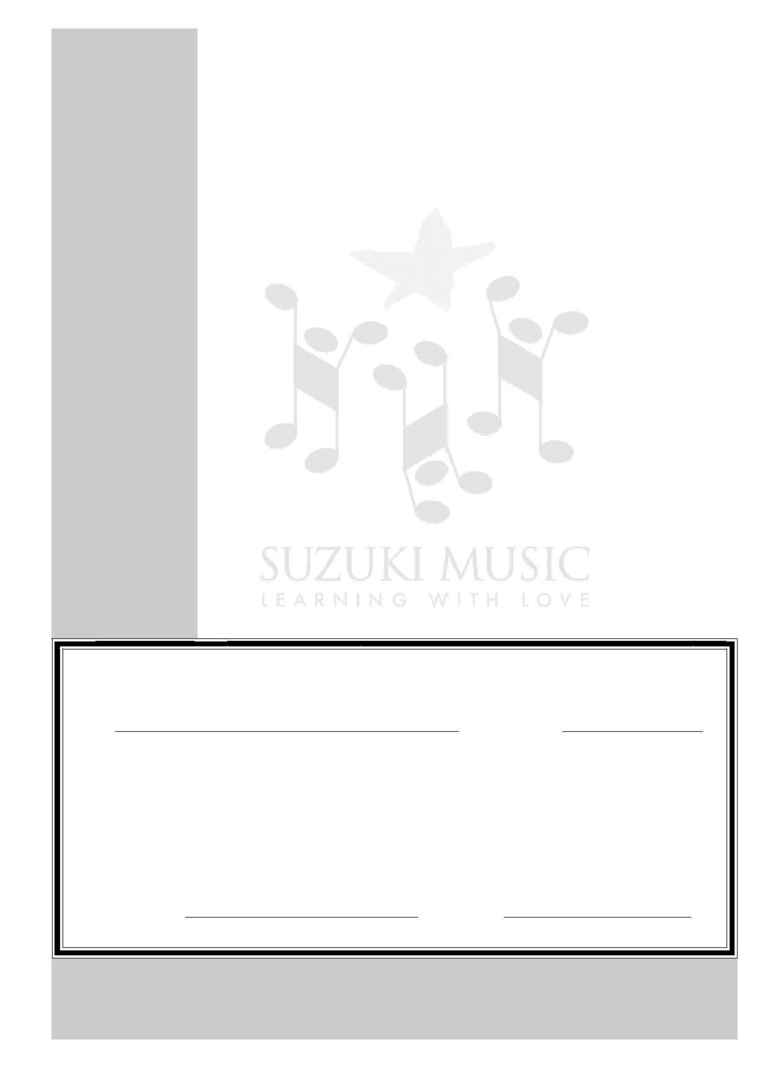 Child Development & Suzuki
Early Childhood Education
SUZUKI MUSIC
170 Southbank Blvd Southbank VIC 3006
(03) 9681 6933 Fax (03) 9681 6977 Email info@suzukimusic.org.au
Suzuki Talent Education Association of Australia (Vic.) Inc. Reg. No. A5744 ABN 14 080 413 955
ALL INSTRUMENT
PROFESSIONAL DEVELOPMENT
SUNDAY 31 JULY 2005
9.30 - 11.30am
The Learning Centre
220 Canterbury Road, Canterbury
Cost: $55
Program
9.30 - 10.30
Child Development - how young children learn and personality
differences.
Session led by leading Child Psychologist, Kathy Walker

10.30 - 11.30
Suzuki Early Childhood Education - group music classes for babies,
toddlers and parents - an introduction.
Session led by Director of Early Childhood Education in Melbourne,
Lucy Adeney-Tasker.
Annual Professional Development Requirement Credit - 2 hours
Please note that teachers enrolled in the 2005 Primary Lecture Course
do not need to apply separately for this session. This is included in
your course costs.
Please complete the slip below and return to Suzuki Music by
Friday 15 July.
ALL INSTRUMENT PROFESSIONAL DEVELOPMENT
Sunday 31 July 2005

Name

Payment Details
Card* (Bankcard/Mastercard/Visa)
* Card transactions will incur a 3% surcharge
_ _ _ _ / _ _ _ _ / _ _ _ _ / _ _ _ _

Cardholder's Name