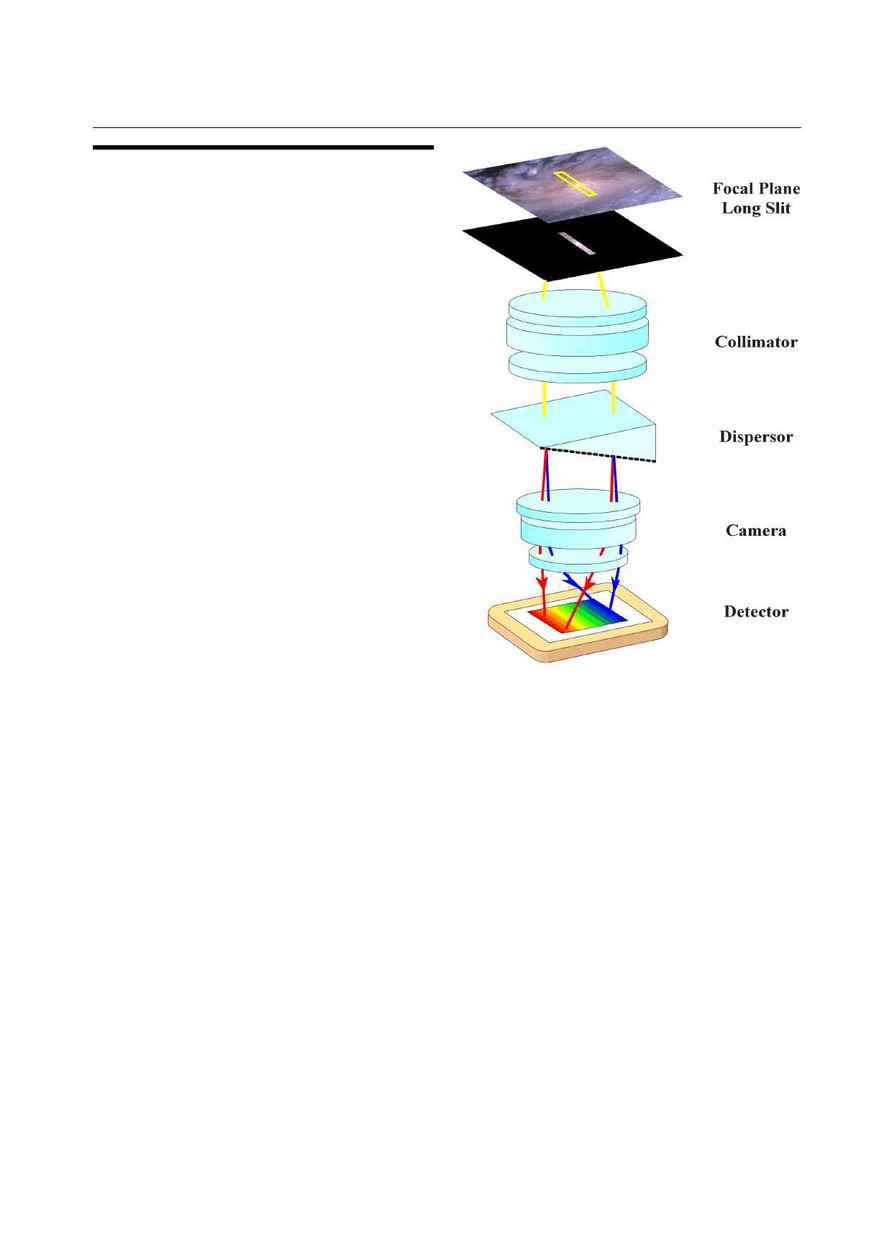 Spectrographs: Integral Field Units
N C Y C L O P E D I A O F
Spectrographs: Integral Field Units
Most astronomical objects display extended structures.
For example, the bulge of a spiral galaxy looks quite
different from its spiral arms. Indeed multicolor imaging,
which is no more than very-low-resolution spectroscopy,
shows us that the disk is bluer than the bulge, indicating
that young stars form preferentially within the spiral arms.
This, however, does not tell us how stars are moving within
the spiral arm and what are the composition, temperature
and pressure of the interstellar medium in various parts of
the galaxy. Acquiring spectra at different locations will
help us in answering these questions. More generally,
understanding the chemical composition and kinematics
of extended objects relies on obtaining spatially resolved
spectrographic information.
The spectrophotometric information content of an ex-
tended object is inherently of three dimensions: two di-
mensions for the sky plane and one dimension in wave-
length.
Present detectors are unfortunately of a two-
dimensional nature only. This makes it a major problem
to pack this three-dimensional spectrophotometric infor-
mation content of celestial objects on the detector plane.
This, in turn, explains the still very prevalent use of classi-
cal long-slit spectrographs because of their perfect match
with available digital detectors (figure 1) and despite their
total loss of one spatial coordinate (across the slit width).
For simple objects, one can generally obtain enough
information using multiple exposures with judicious slit
orientations. However, for a complex object this rapidly
becomes difficult as the geometry of the object rarely
matches the geometry of the slit, not to speak of the
increasing cost in telescope time.
telescopic observations, the non-simultaneity of the long-
slit observations lead to inhomogeneous data as
and weather conditions usually change between two
successive exposures. It is then strictly impractical to cover
completely and homogeneously a given field of view with
a number of long-slit exposures.
Three-dimensional spectrographs are intended to
give three-dimensional data for a fully sampled field
of view. There are two general classes of instruments:
scanning spectrophotometers and integral field units
(IFUs).
In a scanning spectrophotometer, time scanning is
used to provide the missing third dimension. This type
of instrument has a large
being a spatial element, but its use is restricted to relatively
bright objects because of the need for time scanning. At
the end of the observation the data cube is obtained
by a concatenation of all individual exposures. As for
multiple-slit exposures, time of variation of the weather
or instrumental conditions may cause inhomogeneities in
the data.
The most famous example of a scanning spectrometer
is the scanning Fabry­P´erot
two-parallel-plates etalon, whose separation can be tuned
via a piezoelectric system. Such an instrument allows
Figure 1.
Basic principle of a long-slit spectrograph. A slit
aperture, located at the telescope focal plane, masks everything
of the observed object except along the slit. The slit orientation
matches the orientation of the detector, so that each point of the
object along the slit gives a spectrum on the detector. This
simple technique avoids spectral overlap because neighboring
points are located perpendicularly to the slit.
scanning in wavelength by making successive exposures
at different separations of the etalon plates. To scan the
complete free spectral range generally requires a large
number of exposures (up to 50). The scanning Fabry­P´erot
is limited to a small wavelength range, which restricts their
use practically to the kinematical study of a single emission
line. There are a number of such devices in operation
throughout the world, such as Taurus at RGO (Taylor and
Atherton 1980), HIFI at University of Hawaii (Bland and
Tully 1989) and CIGALE at Marseille (Boulesteix et al 1980).
Another approach is to use an imaging Fourier
transform spectrometer (FTS). This instrument is a
Michelson-like interferometer, which allows the recording
of interferograms by a step-by-step scanning of the path
difference between the two arms. Increasing the path
difference increases the spatial resolution. While there
are many FTSs in operation, most of them have only one
Copyright © Nature Publishing Group 2001
Brunel Road, Houndmills, Basingstoke, Hampshire, RG21 6XS, UK Registered No. 785998
and Institute of Physics Publishing 2001
Dirac House, Temple Back, Bristol, BS1 6BE, UK