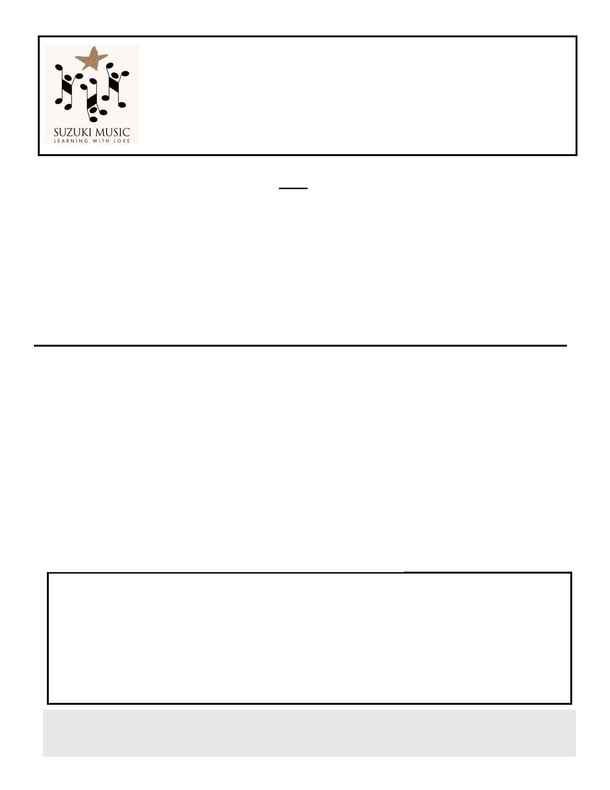 170 Southbank Blvd Southbank VIC 3006
Phone (03) 9681 6933 Fax (03) 9681 6977 Email info@suzukimusic.org.au
Suzuki Talent Education Association of Australia (Vic.) Inc. Reg. No. A5744 ABN 14 080 413 955
SUZUKI MUSIC
ALL INSTRUMENT
Sunday 24 July
Closing Date: Friday 17 June 2005
All Payments must be received with this form
PLEASE NOTE:
IF YOU ARE ENTERING STUDENTS YOU MUST BE ABLE TO ATTEND AND ASSIST. IF YOU ARE NOT
AVAILABLE TO ASSIST ON THE DAY, YOUR FORM MAY BE RETURNED TO YOU, DEPENDING ON
SPACE IN CONCERTS AND HELPERS AVAILABLE TO RUN THE CONCERT
FORMS THAT ARE INCOMPLETE WILL BE RETURNED TO TEACHERS AND NOT PROCESSED
PLEASE ENSURE STUDENTS ARE MEMBERS BEFORE ENTERING THEM
PLEASE DISTRIBUTE STUDENTS EVENLY BETWEEN VENUES AND TIMES TO ENABLE
ALL CONCERTS TO BE BALANCED
All details should be entered on the reverse side of this form. Please enter students for only ONE venue per form. If you are
entering students at more than one venue, please photocopy more forms as required. It is expected that all teachers
entering students in concerts will be available on the day to help. Payment for concerts needs to be in advance and
must be received with this form. Entries received after the closing date may not be processed. Please see Concert
Procedures for Teachers for further information regarding deadlines, membership etc.
PAYMENT DETAILS
Name: _______________________________ Number of families ______ @ $13 per family
TOTAL
Cheque [Payable to Suzuki Music]
Credit Card (Bankcard / Visa / Mastercard)
[Please circle card type]
_ _ _ _ / _ _ _ _ / _ _ _ _ / _ _ _ _
Cardholder's Name __________________________________ Signature _________________________________

GREYTHORN PRIMARY SCHOOL
Reading Ave
NORTH BALWYN
*Accompanist: Rita Seeligson
Ph: 9877 3080
PENLEIGH & ESSENDON GRAMMAR
Limrock Hall, Park Street
ESSENDON
*Accompanist: Juliana Frazer
Ph: 9380 1457
WESLEY COLLEGE ­ 2 Rooms
620 High St Rd
GLEN WAVERLEY
1.30pm
*Accompanist: Lakshmi Rasaratnam
Ph: 9886 4209
ST MARTINS UNITING CHURCH
Cnr Gibbs St and Dalgetty Rd
BEAUMARIS

MLC ROOM - 2 Rooms
Barkers Rd
KEW
*Accompanist: Sarah Denholm
Ph: 9890 9126
TOORAK COLLEGE
Old Mornington Rd
MT ELIZA