The Last Windup sun rally 06 Page 3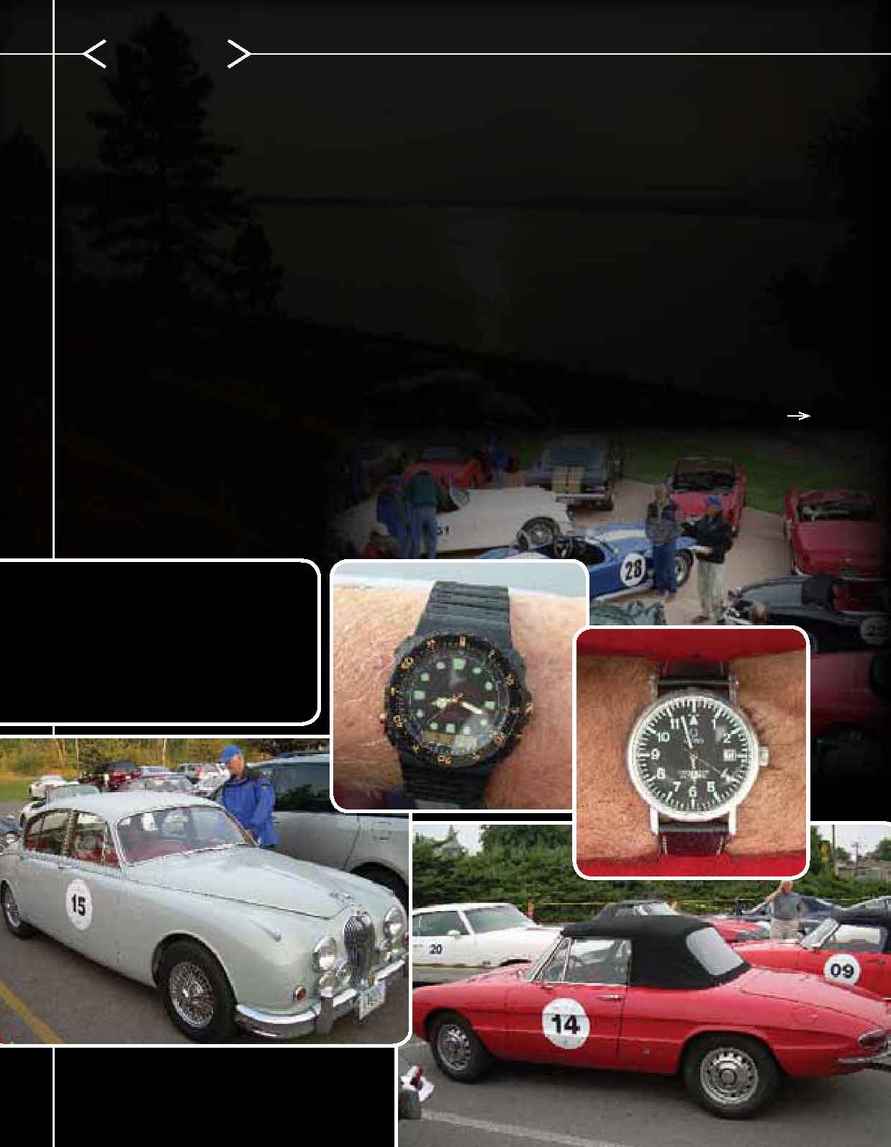 on the road
JANUARY 2007INTERNATIONAL WATCH
120 WWW.FINELIFEMEDIA.COM
started by Farnum Alston and Jim
Sitton, both of Montana) enjoyed
the attention of the Ball Watch
Company, which generously do-
nated a Fireman Ionosphere chro-
nograph, a men's stainless steel
automatic (ETA Cal. 7750) with
nineteen gas tubes for the ulti-
mate in nighttime reading. The
proceeds from the Rally auction
went to benefit the Officers of the
Montana Highway Patrol, voca-
tional programs in Montana and a
scholarship for one well-deserving
Philippe Reyns, from Chan-
dler, Arizona, driving his 1962
Jaguar E-Type Roadster, was the
winning bidder for the watch
The trip
The days following the ride over the
Beartooth Highway and through
Yellowstone National Park were
exciting, breathtaking and thrill-
ing. Behind the wheel of a humble
yet timelessly stylish 1968 Karmann
Ghia, I cruised through Missoula,
then on to the Going to the Sun
Road through Glacier National
Park, where high speeds were not a
concern as the scenery was far too
There was the occasional stop
to view a bear and cubs on the road-
side fattening up for the long Mon-
tana winter. Mountain goat, sheep
and elk were all abundant, offering
a chance to take in the majesty of
Montana in the high country. It
was not uncommon to see a Ferrari,
Aston Martin, Corvette or Shelby
Cobra literally fly by at breakneck
speeds as we headed out of Gla-
cier after the town of Browning
on roads that literally begged one
to test the horses under the hood.
Only a handful of speeding tickets
were issued, but from all reports,
At right is the Casio worn by the driver
of the 1961 Jaguar MKII 3.8, pictured
At bottom right is a 1969 Alfa Romeo
Spider whose driver sports the Limes
Nightflight pictured at far right.