Suzuki Violin PD Mini Festival 2008 Page 1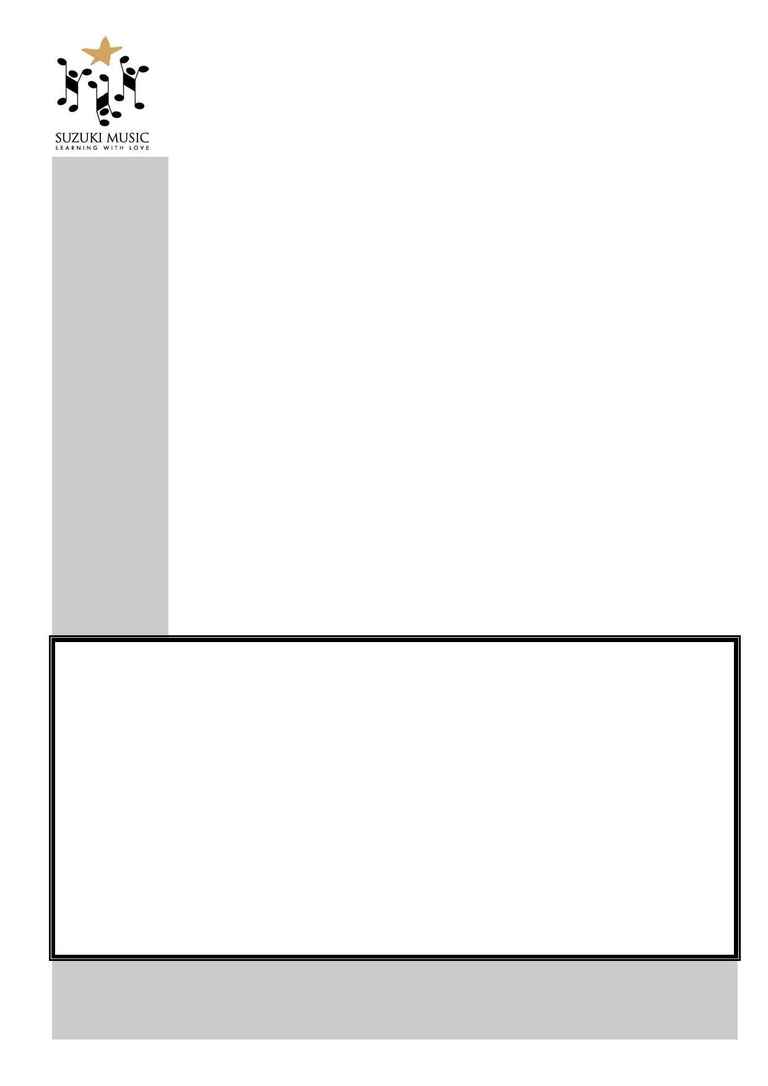 Violin
Professional Development
SUZUKI MUSIC
PO Box 439 Kew East Vic 3102
(03) 9859 0433 Fax (03) 9859 0477 Email info@suzukimusic.org.au
Suzuki Talent Education Association of Australia (Vic.) Inc. Reg. No. A5744 ABN 14 080 413 955
VIOLIN PROFESSIONAL DEVELOPMENT
MINI FESTIVAL 2008
Sunday 24 August
9.00 - 12.15pm
Scotch College
Morrison Street, Hawthorn
Cost: $79
Closing Date: Wednesday 6 August

Lois Shepheard and Yasuki Nakamura will present 3 hours of Professional
Development for Violin Teachers and Teacher Trainees of all levels as part of Mini
Festival 2008. Please bring your Violin to enable you to fully participate.

Program:
Presenter: Lois Shepheard
Books One and Two, the new editions: Which way do we go?
1 hour

Presenter: Yasuki Nakamura
"Tone is life without form" - maintaining Dr Suzuki's inspiration
A practical session including video demonstrations.
2 hours

Annual Professional Development Requirement Credit - 3 hours
Please complete payment details below and return to Suzuki Music with payment by
Wednesday 6 August.
Late applications may not be accepted and will be subject to a late fee of $15.
VIOLIN PROFESSIONAL DEVELOPMENT
Sunday 24 August 2008
Name _________________________________________________ Phone _____________________________
Email _________________________________________ Accreditation Level _________________________
Payment Details

$79 [ $39.50 for 2008 Primary Trainees in first year of training]
(for applications and/or payment received after Wed 6 August)
TOTAL PAYMENT $________________
(Payable to Suzuki Music)
Card* (Mastercard / Visa)
(please circle card type)
* Card transactions will incur an additional 2% surcharge

Cardholder's Name _________________________________ Signature______________________________