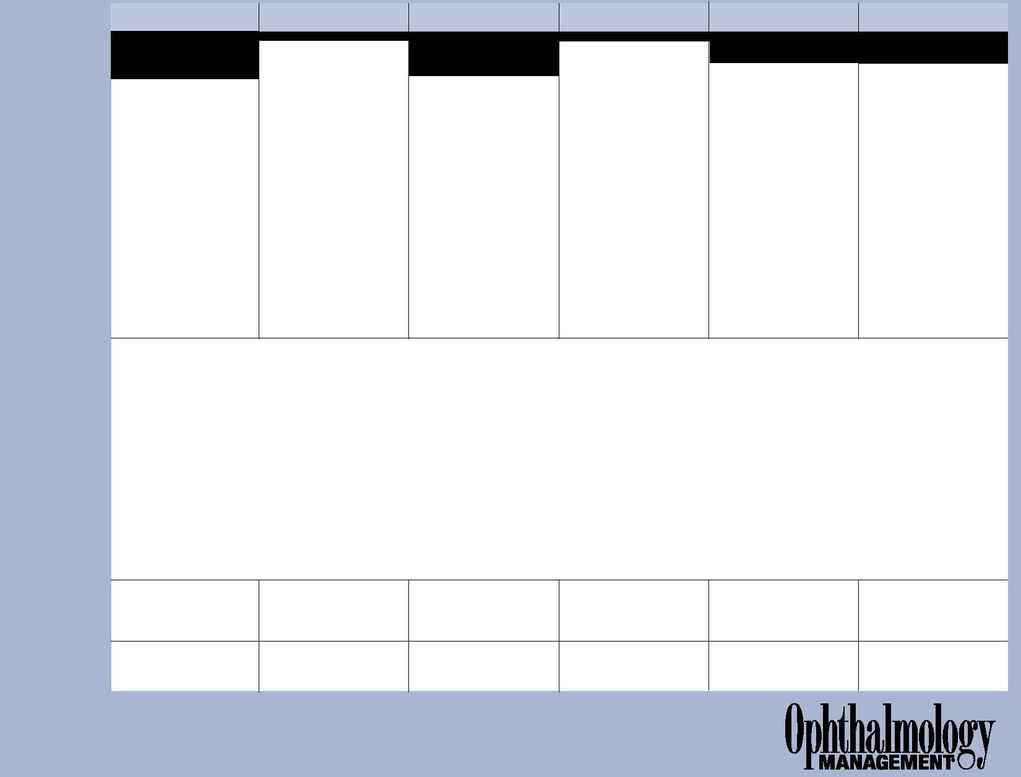 Full
1/2
1/3
1/6
1/12
Full
1/2
1/3
1/6
1/12
Full
1/2
1/3
1/6
1/12
1x
1x
1x
6x
6x
6x
12x
12x
12x
18x
18x
18x
Practice
and Patient
Management
Features
Supplements
& Marketing
Opportunities
Closing
Dates
Diagnostic Instrument
Buying Guide
Combining Visudyne with other
therapies
Have the new rules for pharma-
ceutical reps changed anything?
Getting new technology to pay
for itself
Tips for keeping overhead off
your back
Product Section Focus: Dry eye
products
Diagnostic Instrument Guide
Glaucoma diagnostics update
Using endoscopic cyclophotoco-
agulation in cataract surgery
Time to take your imaging effort
digital?
Internet marketing: What's the
goal?
An affordable video setup for the
surgery suite
Product Section Focus: Allergy
medications
AAO Meeting Issue
Why all ophthalmologists need
to actively manage their careers
Action plan for residents
Product Section Focus:
Vitrectomy systems
2004 Buyer's Guide
Intravitreal injections: the new
frontier?
Where does ocular blood flow fit
into glaucoma care?
Viscoelastics' role in the latest
techniques
Product Section Focus:
Glaucoma lasers
Coding and
Reimbursement
Spotlight on Technology
and Technique
6th Annual Refractive
Surgery Issue
LASIK patient screening: How
much is enough?
Conductive Keratoplasty a year
later
The importance of nomogram
development
The Array lens as a practice-
builder
Surgical correction of hyperopia:
procedure comparison
Product Section Focus:
Glaucoma medications
What are we doing with infor-
mation from AREDS and
OHTS?
Can you retire even close to
comfortably?
When a colleague is a danger to
patients
Putting SLT into practice
Product Section Focus: Corneal
topographers
Resource Center &
Classified Advertising
All it takes to reach the country's
eyecare professionals is a little
classified information.
It's no secret! Resource Center & Classified
advertising in Ophthalmology Management
is the easy, affordable way to reach eyecare
professionals across the nation. Whether
you're buying, selling, or staffing, you'll
find the perfect prospects for your message
in one of our four publications:
· Situations Wanted
· Business Opportunities
· Equipment for Sale
· Services for Sale
· Products for Sale
· Software for Sale
· Wanted to Purchase
Classified & Resource Center advertising
opportunities are available monthly in
Ophthalmology Management and all other
BCI publications.
MECHANICAL SPECIFICATIONS:
(w x h)
Full Page -- 6 3/4" x 9"
1/2 Page -- 6 3/4" x 4 1/4"
1/3 Page Vertical -- 2 3/8" x 9 1/4
1/3 Page Square ­ 4 3/8" x 4 1/2"
1/6 Page Vertical -- 2 1/8" x 4 1/2"
1/6 Page Horizontal -- 4 1/2 x 2 1/8
1/12 Page Square -- 2 1/8" x 2"
Audrey Krenzel: 215-643-8123
Limited time offer: FREE listing
on our interactive website ­
www.visioncareclassifieds.com
Deduct 25% for black & white
Ask about our special discounts!
PAYMENT: Prepaid by personal check,
Visa, MasterCard or American Express.
Classified Advertising is not commission-
able.
DEADLINES: Middle of the month
preceding publication.