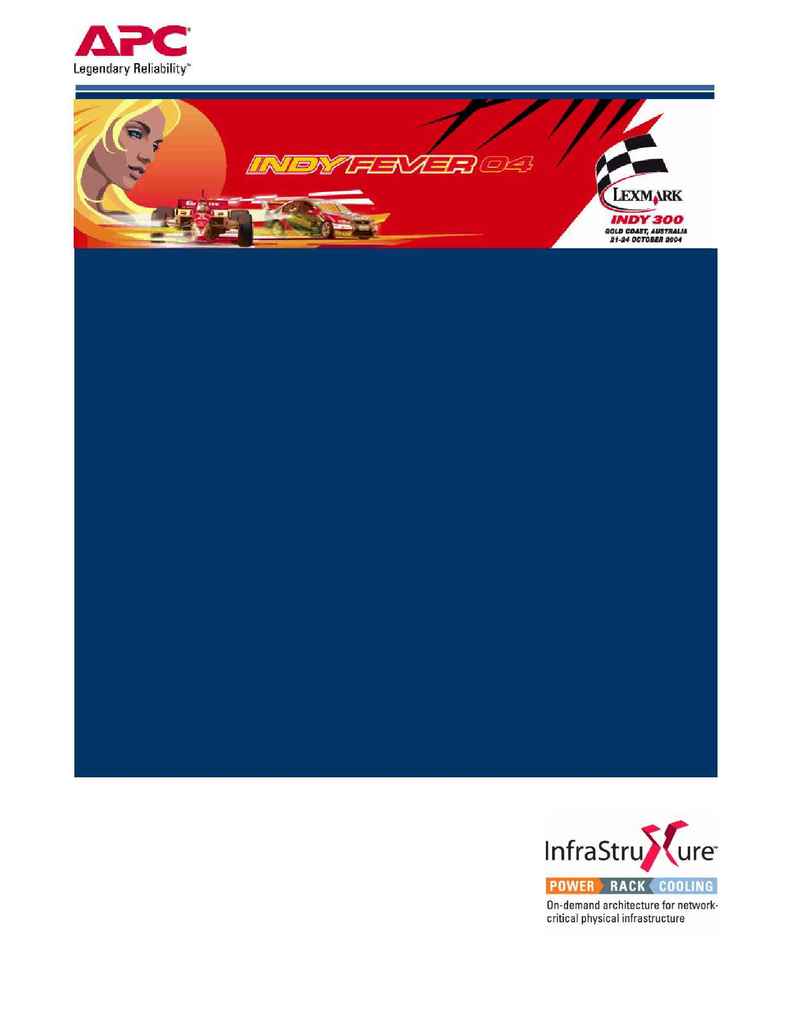 INDY INDULGENCE
Get into pole position!
..APC is taking you to Indy on the Gold Coast...
- 3 nights/4 days of complete leisure and luxury (October 21-24th)
- All expenses paid by APC (flight, Indy tickets, 5 star accommodation, meals, drinks ...)

If you are an InfraStruXure Reseller Partner you qualify to participate in APC's
InfraStruXure Incentive Program - exclusive to our InfraStruXure Partners.

What do you have to do to get there?
Each individual needs to enter 3 InfraStruXure type B configurations into the APC Build-Out tool,
approved by APC and presented face to face to the customer between July 1st and September
30th. And that's all!*

So ready, set, go ... Your chances of winning are very high, just stay focused on selling
InfraStruXure. If you have any questions or need any help please contact your APC Channel
Account Manager.
VIC/SA/TAS ­ Adam Wilkinson ­ (03) 9690 0288
NSW/ACT ­ David Viana ­ (02) 8923 9382
QLD/NT ­ Dirk Krueger ­ (07) 3245 3727
WA ­ Graham Halton ­ (08) 9330 2077

*This offer is limited to available seats. In the improbable event of more winners than seats available, the winner will
automatically qualify for our Q4 promotion prize.



Terms & Conditions
1) If two or more resellers are working on the same opportunity, the first reseller with an
approved configuration will get the credit.
2) If the configuration is done by an APC account manager BUT the opportunity is
identified and qualified by the reseller account manager this would then be credited to t
reseller.
3) There are no limits on how many reseller account managers can participate from the
same reseller account.
4) Must be a unique Build Out Tool configuration, revisions are not counted
5) APC reserves the right to amend this promotion at its own discretion. APC's decision
is final.