Suzuki Suzuki Piano Playathon Sponsor form 2008 Page 1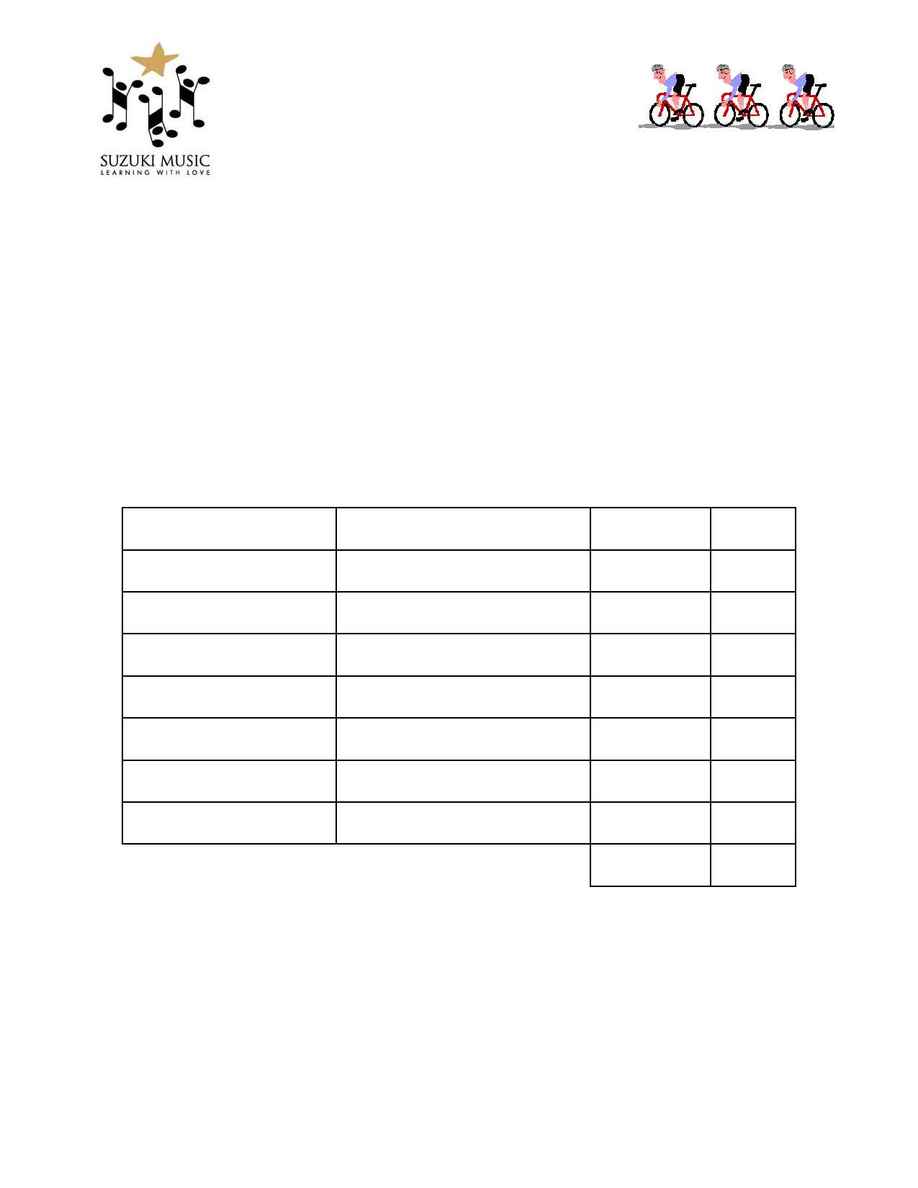 Suzuki Piano Playathon
Sunday, 20 July, 2008
10:00am ­ 4:00pm
Sponsor/ Donation Form
Proceeds to
DAVID BLAND RIDE FOR LIFE
Supporting LIFEGift (Red Cross)
&
SUZUKI MUSIC
A NOTFORPROFIT ORGANISATION
Student's name _________________________ Teacher's name ________________________________
Membership No ____________
(PLEASE NOTE THAT ALL PERFORMERS MUST BE CURRENT FINANCIAL SUZUKI MEMBERS)
PERFORMERS CAN EITHER MAKE A DONATION OR OBTAIN SPONSORS
DONATION (suggested amount $20 per performer):
SPONSORSHIP
Sponsor's Name
Address
$ Pledged Per
Piece/Minute
$ rec'd

TOTAL REC'D

$

All children must be accompanied by an adult in seeking donations in the neighbourhood.
Sponsors could donate either per piece, by time spent performing or by a flat donation.
Proceeds to David Bland Ride for Life, supporting LIFEGift (Red Cross)& Suzuki Music.
PLEASE MAKE ALL CHEQUES PAYABLE TO SUZUKI MUSIC
Please return this form and money to your teacher by Friday 22 August to enable your teacher to send
it to the Suzuki Music office by Friday, 29 August, 2008. Suzuki Music will forward sponsorship money
to the David Bland Ride for Life.
Suzuki Music ­ A Not For Profit Organisation
PO Box 439 Kew East Vic 3102
Phone (03) 9859 0433 Fax (03) 9859 0477 Email info@suzukimusic.org.au
Suzuki Talent Education Association of Australia (Vic.) Inc. Reg. No. A5744 ABN 14 080 413 955