Scottsdale International Film Festival submit form 06 Page 1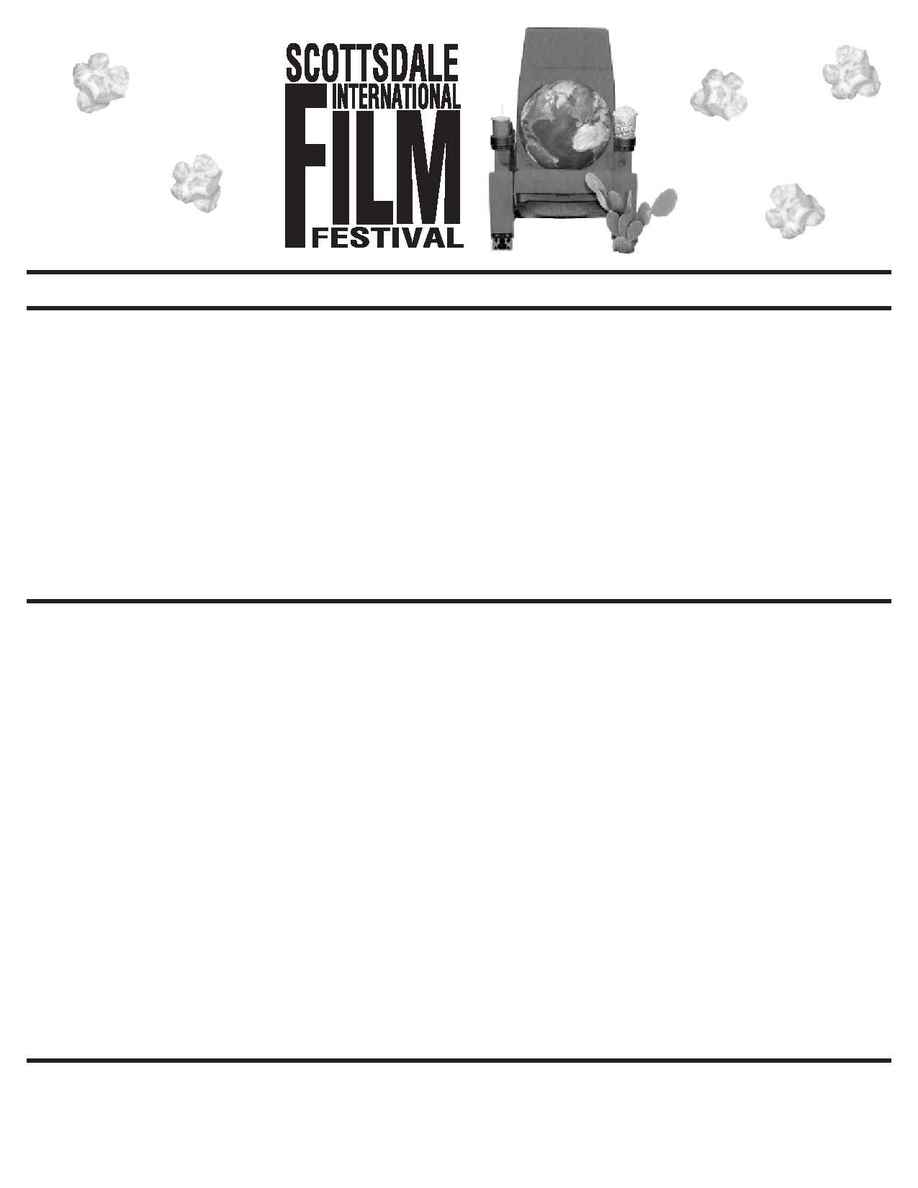 p l e a s e m a i l s u b m i s s i o n s t o :
e n t r y g u i d e l i n e s
We are pleased that you are considering us for submission of your work. The film festival occurs every October
and our mission is to offer the audience a multi-national experience with feature-length films. We seek to
entertain, provoke discussion, discover beauty and shine a light on new thoughts. Please be sure to read the
entire guideline and fill out the form completely.
Kind Regards,
Amy B. Ettinger
Festival Director
Scottsdale International Film Festival
Preview cassettes must be labeled inside and out with the title, filmmaker's name, address and
phone number. Please label the spine of all cassettes with the title and running time.
Please include color photos or slides from your production for the four color program guide, ads
You must complete the entry form and include it with each entry. Tapes without forms will not
All entries should be received by August 14, 2006.
Enclose a self-addressed stamped envelope or postcard to confirm receipt of your entry. If your
work is accepted, you will be notified by August 31, 2006.
Tapes will not be returned unless you send a self addressed stamped envelope with appropriate postage.
Exhibition prints are required by October 3, 2006. We will retain your preview tape for
promotional purposes until October 31, 2006, after which they will be sent back to you (if you
enclose a self addressed stamped envelope). The festival accepts no responsibility for loss or damage
of entries during shipments at any time.
COD deliveries will not be accepted.
For FedEx or UPS: DO NOT check the slip for signature only delivery.
Vision Events Productions, Inc.
619 East Vista Ave.
Phoenix, Arizona 85020
(602) 410-1074
(413) 410-1072
ScottsdaleIFF@aol.com
http://www.scottsdalefilmfestival.com
O c t o b e r 6 - 1 0 , 2 0 0 6
­ 6th Annual ­