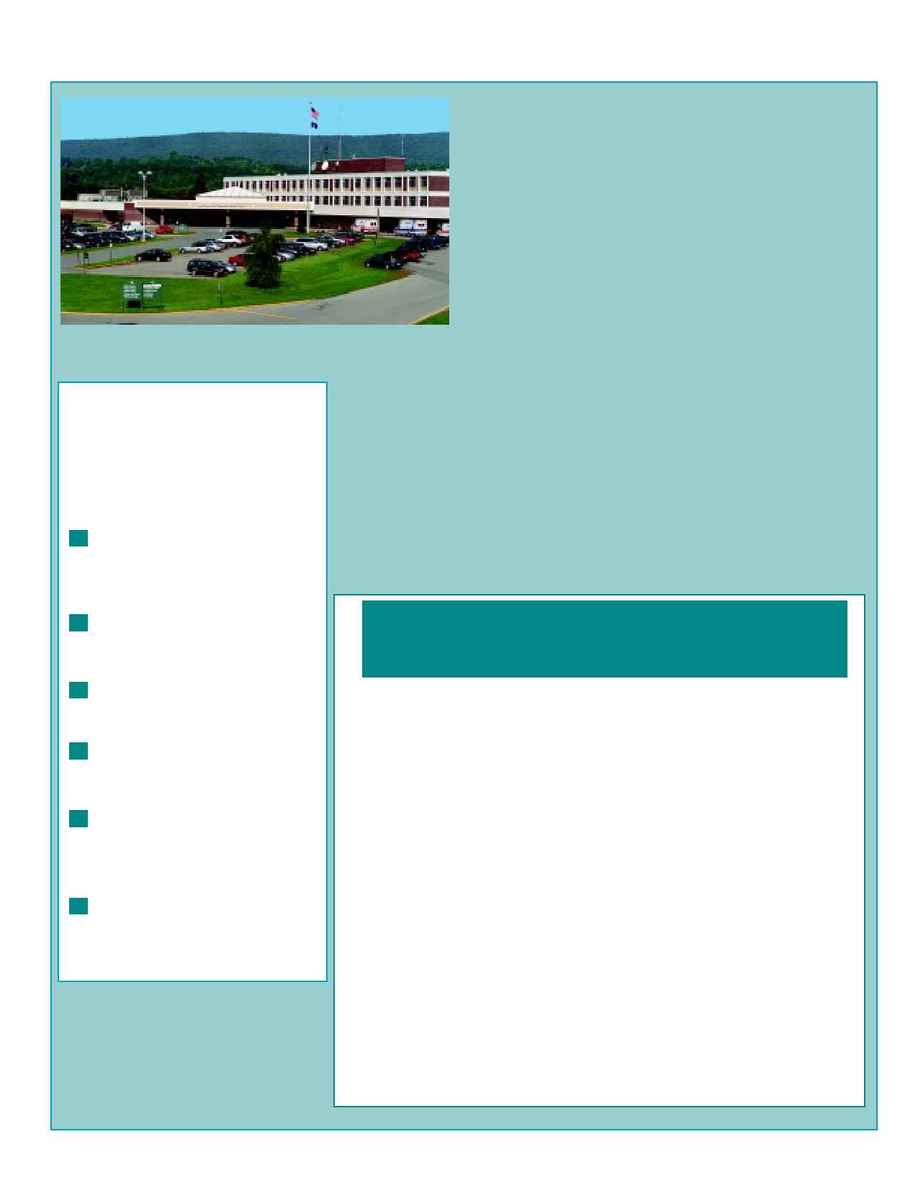 Since 1894, Nathan Littauer Hospital and Nursing
home has provided health and hospital services to
the people in Fulton County and in surrounding
communities in Montgomery and Hamilton
Counties. In our 112 years of service, the Hospital
has grown from its original building with 28 beds
to the current facility in Gloversville, New York,
that is licensed for 124 beds. It is a 501-C-3, not-
for-profit corporation.
After moving to this 34-acre site in 1968, the
Hospital expanded its services by adding an 84-
bed skilled Nursing Home in 1972, a Medical Arts Building also in
1972 and a state-of-the-art Surgical Center in 2000. In 1989
Littauer opened HealthLink, a health and wellness resource
center in neighboring Johnstown. In 1990, 1995, 1996, and 1997
Primary Care Centers opened in Gloversville, Johnstown,
Mayfield, and Speculator. In 2005, two more Primary Care
Centers opened in Caroga Lake and on Steele Avenue in
Gloversville. In 2007, another Center will open in the town of
Perth. More than 110,000 people in this tri-county area have
access to Nathan Littauer Hospital and Nursing Home and its
family of health services.
Replaced and upgraded four
patient beds in the Special
Care Unit
Renovated office for our
Orthopaedic Surgeon
Replaced the emergency
generator
Replaced sidewalks by the
main entrance
Repaved the Respiratory
and Rehab Medicine parking
lot
Purchased a building to
house the Steele Avenue
Primary Care Center
Economy and Our Community
Nathan Littauer Hospital and Nursing Home is critical to the economic
viability of our community. Littauer's contribution to our local economy,
includes the people we employ, the impact of our spending, and the effect of
our employees', physicians' and their families' spending, and the taxes they
pay.
Source: 2004 study by the
Healthcare Association of New York State (HANYS).