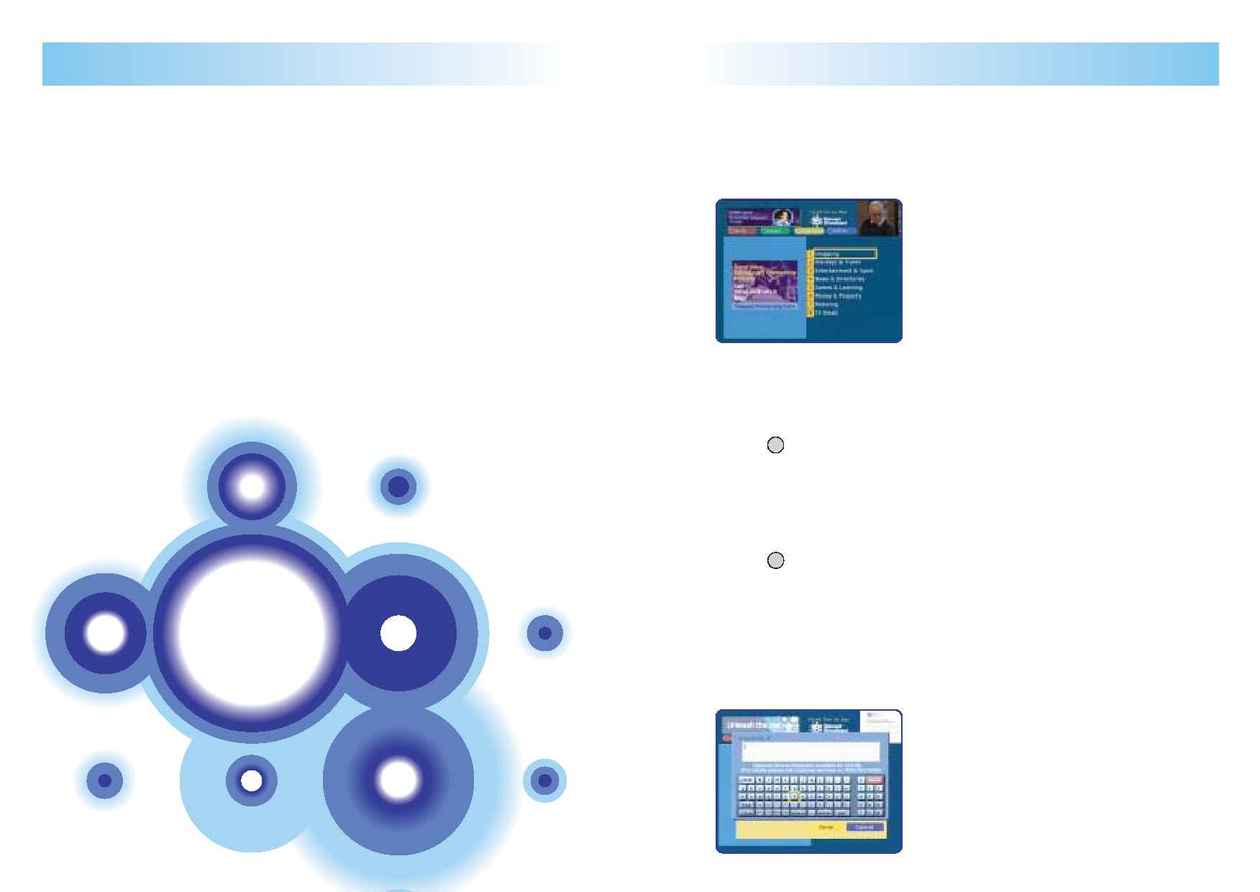 Your guide to Broadband Digital TV 21
20 Your guide to Broadband Digital TV
Interactive services provide access to Internet sites specifically adapted for
the TV. You can shop, bank, play games, send emails, even check the weather
forecast, news and sports as well as book a holiday, place a bet and look up
local services - all at the touch of a button.
To go to Interactive services
Press the Interactive button; you will be taken to the Interactive Menu.
Use the Arrow buttons to move around the screen.
A yellow box will highlight where you are on the screen.
Position the yellow highlight box over a service or menu you're interested in.
You'll then be taken to that service or menu option.
Using the on-screen keyboard
To access the on-screen keyboard, place the yellow highlight box over a
text-entry box.
Or, to make text entry simpler, why not use an Infra-red keyboard instead of
the remote control (see pages 6-7 for more information on the
Infra-red keyboard).
When you're using the Interactive service, you can still watch the TV channel
you were watching. You will usually be able to see the picture in the top right-hand
corner of the screen.
Recording Broadband Digital TV programmes on video
Switch your set top box to the channel you want to record.
Turn your video to the channel you use for recording Broadband Digital TV -
usually channel 6 or AV (if SCART leads are attached.)
(You must stay on the Broadband Digital TV channel you are recording. You cannot
watch one Digital TV channel while recording another.)
If you have an outside TV aerial connected, you can watch the terrestrial
channels (BBC1, BBC2, ITV 1, Channel 4 and Channel 5) directly through your TV
while recording a Broadband Digital TV channel. Or, if you have connected your
aerial to your VCR, you can record the terrestrial channels while watching
Broadband Digital TV.
(TV on demand events and some Broadband Digital TV channels are protected by
copyright to prevent you from recording them.)
OK
OK