Contour Dermatology and Cosmetic Surgery Center Newsletter Spring 2003 Page 1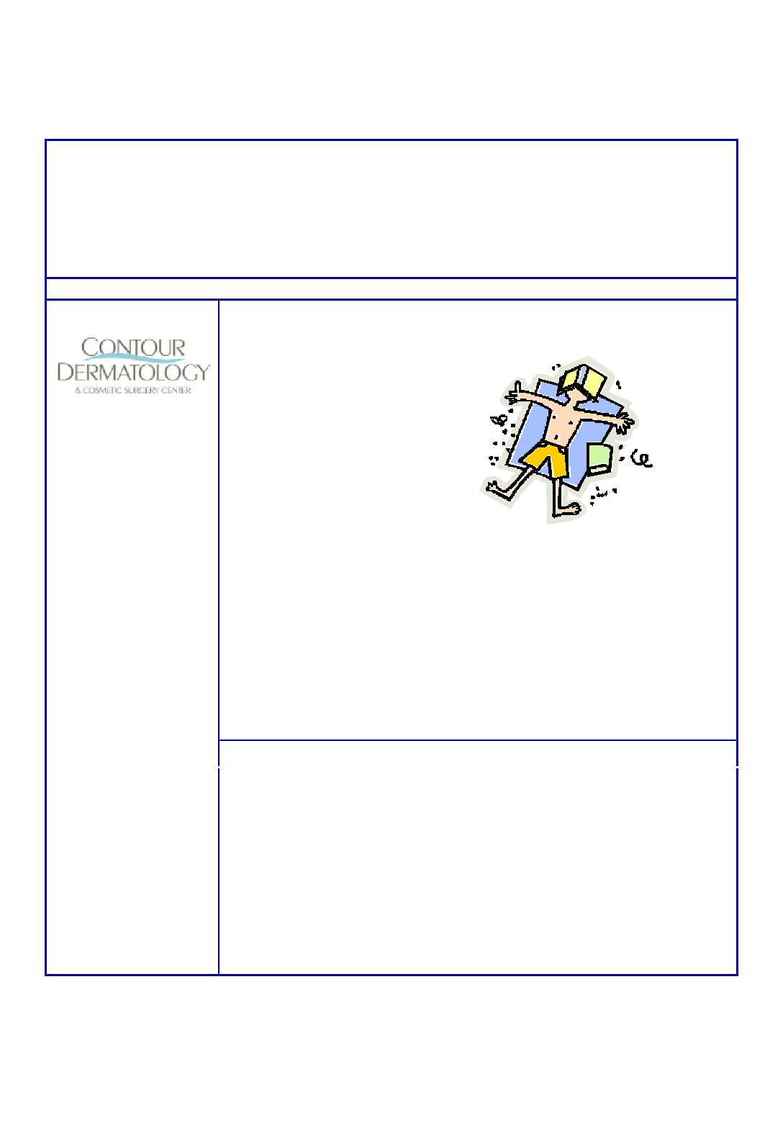 It is the time of year for desert
residents to begin enjoying all the
outdoor sports that the valley has
to offer. The sun is out, bicyclists
are biking, hikers are hiking, ten-
nis tournaments are beginning
and the golfers are teeing off.
With all this outdoor activity each
one of us is at risk for developing
Over exposure to sunlight is the
main cause of skin cancer. It is
estimated that more than one
million Americans develop skin
cancer every year. Avoiding the
sun is the best defense against
skin cancer, but in in our desert
climate the sunshine is plentiful
To help prevent skin cancers
from developing, Dr. Jochen rec-
hat and strongly discourages sun
Early detection through regular skin
inspections by a dermatologist is the
surest way to combat skin cancers,
The Skinny tip number two:
Combating Skin Cancer
Silicone filler for
Lipodystrophy
2-1
Juverderm
2-2
Other Facial Fillers
2-3
Liposculpture
3-1
Dr. Jochen on
Liposculpture
3-2
Cosmetic Discounts
3-3
Contour's Dr. Tim
Jochen
4-1
Inside this issue:
Contour Dermatology and Cosmetic Surgery Center Presents
Malignant melanoma is the most
serious and most aggressive of all
skin cancers. Melanoma can be life
threatening. If left untreated, it
tends to spread throughout the
body, especially the lungs and liver,
as well as surrounding tissue.
In the early stages, melanomas re-
semble moles. Patients are encour-
aged to develop a self-examination
routine and to watch for any suspi-
cious changes in their moles. A der-
matologist should be contacted if
moles are Asymmetrical (irregular
shape), has irregular Borders, Color
is not uniform, or Diameter is more
Early detection (routine skin exams)
is the most effective way to prevent
Masking Melanoma