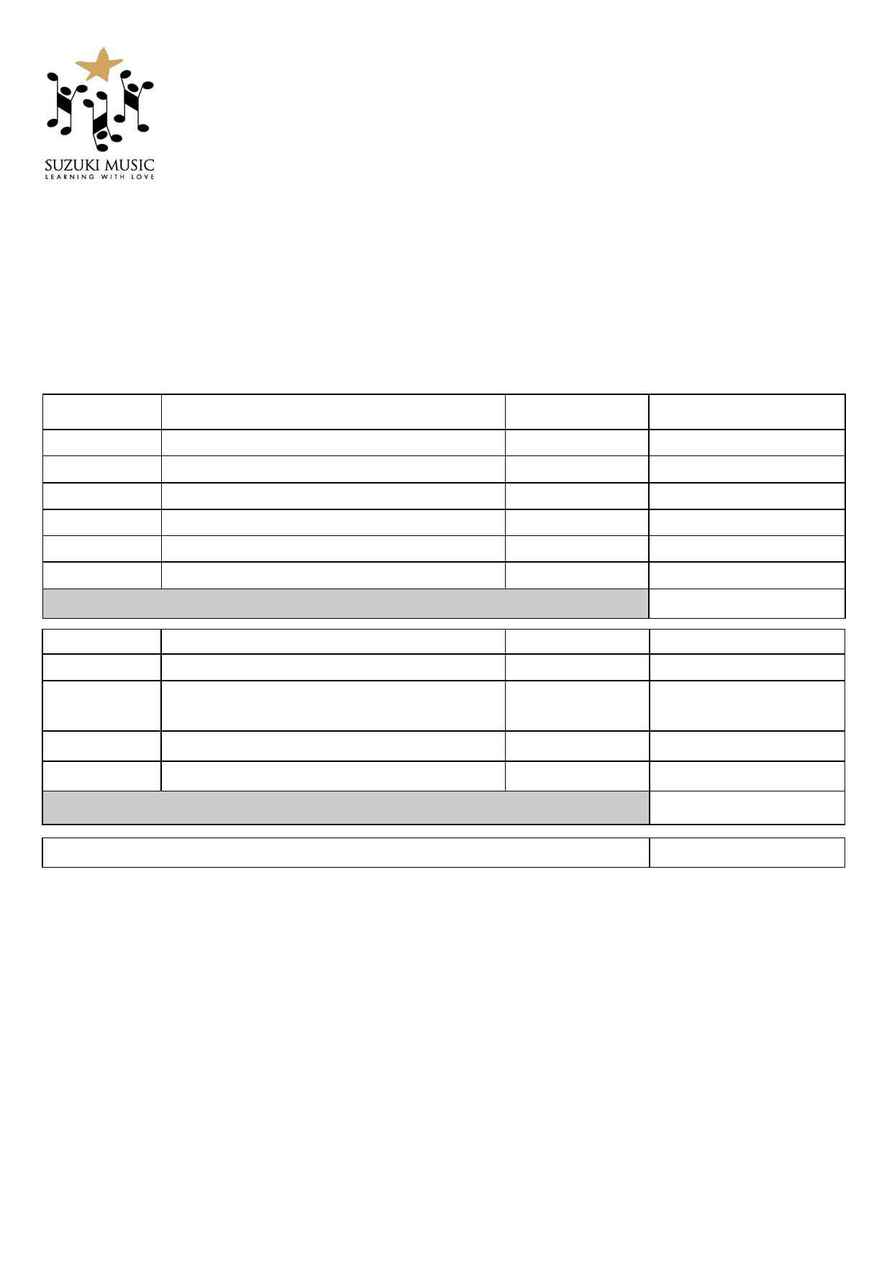 Parent Contact Details
_____________
Given Name _______________________________________ Family Name _______________________________________
Address ________________________________________________________________ Suburb _________________________
State __________ Postcode ____________ Email _____________________________________________________________
Phone (H) ___________________________ (W) _________________________ (M) __________________________________
MINI FESTIVAL 2008 and
GRAND ANNUAL CONCERT 2008
APPLICATION FORM
Closing Date: Wednesday 25 June
Payment Details
Total Number of students enrolled _______________
Cheque/Money Order payable to Suzuki Music OR
Credit card * MCARD / VISA
* Card transactions will incur an additional 2% surcharge
_ _ _ _ / _ _ _ _ / _ _ _ _ / _ _ _ _
Name of Cardholder ____________________________Signature ______________________________________
Mini Festival Fees and Grand Annual Concert Tickets
Please enter the amount due in the right hand column and the total amount at the bottom.
Nbr of students Mini Festival Program
Cost
Amount Payable
$
Subtotal A (Program Costs):
(Violin, Viola, Cello & Flute only
Afternoon Tea (Cake and Juice/Water)
Nbr of tickets Grand Annual Concert Tickets
Cost per ticket
Amount Payable
Child (to age 17)/ Pensioner*

(*Concession card must be provided on request)
Family (2 Adults + 2 Children)
Subtotal B (Ticket Costs):
$
TOTAL AMOUNT PAYABLE (Subtotal A + Subtotal B):
$
You must be a 2008 financial member of Suzuki Music to participate in this event. You may attach a completed
membership form to this application.
Please assist organisers by ensuring that this form is completed correctly. Incomplete forms will be returned.
Mini Festival Cancellations received by Wednesday 25 June will be refunded less a $15 administration fee per child.
No refunds will be made after this date for any reason.
All Grand Annual Concert tickets are non-refundable once purchased.
Suzuki Music
PO Box 439 Kew East Vic 3102
Phone 03 9859 0433 Fax 03 9859 0477 info@suzukimusic.org.au
Suzuki Talent Education Association of Australia (Vic.) Inc. A5744 ABN 14 080 413 955