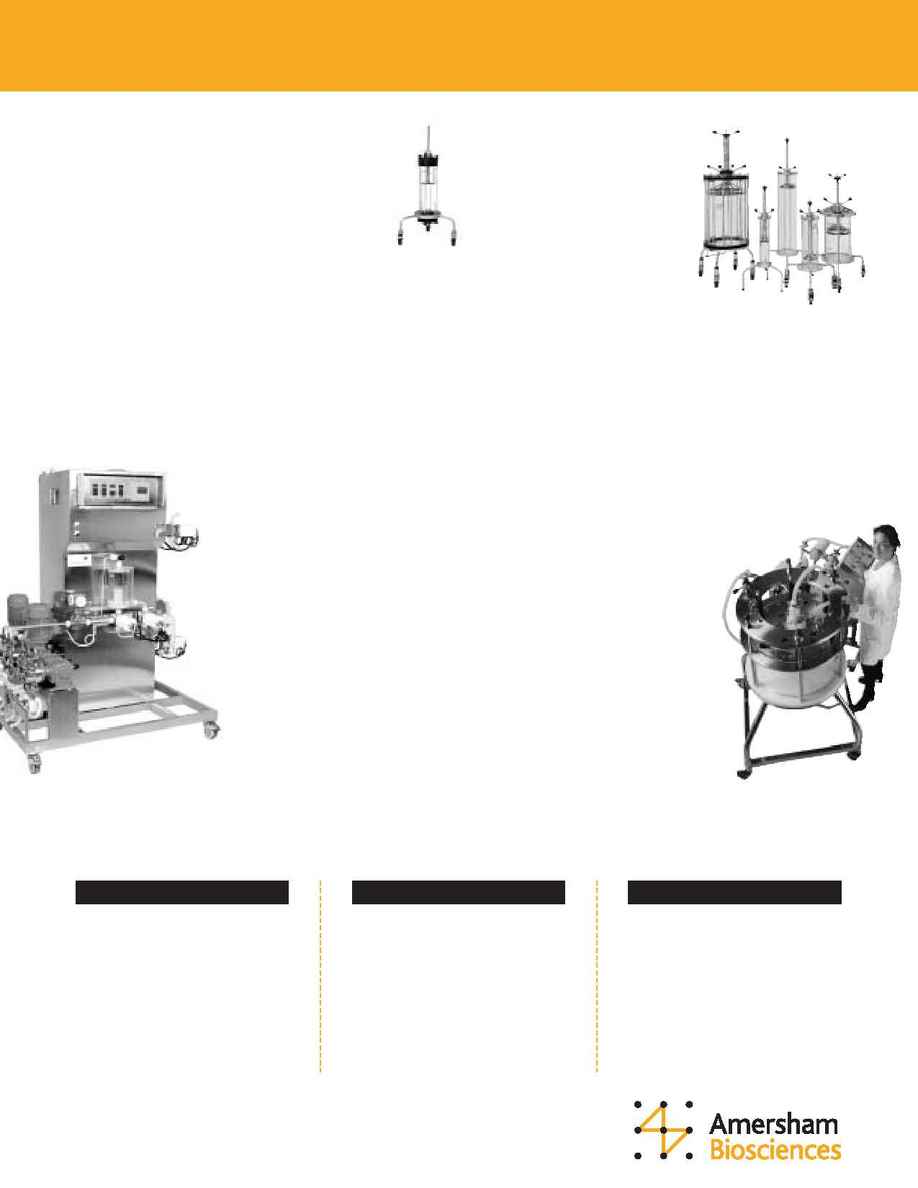 ­ LARGE SCALE COLUMN PACKING
During the practical exercises in the
laboratory you will pack and test
columns with different dimensions
and design features, covering a
range of column diameters.Various
ion exchange and size exclusion
media will be used along with the
corresponding recommended
packing procedures.The packed
columns will be tested and evaluated
using HETP and asymmetry factors.You
will analyze mistakes or unsatisfactory results and achieve improved
results through repeated column packing and one-on-one guidance.
Who Should Attend?
This course is designed for personnel in production performing
column packing or responsible for column performance issues, or
those in process development working with chromatography in
pilot-scale. Engineers designing a production system may learn about
important design aspects and gain understanding of handling aspects
in a column based production.
Learning Objectives
You will leave this course with a comprehensive overview
of the critical issues to be considered for optimal
column performance and your own practical
experience in column packing for production.
This will help you to identify all major sources
of problems and how to avoid them.
You will also learn about the features of
media and columns important in an industrial
environment and what to consider for
successful column preparation.You will be able
to use production scale chromatography more
efficiently and at less cost.
Hands-on: approx. 75%. Products used: BPGTM,
CHROMAFLOWTM, INdEXTM, FineLINETM,
various media types.
­ LARGE SCALE COLUMN PACKING
Day 1
Day 2
· Lecture: Strategy of protein
· Lecture: Column packing methods
· Practical: Packing activities
· Lecture: Column testing
· Practical:Testing runs
· Results and evaluation
· Lecture: Column packing methods
· Practical: Packing activities
· Lecture: Column and media cleaning
· Lecture: Media lifetime and column
Day 3
· Results and evaluation
· Lecture: Column packing methods
· Practical: Packing activities
· Lecture: Sanitization of
chromatography media and
equipment
· Practical:Testing runs
· Lecture:Troubleshooting
· Lecture:Validation environment
Introduction
The column is the heart of the chromatographic process,
and separation performance is very closely related to
packing quality.
Current GMPs require that columns intended for
production are prepared following specific protocols,
including packing and quality testing procedures. Insufficient
routines or a change in the team packing your columns may
result in a major change, requiring revalidation.
Optimized packing and handling methods, ensuring reproducible
results, and skilled personnel with sound knowledge of the
parameters influencing column quality are essential for successful
production.
Content Outline
This practical course focuses exclusively on the packing, testing and
maintenance of production-scale columns.
Presentations include detailed information about
various packing methods recommended for
different media/column combinations as
well as suitable protocols for testing the
Industrial demands on media performance
regarding reproducibility, scaleability and
stability are discussed. A brief overview of
the regulatory environment and SOPs for
column handling are included, together
with an extensive session on column
Routines for general process hygiene,
column maintenance and column
storage are discussed. Parameters
like efficiency and column dimensions,
and their relation to process design
and purification strategy will be presented.