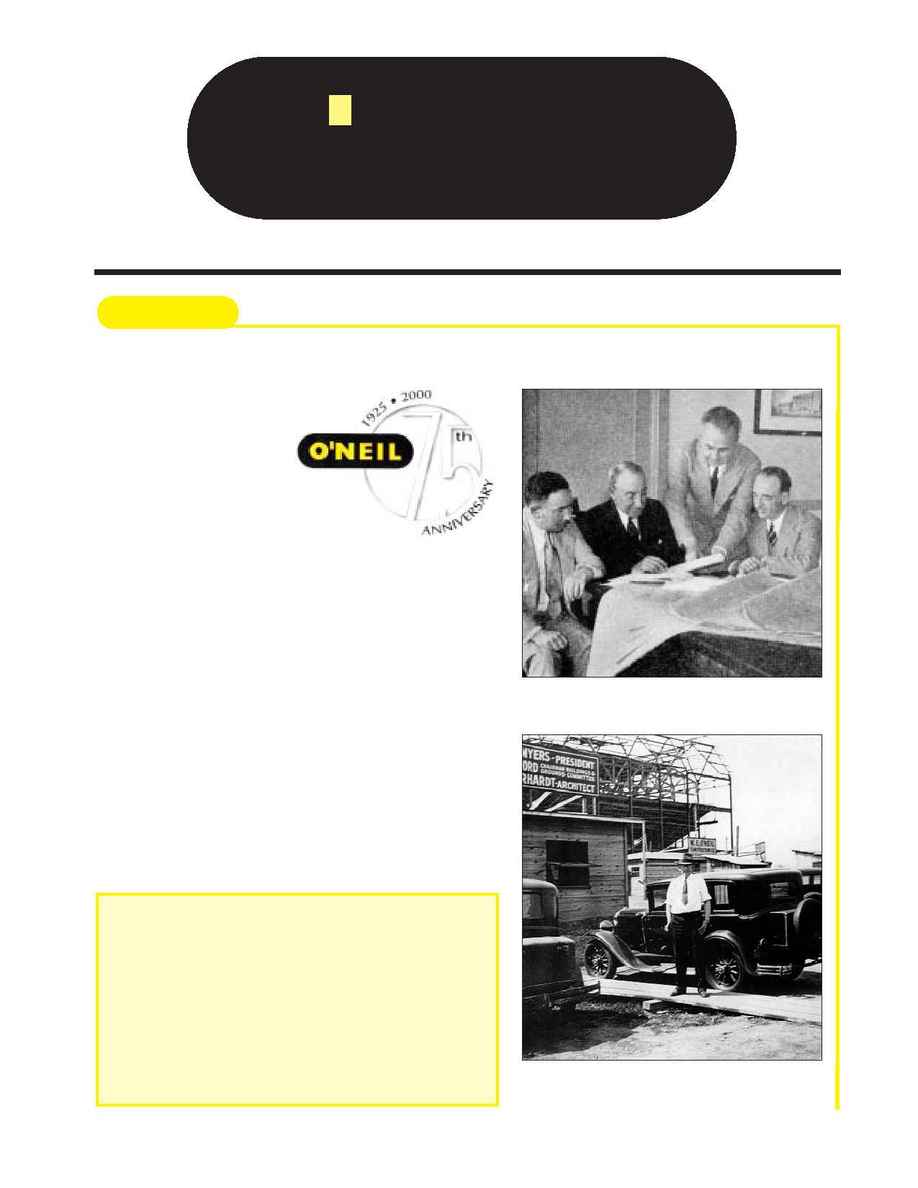 A PUBLICATION OF ONEIL INDUSTRIES, INC.
customers and his community
enabled the company to grow and
prosper, thus providing an ever-
increasing standard of excellence
for our customers.
progressed through the gener-
ations of the O'Neil family and
still exists as one of our high
standards today.
The tradition of people is the
foundation of O'Neil's success.
Time and time again, O'Neil's
growth and achievement has been
based on the teamwork of its
people.
Implementing the vision of
the O'Neil family through hard
work and client-focused service,
1925, W.E. O'Neil Construction
Company celebrates its 75th
anniversary this year.
century, O'Neil has been pro-
ducing quality buildings and
pushing the industry standards
through a tradition of family,
people and excellence. With a
continuous dedication to the needs
of the customer, O'Neil took root
with its first contract -- to build
the primate house at the Lincoln
Park Zoo in Chicago. Since that
time, O'Neil has grown to be a
prominent national contractor,
establishing additional offices in
Phoenix, Los Angeles, Denver,
San Francisco and in Tucson as
T.L. Roof and Associates
Construction Company.
The family tradition of W.E.
O'Neil is the backbone of the
company. When the first William
E. O'Neil founded W.E. O'Neil
Construction Company, he set a
standard of excellence that would
be followed and nurtured by his
son, Arthur F. O'Neil. Art's strong
commitment to his employees, his
continued on page 2
Focal Point
For over 15 years, DePaul University has enjoyed a working
relationship with W. E. O'Neil Construction that has produced
quality buildings, delivery on time and on budget. One strength
is that the ownership of the company rests in the hands of a
dedicated family. The W. E. O'Neil Company built its first
building at DePaul in 1936. We freely recommend them to any
potential customer who seeks outstanding performance on
building projects. Congratulations on your 75th anniversary. We
look forward to continuing our relationship well into the future.
Kenneth A. McHugh
Executive Vice President for Operations
DePaul University
ONeil Begins 75th Anniversary Celebration
The Early Days: The job site looked much differ-
ent in 1934. Notice the wooden jobsite offices.
Looking `Em Over: W.E. O'Neil sits on the far
left, going over the contracts with the World's
Fair officials and architect in June of 1933.