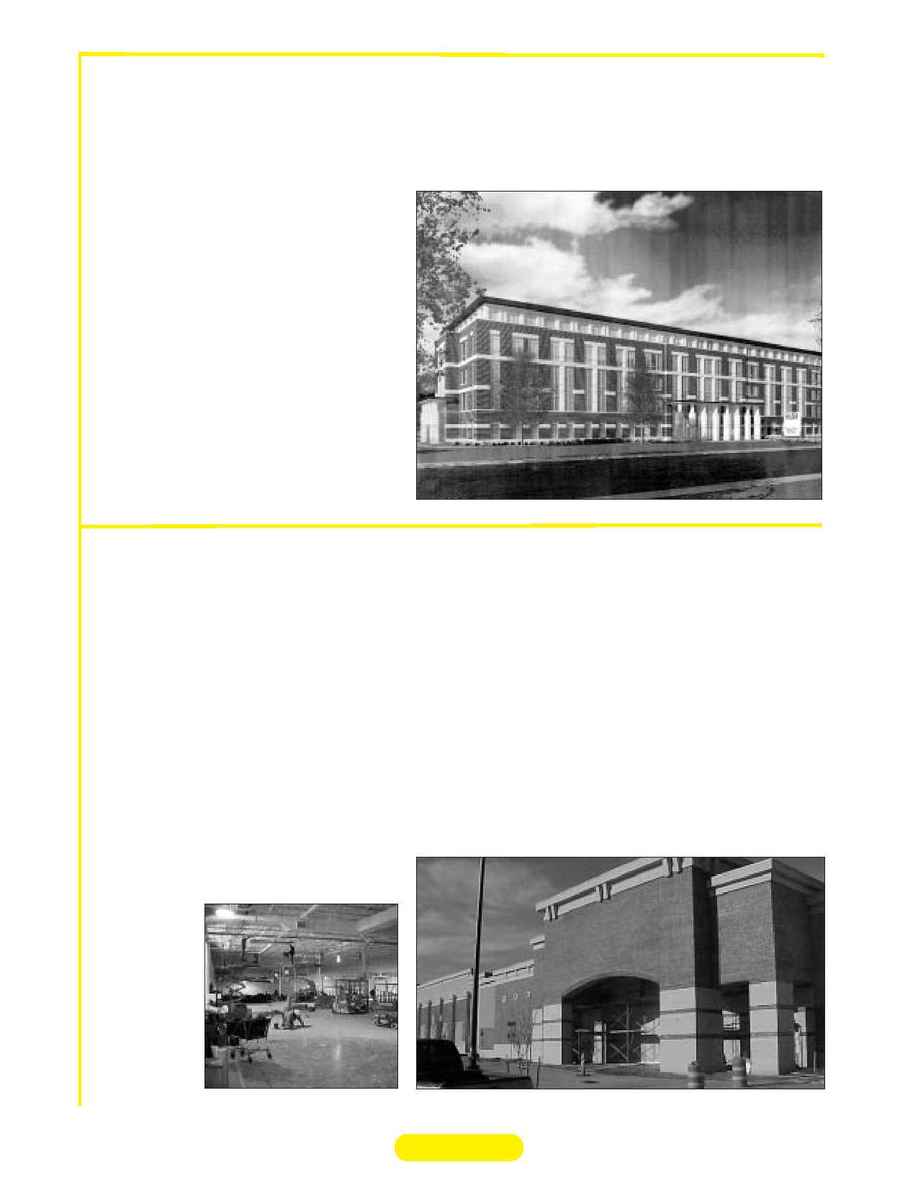 O'Neil's Health Care exper-
ience continues to grow as we
break ground on a new five-story,
140,000 s.f. medical office
building at Oak Park Hospital.
Demolition began at the site on
December 13, 1999, preparing for
a construction start in early
January 2000. Partners '99 LLC
is developing this property for
lease by Rush-Presbyterian-St.
Luke's Medical Center.
The building, designed by
HLM Design, U.S.A. Inc.,
consists of a reinforced-concrete
frame enclosed with a masonry
and curtainwall skin. The
scheduled completion is January
2001.
This medical office building
will connect to the north with
adjacent diagnostic departments
located within the existing Oak
Park Hospital.
ONeil Increases Health Care Portfolio
© HLM DESIGN 1999
Nordstrom's characteristic
"Service with a Smile" sets this
valued W.E. O'Neil client apart
from other retailers.
Nordstrom's newest Racks -- at
Preston Road (Plano, Texas),
North East Mall (Hurst, Texas)
and Glendale (Glendale,
California). W.E. O'Neil is
performing the interior store
build-out after receiving the space
from the shell developer.
scheduled to construct two new
Racks in the Phoenix, Arizona
area, the Promenade at Howard
Hughes Center (Culver City,
California) and a major
remodel/expansion of the existing
Nordstrom, Topanga Rack.
W.E. O'Neil has established a
successful relationship with the
construction of three previous
Nordstrom Rack interior build-out
projects. The current Nordstrom
Racks have a demanding
construction schedule. To impart
the necessary program, the same
management team located at the
central W.E. O'Neil Los Angeles
office will manage all of the above
projects. For consistency, quality
and communication, we have
provided one project manager and
a roving superintendent who
manage the entire Nordstrom Rack
program. Also, it provides
Nordstrom with one person who
can oversee and buy them out
concurrently.
The advantage to Nordstrom
in utilizing the W.E. O'Neil Los
Angeles office for the ongoing
Rack program is our familiarity
with the Rack stores, our ability to
deliver a quality product on
schedule and cost effectively, and
our service-oriented, team
approach.
ONeil Builds Seven Racks for Nordstrom
The project is bordered on
other sides by an established
residential neighborhood, and
community relations continue to
be an integral part of this project.