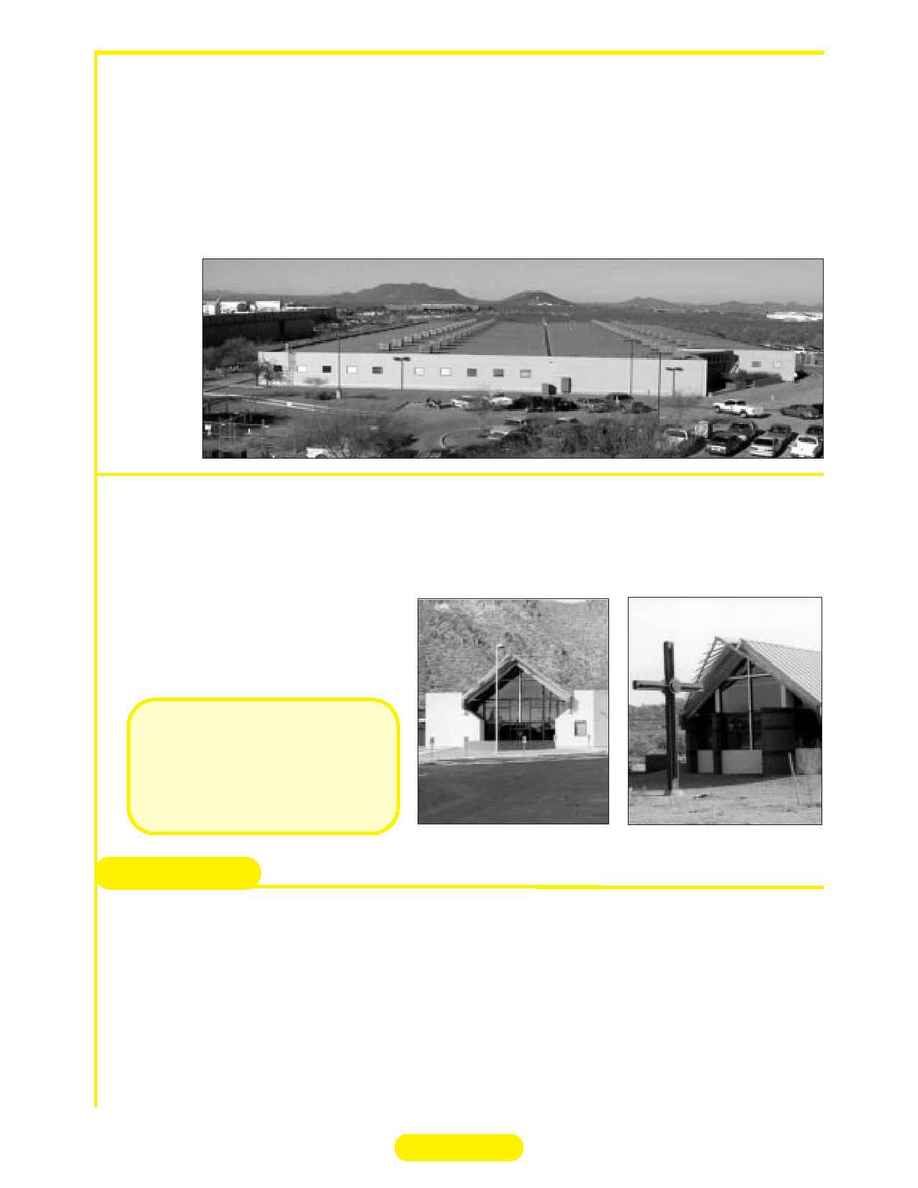 Work was recently completed
on building 842 M1 for Raytheon
Missile Systems Group at their
Tucson airport campus.
91,590 s.f. of space and consists
of 129 modular units, each
measuring 11½' x 60'.
safety and security issues were of
utmost importance and made
project coordination critical.
SH&G (architect) and Williams
Scottsman (modular building
vendor) to ensure timely
completion of the project.
The building, which contains
offices and labs, has a retaining
wall built around the entire
perimeter to support much of the
fill that was brought in to level
the site. In addition, a 12-inch
drain leader runs underground the
length of the building. As always,
Just in time for the holidays, a
new 5,000 s.f. sanctuary was
erected in the foothills southwest
of Tucson. The new building
provides Holy Way Presbyterian
Church with much-needed worship
space in a beautiful setting.
"Exposed glu-lam beams with
a high arch ceiling create a very
open spacious environment. The
north and south ends are glassed
in, providing panoramic vistas of
the Tucson mountains," shares
Bob Wilson, Project Manager for
T. L. Roof & Associates.
Commendations
T.L. Roof Builds 2nd Largest Modular Building
Sixteen years after the original 16
members of Holy Way Church
met, their new sanctuary was
constructed and completed in
November 1999.
Holy Way Presbyterian Gets New Sanctuary
T.L. Roof Selected Contractor of the Year
announce that it has received the
Cornerstone Foundation Award for
Contractor of the Year for 2000.
The Cornerstone Foundation
is a joint effort of the AIA,
Arizona Builder's Alliance,
National Association of Women in
Construction and the Professional
Engineers.
It is dedicated to promoting
teamwork within the building
industry and furthering education-
al opportunities for future industry
members through scholarships at
the University of Arizona, Pima
College and local school districts.
"I think the award recognizes
what we are trying to achieve as a
company, a company who works
as a team member for the success
of the project.
"But even more, it shows that
our employees are doing an excel-
lent job of living our company
vision: customer satisfaction
through quality, integrity and pro-
fessionalism," states Tommy
Roof, President.
Did You Know...