W.E. O'Neil currentonews Page 9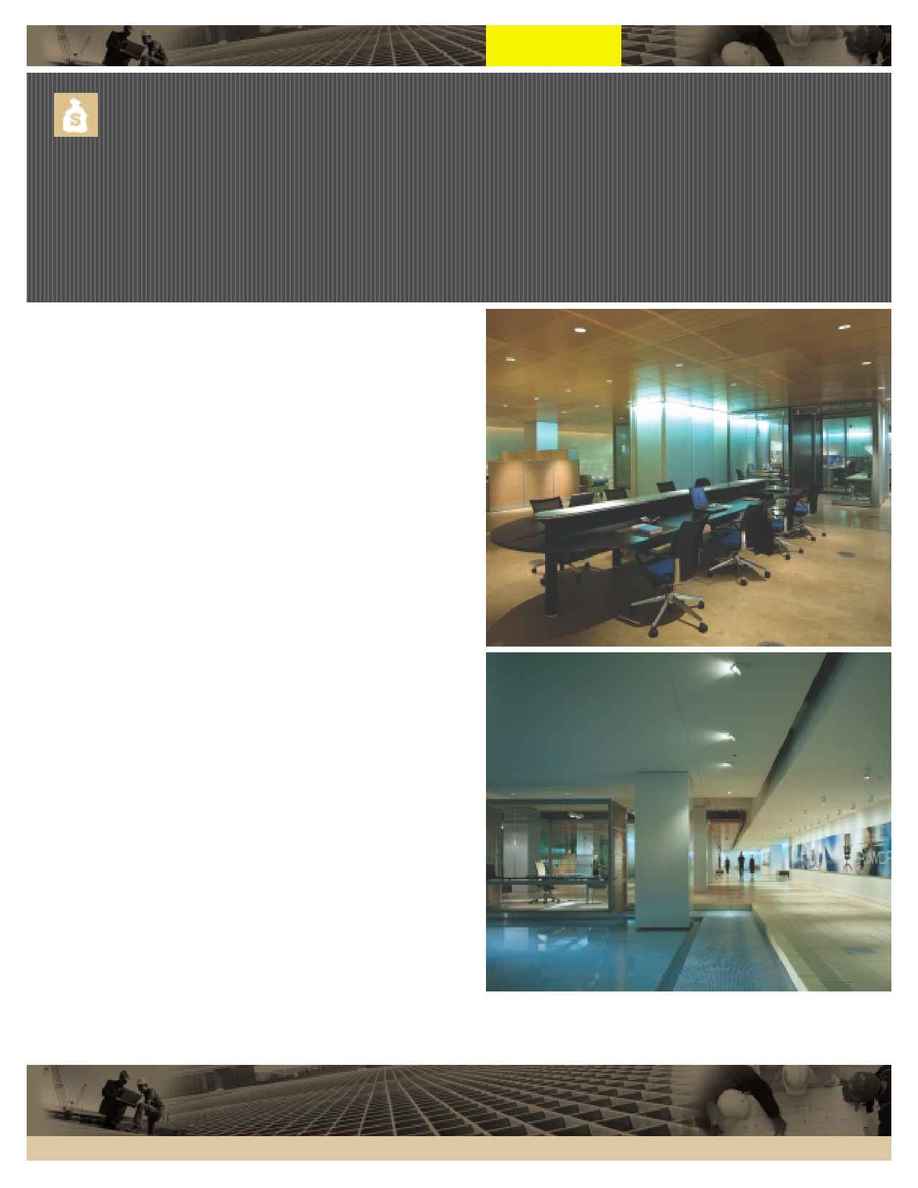 HAWORTH SHOWROOM LEAVES
NEIGHBORING TENANTS GREEN
WITH ENVY
The Haworth showroom's design intention is to meet LEED-CI
Gold certification standards. Certain factors such as energy and
water usage, reuse of existing buildings, usage of eco-friendly
products and indoor air quality will all be criteria for certification.
Mitch Boucher of Haworth said, "Haworth has always been
involved with environmentally sustainable projects, it just
seemed like a natural progression to get involved with LEED
Certification." LEED Certification distinguishes building projects
that have demonstrated a commitment to sustainability by meeting
the highest performance standards.The Haworth Showroom was
the talk of the 2004 NeoCon World's Trade Fair. NeoCon, (The
National Exposition of Contract Furnishings), is now considered
the largest trade show of residential and commercial furnishings
in North America.The Haworth Showroom was given top honors
by both the IIDA (International Interior Design Association) and
Contract Magazine as "The Best Large Showroom" and "The
The 23,000 s.f. space, designed by architecture and design firm
Perkins & Will/ Eva Maddox Branded Interiors, incorporates
adaptable components such as raised access floors, moveable
walls, lighting, and wiring/communication systems to integrate
with furniture systems.The showroom features workspace vignettes
that address the ways people work today with Haworth's furniture
systems. In combination, these elements give architects and
designers the building blocks to create versatile and effective
spaces. "The most difficult aspect of this project involved trying
to integrate all the factors and requirements into a limited space,
and with limited time. Overall, I think we accomplished our goal."
W. E. O'Neil Construction has been working with Haworth at
the Merchandise Mart in Chicago for the last 16 years renovating
the showroom for the yearly NeoCon conference and doing
www.weoneil.com
(Top)
: 75% of the seating fabrics are 100% recycled, and 50% of the panel fabrics are as
well. More than 20% of all of Haworth's fabric selections are now recycled content fabrics
Photography by Tim Minnick (Bottom)
: Reflecting Pool.
Photography by Hedrich Blessing
9
FROM THE FIELD
W. E. O'Neil Construction continues its commitment to excellence
in the retail sector with an award winning project located in the
Merchandise Mart.