FRS Countrywear ss06 Page 10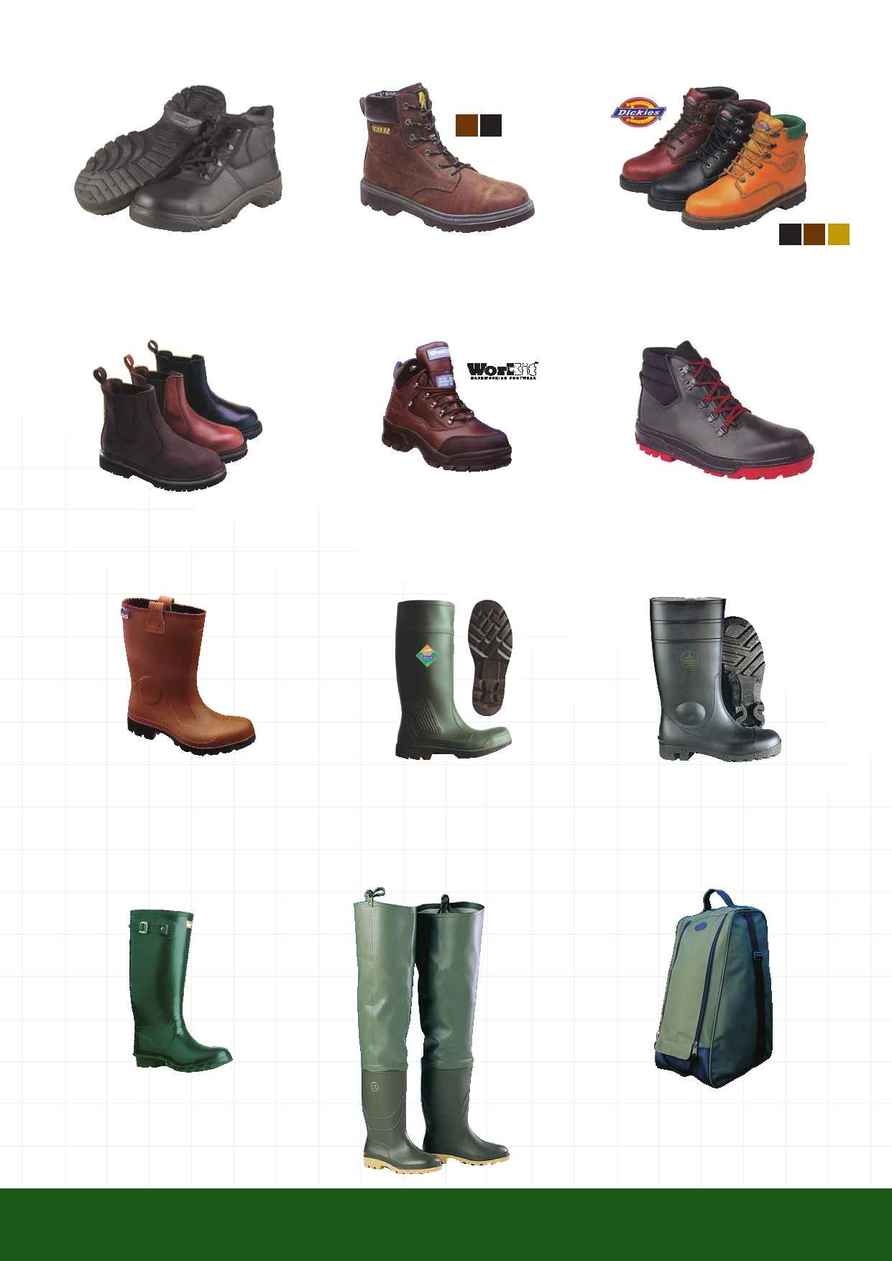 www.bestinthecountry.co.uk
If you cannot see what you are looking for please ask · All prices exclusive of VAT
Lightweight with low profile sole, this boot is ideal
for work on or around the greens.
LEATHER SAFETY DEALER BOOT
Includes elasticated side gusset.
HUNTER ORIGINAL WELLINGTON
The original green welly. Non-safety.
For storage of muddy wellingtons or work boots.
35% Lighter than a leather rigger boot, excellent
insulation properties and 100% waterproof.
PUROFORT SAFETY WELLINGTON
Lightweight Polyurethane boot. Good thermal
insulation and very hard wearing. Non-slip sole.
Also available non-safety CODE PNSW £22.50
BUDGET PVC SAFETY WELLINGTON
Also available non-safety CODE BBG £5.00
GREEN WATER RESISTANT LEATHER
Includes Ni-Trax improved sole unit.
WATER RESISTANT LEATHER BOOT
Includes a padded collar.
DICKIES TRADITION SAFETY BOOT
Please note our Footwear range is too vast to be shown
here. Please see the website for the full range
lightweight leather boot.
Non-Sterile. Ambidextrous. Sizes S ~ XL.
Non-Sterile. Ambidextrous.
Also available as powder free
CODE LEGPF £23.00
Wraparound clear spectacle with
polycarbonate lens and ventilated
1mm Acetate anti fog, anti scratch lens.
Comfortable soft PVC frame. All round
ventilation. Wide contoured face seal.
Fits over spectacles. Comfortable wide
For use with vibrating machinery
Thin cotton Super Stockinette can be
worn under most of the above gloves
Also available as green nitrile gauntlet
for chemical handling CODE NG £0.95
Polycarbonate lens with PVC frame.
& comfortable.Indirect vents.
Polycarbonate lens with PVC frame.
Light weight & comfortable.
Complete with 7" polycarbonate visor. Complies to
Hard wearing stretch nylon with fleece
lining. Black leather double palm
interlined with foam for comfort.
Wraparound thumb and index finger
to aid trigger wear. Lightweight to
keep hands cool when used for long
Complies to EN397 with adjustable size.
Red, Yellow, Blue, White and Green.
Also available with towelling headband and terylene
Reinforced insert to to protect from minor bump or
scrape to the head. NOT to be used as an industrial