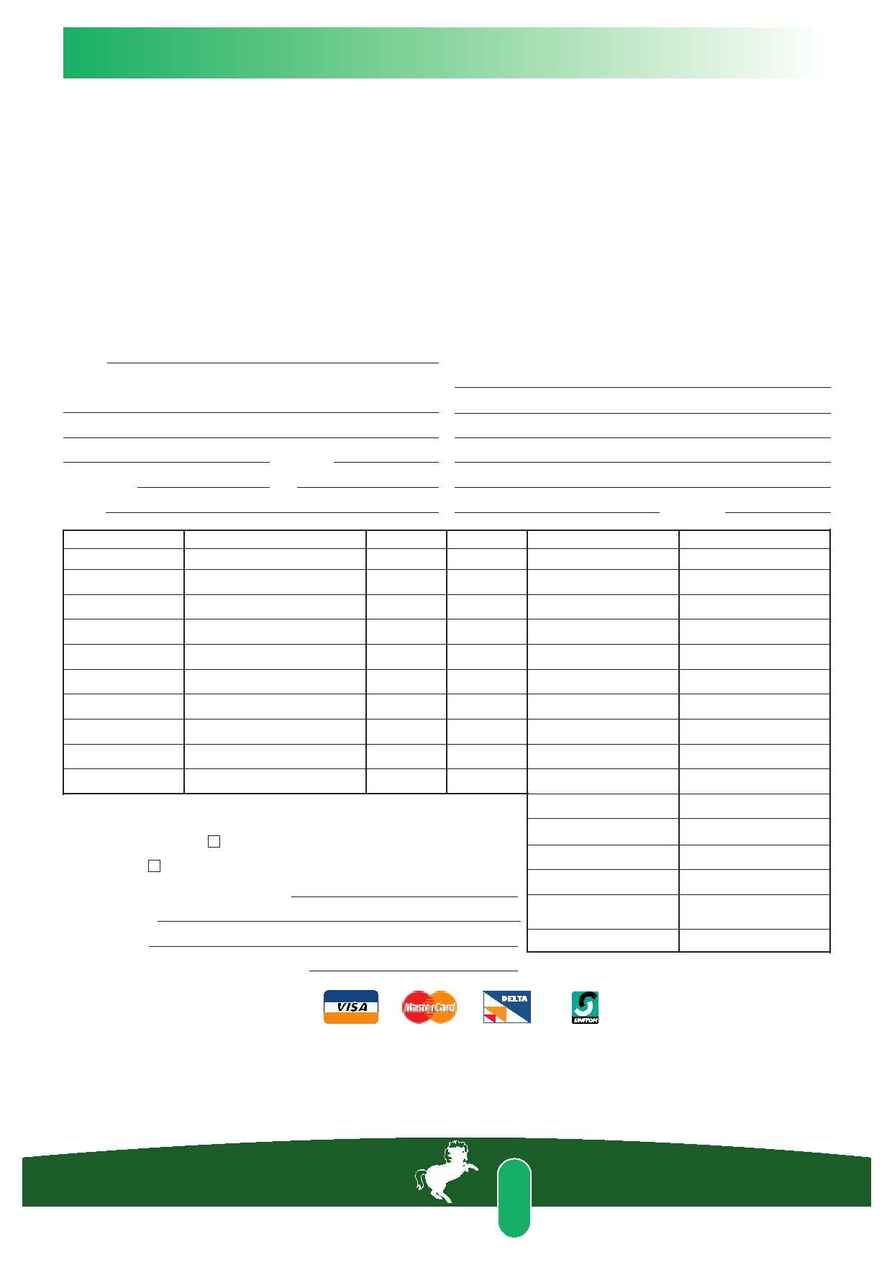 If you cannot see what you are looking for please ask
www.bestinthecountry.co.uk
16
FRS COUNTRYWEAR will make every effort to maintain the specifications and prices shown in this leaflet. However, we reserve the right to make changes without prior notice.
Stock samples are chargeable but will be credited if returned in saleable condition. Non-stock samples are chargeable and non-returnable. Embroidered / printed items are non-returnable.
Please note that colour representation in this leaflet is only as accurate as the printing process will allow.
FRS COUNTRYWEAR LIMITED
SWANCOTE BRIDGNORTH SHROPSHIRE WV15 5HA
Telephone: 01746 716665 Fax: 01746 716578
Dan Cooper Design 07973 282 325
All prices exclusive of VAT.
There are several ways you can order your goods from
FRS COUNTRYWEAR LIMITED
·
If you are buying for a Business, Club or Organisation and would like to open a credit account please contact
us on 01746 716665. We will arrange a Credit Account (subject to credit checks) and you will then be able to
order goods by phone, fax, email or on the web
·
If you are ordering goods as an individual you can call us on 01746 716665 to discuss your requirements.
Credit card payments can be accepted over the phone or alternatively you can fill out the form below and
return it to us by fax or post.
·
You can also place orders for all items featured here, and many more, on our website
www.bestinthecountry.co.uk.
Secure online ordering is powered by WorldPay allowing you to
place your order with complete confidence.
CODE
COLOUR
SIZE
QUANTITY
If you are unsure about the total of your bill please contact us for an accurate quotation
Payment by Cheque:
Please make payable to FRS Countrywear Limited
Credit Card:
Name: (As it appears on the card)
Card Number:
Expiry Date:
Last Three Digits On Signature Strip:
Name:
Billing Address: (must be as your credit card)
Postcode:
Telephone:
Fax:
Email:
Delivery Address (If different)
Postcode:
PRICE / EACH
ITEM TOTAL
P&P
SUBTOTAL
VAT @17.5%
(NB Not applicable on Safety Boots)
GRAND TOTAL
PRICE TOTAL
£4.00