FRS Countrywear FRS HEALTH BEAUTY Page 2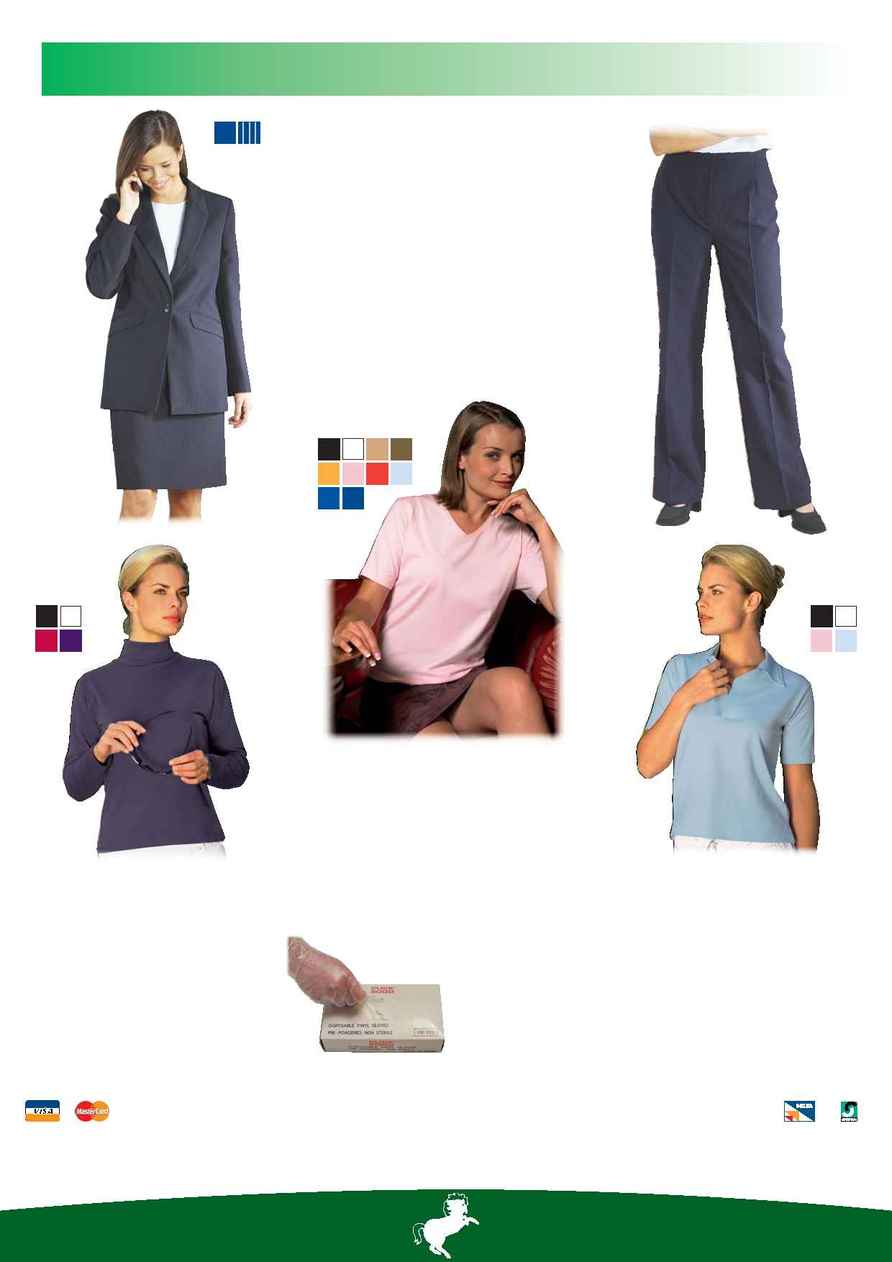 If you cannot see what you are looking for please ask
FRS COUNTRYWEAR will make every effort to maintain the specifications and prices shown in this leaflet. However, we reserve the right to make changes without prior notice.
Stock samples are chargeable but will be credited if returned in saleable condition. Non-stock samples are chargeable and non-returnable. Embroidered / printed items are non-returnable.
Please note that colour representation in this leaflet is only as accurate as the printing process will allow.
FRS COUNTRYWEAR LIMITED
SWANCOTE BRIDGNORTH SHROPSHIRE WV15 5HA
Telephone: 01746 716665 Fax: 01746 716578
Dan Cooper Design 07973 282 325
All prices exclusive of VAT.
CODE HBMWJ, HBMWS & HBMWT
MACHINE WASHABLE SUIT
Machine washable suit Perfect for Reception or office staff.
100% polyester breathable fabric is extremely comfortable, machine
Navy
£34.00
Pinstripe
£39.80
CODE HBMWJ
Short (21") Regular (24") Tall (27")
Navy
£14.50
Pinstripe
£17.40
CODE HBMWS
Navy
£15.95
Pinstripe
£20.30
CODE HBMWT
CODE HA20F
HANES ELEGANCE
TURTLE NECK T-SHIRT
Hanes Elegance Turtle Neck T-Shirt
100% Ringspun combed cotton.
Tailored cut for a comfort fit.
Self colour double thickness roll neck.
Black, White, Dark Red or Ink.
£5.15
CODE HA21F
HANES ELEGANCE
POLO NECK T-SHIRT
Hanes Elegance Polo Neck T-Shirt
Tailored cut for a comfort fit.
Open placket style with a self colour collar.
Black, White, Rose or Sky.
£4.85
CODE HA4F
HANES ELEGANCE V-NECK T-SHIRT
Tailored cut for a comfort fit. Narrow rib V neckband.
Black, White, Sand, Khaki, Sunflower, Rose, Red, Sky Blue
£3.20
CODE VDG
DISPOSABLE GLOVES
£2.40
£21.00
CODE DA42
VINYL DISPOSABLE
APRON
£21.00
www.bestinthecountry.co.uk