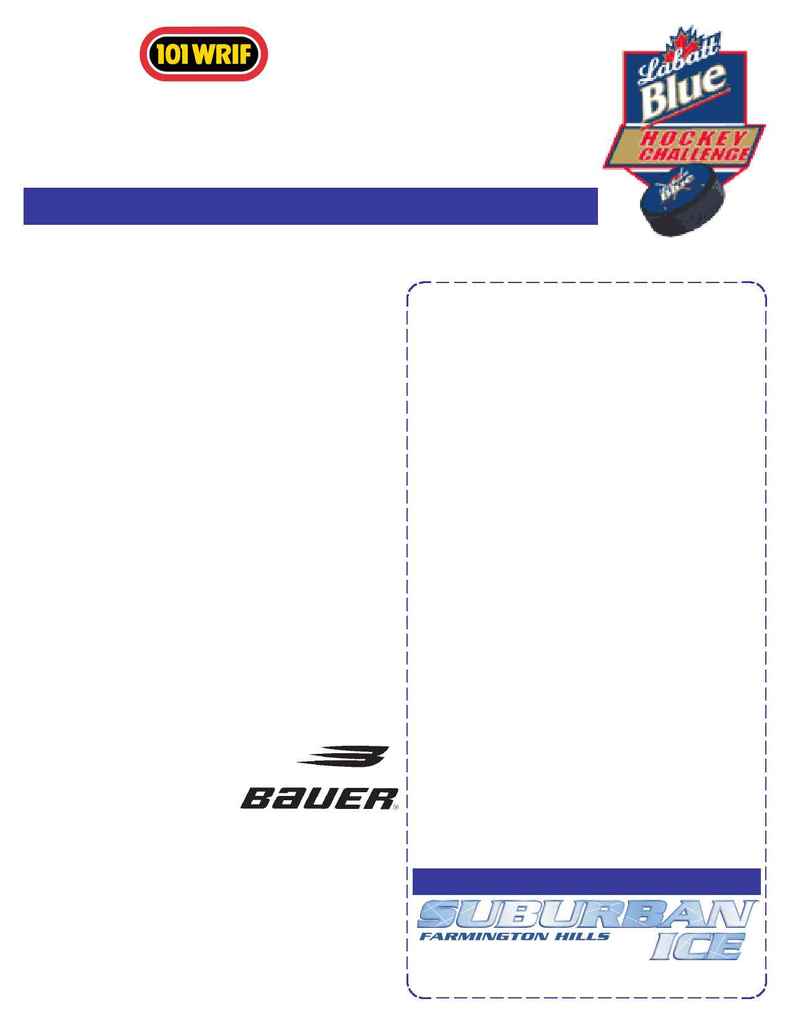 Divisions Available:
Blue (Men's 21 & Over Upper); Blue Light (Men's
21 & Over Lower); Select (21 & Over Beginners);
Nordic (Men's 30 & Over Open)
Three-gameguarantee!Pickyourdates&locations!
Registrations accepted on a first come, first served
Register your team twice to play more games!
Fridays & Saturdaysbeginning
June 2, with the playoffs and championship games
in each division to be played at Suburban Ice-
Farmington Hills on Saturday, June 24.
· Onyx-Rochester Ice Arena, June 2-3
· Novi Ice Arena, June 9-10
· Suburban Ice-Macomb, June 16-17
· Suburban Ice-Farmington Hills, June 23-24
14-minute run time periods
(Last two minutes of the third period will be stop
time)
Team Registration Fee: $525
$250 due with registration, $275 due before first
game. If you don't have a team, call us and we will
find one for you!
Post-Game Parties each night
· Labatt Blue beer!
· Free Giveaways
(including
Tournament MVP gifts
from Bauer)!
June 2 - 24, 2006
Call Suburban Ice-Farmington
Hills for more information at
or visit www.wrif.com!
Blue Light (Men's 21+ Lower)
Team Name________________________________________________
Captain ___________________________________________________
Home League______________________________________________
Home Rink_________________________________________________
JerseyColor _______________________________________________
Address___________________________________________________
City ______________________________ State_______ Zip ________
Day Phone ( ______ ) _______________________________________
Evening Phone ( ______ ) ____________________________________
Email Address______________________________________________
Check/Money Order enclosed (Payable to Suburban Ice-Farmington Hills)
Visa MasterCard Discover American Express
Card Number_______________________________________________
ExpirationDate_______________ CVV2 Number_________________
Name of Cardholder _________________________________________
__________________________________________________________
Signature of Cardholder
Is the credit card billing address the same as above?______Yes ____ No
If no, please indicate billing address:
2006 Labatt bLue/WRIF 21 & OveR/30 & OveR
SummeR HOckey cHaLLenge RegIStRatIOn FORm
Farmington Hills, MI 48335
Send completed application and registration fee ($250) to:
Onyx ­ Rochester Ice Arena
·
Novi Ice Arena
·
Suburban Ice