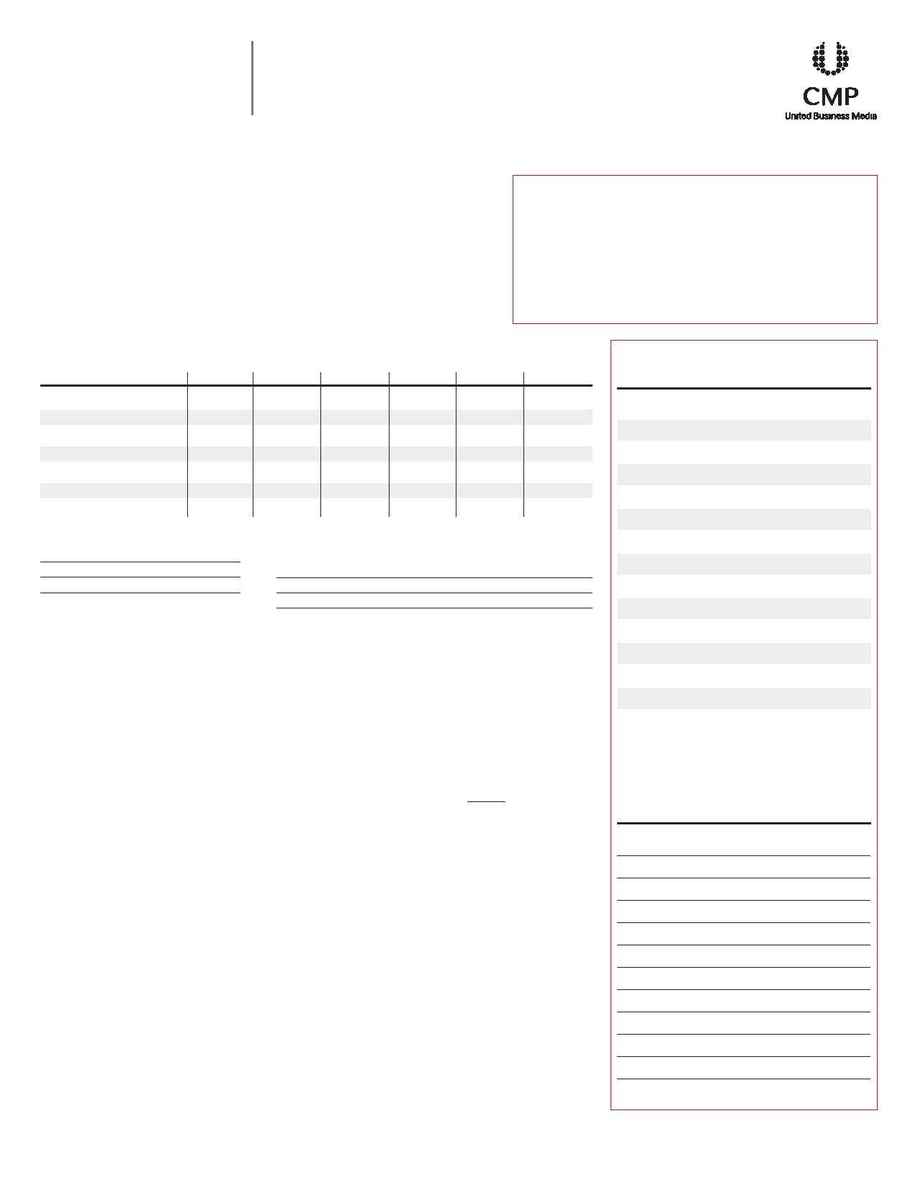 Black & White
1x
3x
6x
12x
18x
24x
36x
Cover 1
Cover 2
Cover 3
Cover 4
call for pricing
Electronically Provided Ads
Film Output 4/Color: $150 B/W: $75 Matchprint 4/Color: $75 B/W: --
Send Materials To: Television Broadcast, Production Dep't, 460 Park Avenue South, 9th Floor, New York, NY 10016
CMP Information, Inc.
460 Park Avenue South 9th Floor New York, NY 10016 Tel: (212) 378.0400 Fax: (212) 378.2160 www.cmpi-us.com
Ad Size
Width
Height
*Page trim is 8 1/8" wide, 10 7 / 8 " high.
(Keep live matter 1/4" inside trim size).
Issue
Reservation
Material
Additional, per page or fractional
2/Color process
Page
Spread
(Black plus cyan, magenta, yellow)
2/Color Matched (PMS)
4/Color Process
Metallic, additional
Trim Size: 8 1/8" wide x 107/8" high
Method and Paper: Web offset, coated text and cover,
perfect bound.
Camera-Ready Ads: Advertising materials must be sup-
plied on complete, original film negatives, 133
line screen, right reading, emulsion side down (RRED),
with registration marks on corners. Ad film must be
accompanied by a proof. For two-color ads, supply color-
separated negatives. If not supplied, advertiser will be
billed for second negative. All four-color ads must be
accompanied by color separations, along with a match-
print. Mechanicals accepted, but camera work (halftones,
screens, etc.) will be charged accordingly.
Screens and Halftones: B/W film,
4/color film separations--133 lpi maximum.
Bleed: No additional charge.
Minimum size--1/2-page horizontal.
Electronically Provided Ads: Quark, Photoshop,
Illustrator, & PageMaker files for Mac or Windows are
acceptable. Save images as TIFF (Tif) or EPS. Resolution
must be 133 line screen, 266 dpi.
Files must be accompanied by all fonts and supporting
documents. Color images must be saved in CMYK
mode. All electronic files must be accompanied by a laser
proof. If a laser is not supplied, we cannot be responsible
for reproduction quality. Film output and matchprints will
be charged accordingly.
Upload ads to our FTP site at www.ourftpsite.com
Username: guest Password: guest
Folder: DigitalTV Magazine
It is advised to compress files prior to uploading
Ads under 20 MB can be emailed to
productionnyc@cmpinformation.com as an attachment.
Additional Artwork: Any work done by publisher (e.g.
duping, enlarging, conversions, strip-ins) will be billed to
advertiser or its agency.
(Information in this document subject to change without notice)
Effective January 1, 2005
TELEVISION
BROADCAST
Print Publishing Schedule: (12x/year)
Print Distribution: 22,000 Copies Internationally
Page Trim Size: 8 1/8" x 10 7/8"
Mission: Television Broadcast covers the business, technologies and innova-
tions in today's television industry. It discovers and reports on workflow inno-
vations and their integration within the industry from the perspective of the
bottom line, return on investment and total cost of ownership to help televi-
sion industry businesses become more cost effective and efficient.
Jim Maywalt, National Sales Manager, 732-280-6222, jmaywalt@cmpinformation.com
Jeff Victor, Western Regional Sales Manager, 847-367-4073, jvictor@cmpinformation.com
Michael Valinsky, Midwest & Canadian Sales, 212-378-0408, mvalinsky@cmpinformation.com
Gary Rhodes, East Coast & International Sales Manager, 631-274-9530, sedorusa@optonline.net
Toby Sali, National Sales Manager, CMPi Web Products, 310-396-9554, tsali@cmpinformation.com