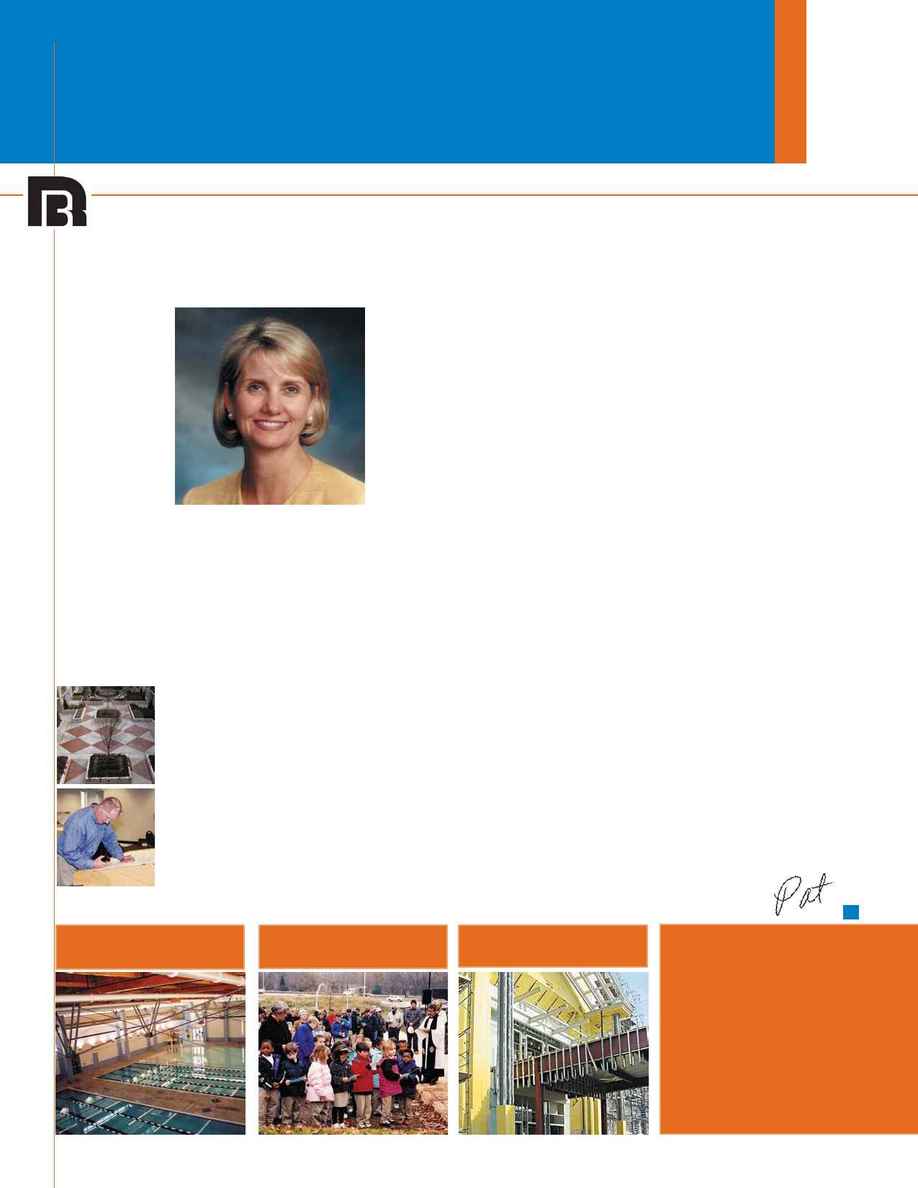 2003
Milestones:
40 years for
Rodgers Builders
20 years for Mid-
Atlantic
as a Rodgers
Company
The Newsletter for the Employees and Friends of Rodgers Builders
Looking Ahead In Our Fortieth Year
elcome to a new year, and
the new format of the Rodgers
Report-- our quarterly newsletter.
In each issue, we plan to focus on
the four core values of our mission
statement: Integrity, Quality,
Satisfaction and Concern.
2003 is a milestone year for
Rodgers Builders. B. D. Rodgers
founded the company on
December 3, 1963. In our 40
of operation, we have much to
look back on with pride; we also
have much to look forward to.
In the past year, we've continued
building on successful relationships
with our clients. We are pleased to
be working again with UNC
Charlotte on a new dormitory
project, with sitework currently
underway.
We've also established new
relationships and new ways of
working with our partners. We will
break ground in March 2003 on the
Children's Learning Center, a unique
facility in uptown Charlotte. We'll
manage construction of this project
as Rodgers Hardin with our alliance
partner, Hardin Construction
Company, LLC.
Alliance partnerships such as this
have helped Rodgers Builders grow
successfully and strategically. In
2002, we formed a new alliance
with R T Dooley Construction
Company in Charlotte. As
RodgersDooley, we will break
ground in February 2003 for the
new Johnson & Wales University
campus in uptown Charlotte. We
are excited about these new
relationships and new projects.
2003 is a significant year for Mid-
Atlantic Construction as well. In
October, we will celebrate Mid-
Atlantic's 20
subsidiary. Mid-Atlantic has added
new services to its concrete
repertoire, adding strength to the
statement "Concrete is all we do,
and we do it all." Read more inside
about our stamping and staining
processes.
Most importantly, we are proud of
the strong relationships that we've
grown over the years with our
employees and the communities in
which we build. In 2002, Rodgers
Builders was honored to receive an
award for philanthropy from the
Association of Fundraising
Professionals. Rodgers is able to
continue our commitment to the
community because of the
commitment of our employees.
Our core values are brought to life
by your work.
In late 2003, we will celebrate our
employees and our 40
by building a house with Habitat for
Humanity. You'll be learning more
about this in coming months. We
look forward to bringing you the
most exciting news about Rodgers,
our partners, and our projects in
the Rodgers Report.
Harris YMCA
Pages 2-3
Trinity's New School
Page 4
Belk SouthPark
Page 11
Decorative
Concrete;
Redi-Check
(see page 9)
Pat Rodgers, President
a
ssi