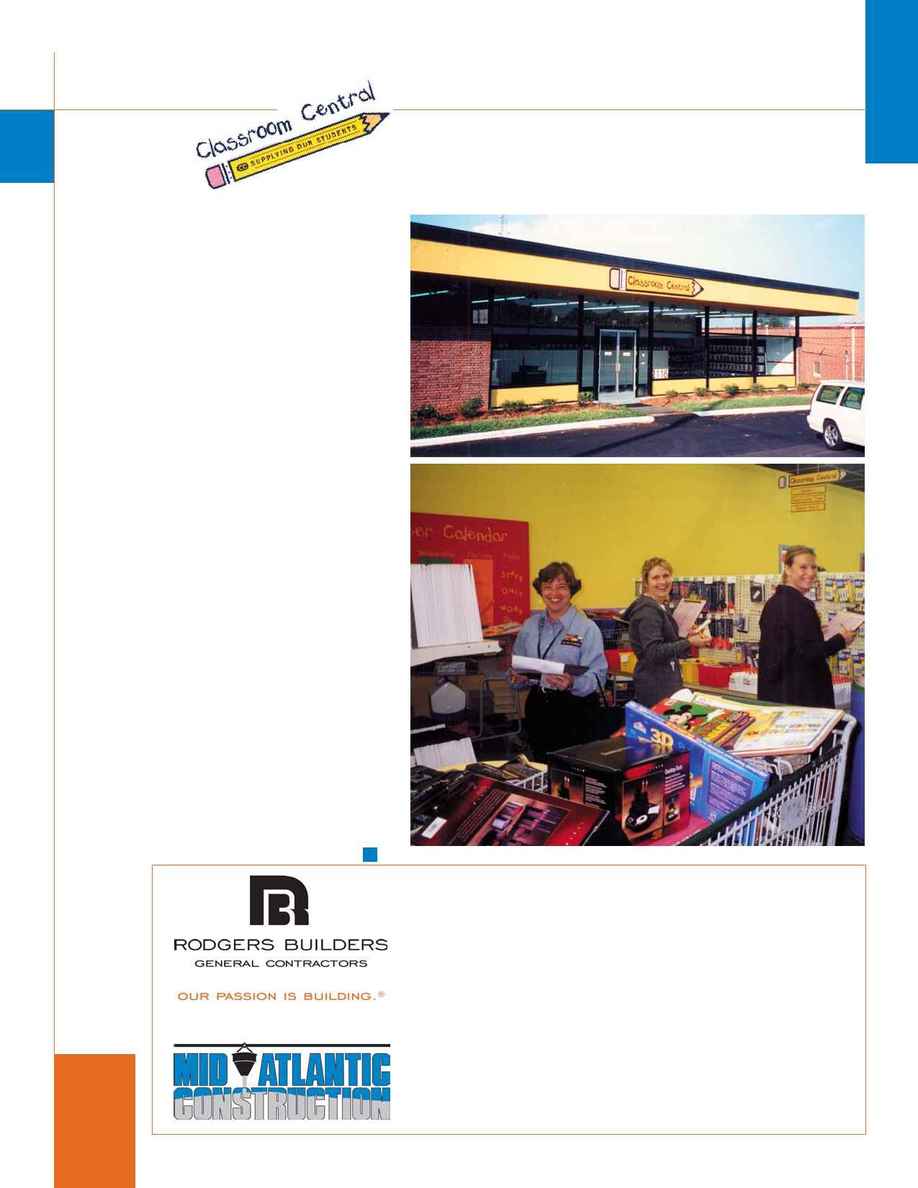 a
ssi
id you know that the average
teacher spends $450 a year
of his or her own money
school supplies that are not paid
for by the school systems?
To help lessen the burden on
educators, the Charlotte Chamber
and Charlotte-Mecklenburg Schools
have started Classroom Central, a
store that allows teachers in the
system's poorest schools to pick up
needed supplies free. Business
donations of money and surplus
supplies enable Classroom Central
to operate.
But making it a reality were the
donated efforts of RodgersDooley
and its partners, who renovated a
warehouse to provide a bright,
inviting environment. The job
included constructing walls,
installing doors and hardware,
installing new bathroom fixtures
and accessories, ceiling tile and
electrical work.
In addition to the efforts of the
RodgersDooley team, materials and
labor were donated by Cook and
Boardman, Mecklenburg Plumbing,
McKenney's, Inc., B&B Contracting and
Charlotte Ceiling, with architectural
services by Wagner Murray.
Information provided by Eric
Reichard, Senior Vice President.
The Classroom
Central Team:
Herman Barnett
Robert Barnett
Ray Clark
Bob Dooley
Eric Reichard
Marty Sims
Note from a fourth-
grade teacher:
"Words cannot
fully express the
feeling I had
picking up items
that will make
learning a little
easier for our
students. Your
donations and
caring spirit make
me glad that I
teach and happy
that there are
people like you in
the world."
The Rodgers Report
Editorial Advisory Board
Jack Coble ­ Technical Services
Paul Cooper ­ Safety
Earl Knowles ­ Best Practices
Al Lanois ­ Information Technology
Marianne Mangels ­ Employee News
Britain Means ­ Operations
Mike Mueller ­ Operations
Cris Piephoff ­ Mid-Atlantic
Pat Rodgers ­ Company News
Lisa Torgler ­ Company News
The Rodgers Report is published for
the friends and employees of Rodgers
Builders and Mid-Atlantic
Construction. If you have comments
or story ideas, please share them with
the appropriate person in the
Advisory Board listing.
RodgersDooley: Helping
Students and Teachers
5701 N. Sharon Amity Road
Charlotte, NC 28215
(704) 537-6044 phone
(704) 535-0055 fax
or email us at:
RodgersReport@rodgersbuilders.com