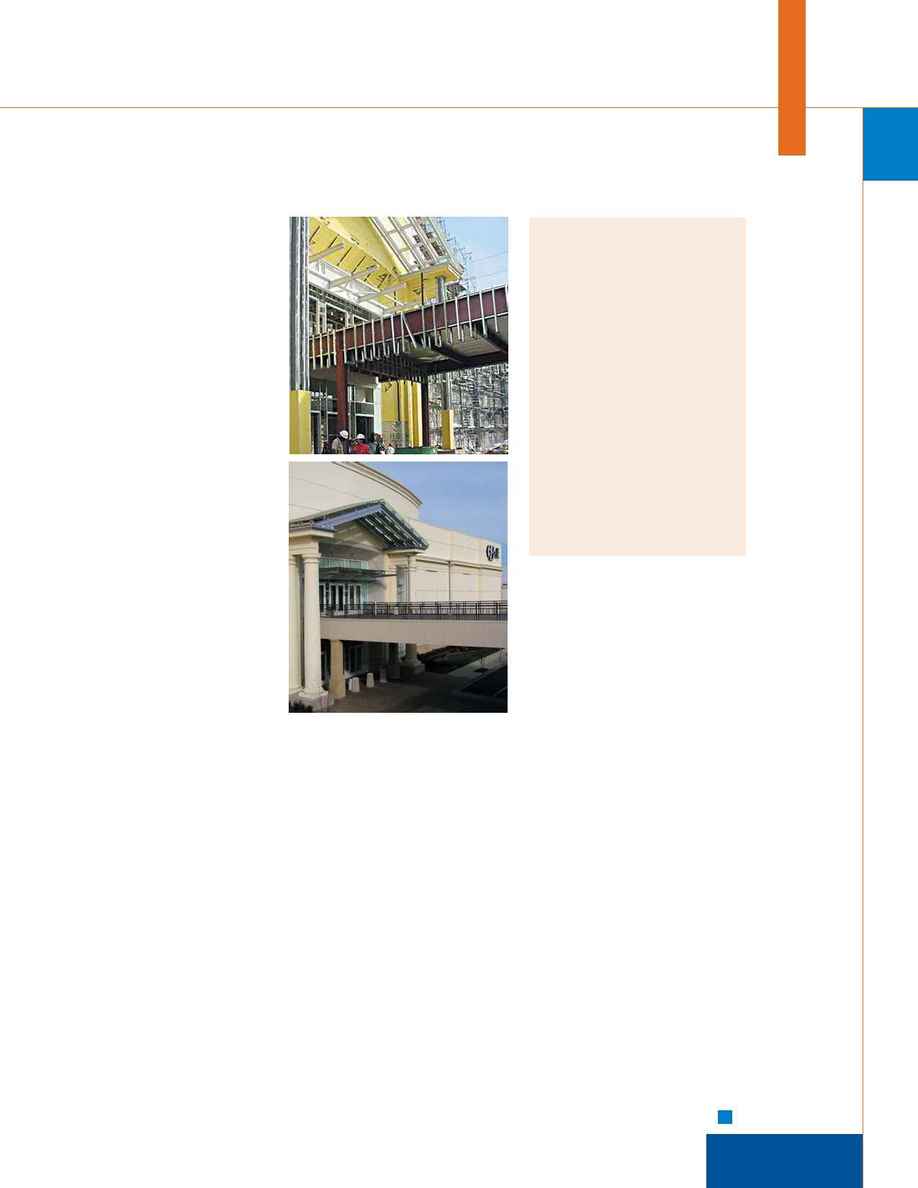 Belk Wrapped Up In Time For Holidays
Cathye Auten
Anthony Barnett
Herman Barnett
Ricky Blount
David Brenneman
Arnulfo Chavez
Burgos
James Clayton
Duel Colburn
Jeff Gillespie
Rafael Hernandez
Danny Hinson
Jill James
Terry Johnston
Tad Joseph
Doonya Mitchell
Michael Moore
Thomas Moore
David Morrison
Kevin Patton
William Perry
David Puckett
Brian Schrader
Joe Shook
Noel Spooner
Ronald Stevens
Wess Thurlo
Louis Viecelli
Lesa Walker
Charles Wallace
Jim Whitaker
Daniel White
Sinclair Williams
changes in the field, schedules had
to be constantly revised to remain
on track. Constructware was used
to effectively track all contract
documents, submittals, RFIs, job
photos, changes and cost
management.
Also, during construction it was
discovered that previous
renovations resulted in some safety
concerns, particularly in regard to
concrete cracking. A consulting
engineer was hired to perform
Ultrasonic-Pulse Velocity
measurements to determine the
extent of damage. Areas were then
shored and repaired.
"I would like to thank you
again for the fine job your
team did on this project. We
had many obstacles to
overcome. Your
superintendents--Duel
Colburn, Mike Moore, David
Morrison, Joe Shook and Jim
Whitaker--are some of the
finest I've worked with on
any project. This was a team
effort and your team did a
great job."
Clay Addison,
Director of
Construction, RPDG
ith unique scheduling, hard
work and cooperation from the
client and many subcontractors, a
major renovation and addition to
Belk's flagship Charlotte SouthPark
store was completed two weeks
early.
With the job completed on October
4, 2002, Belk was ready for the all
important holiday shopping season
with additional space and a brand
new look.
The renovation of 280,900 square
feet and the addition of 46,000
square feet required unusual
measures because of the dynamics
of the retail business and because
the entire site was surrounded by
mall construction.
"Obviously, they had to stay in
business with as little disruption as
possible," said Brian Schrader,
Project Manager. "To do this our
team worked three shifts, beginning
at 10 pm, 4 am and 7 am.
Demolition was scheduled to start
at 10 pm each night and be
completed by 10 am so it would
not affect the store opening each
morning."
In addition to the challenges of
doing both a complete renovation
and an addition while surrounded
by other mall construction and with
the store operating normal hours,
the Belk project had other unusual
circumstances.
There were 68 different
construction phases of three weeks
each within the overall 18-month
schedule. In addition, with many
drawing revisions from the
architects as well as almost daily
Above: The new Belk entrance under
construction. Below: The completed
entrance.
Innovative Inspection
Procedures
Since each individual construction
phase was a relatively short time
period, there was a need for
inspectors to have a flexible
schedule and be available for more
than one inspection per week. By
working closely with the Charlotte
Building Standards Department, an
additional inspector was assigned
to the job (Belk agreed to this cost
to stay on schedule). This flexibility,
with the inspector able to come to
the site on a same day basis, was
critical to maintaining the
timeframe.
The Rodgers team is proud to have
completed such a complex project
ahead of schedule. We also
recognize the cooperation and
coordination with Belk, the
architect and particularly our
subcontractors to give Belk an
early Christmas present.
Information for this article was
submitted by Brian Schrader,
Project Manager.