Rodgers Builders Rodgers Report Spring 06 Page 1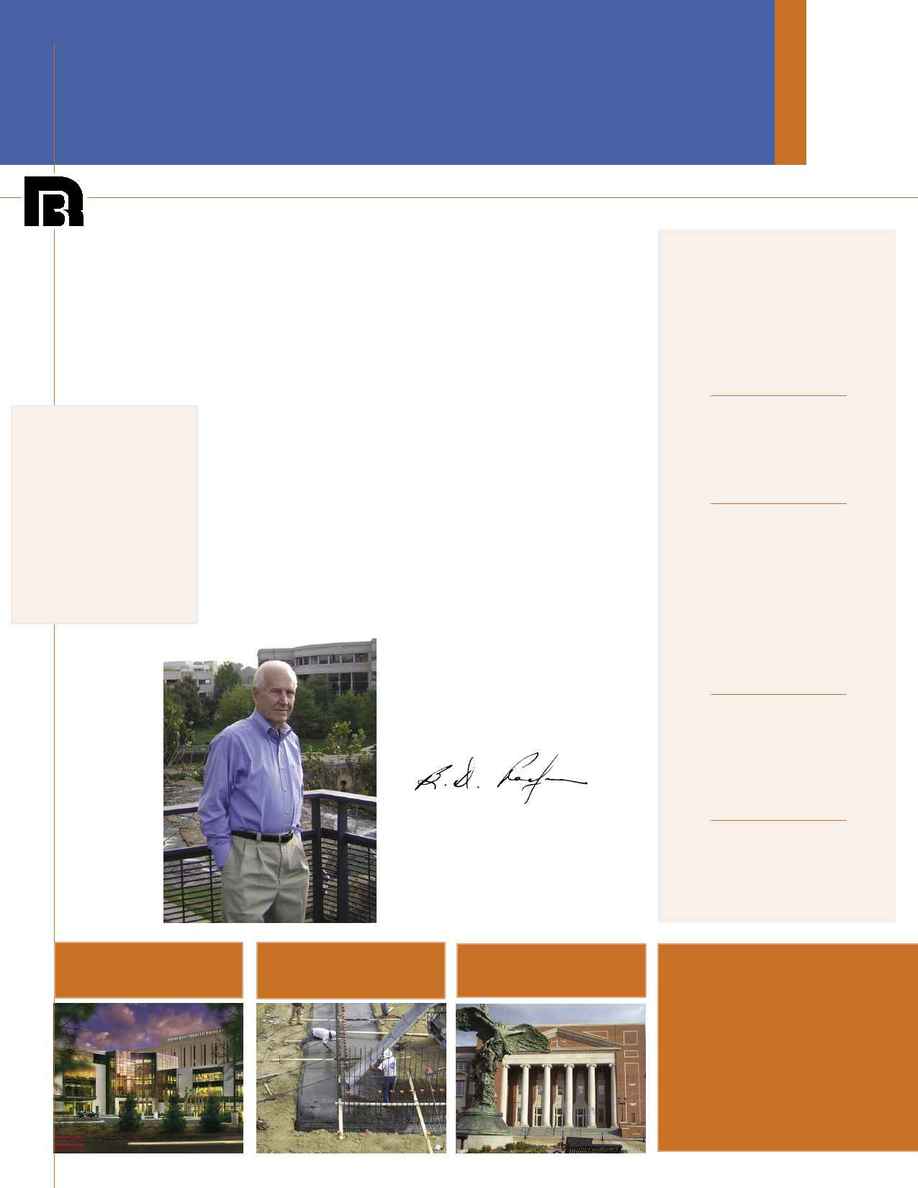 e build community with care.
Our mission statement expresses this as
one of our company's core values.
From the Latin word "communitatem,"
community means "fellowship" in
addition to its more familiar
meaning of people living in
Along with our focus on education-
oriented projects, our employees are
involved in education and outreach
programs for students of all ages.
Many of our employees volunteer
their time to support organizations
that help the community through
health programs, research,
awareness and education. As
a company, we sponsor many
organizations that improve
health and quality of life in their
Building stronger communities
pays dividends in many ways, from
improved economic growth to the
growth of human and intellectual
Our role in building community is
a partnership with our clients and
our employees. We all benefit from
Rodgers Builders' mission statement,
along with a description of our core
http://www.rodgersbuilders.com/why_
Integrity.
Quality.
Satisfaction.
Concern.
S
pr
ing

2006
An investment that pays back with interest
Mallard Creek High School is one of first
under new format ­ page 4
Mixed use with a special attraction 6
Upcoming projects
Palmetto Health Richland opens SC's first
free-standing heart hospital ­ page 2
Central Piedmont Community College
In January 2006, Rodgers Builders
was ranked #3 among general
contractors in the Greenville, South
Carolina region. The ranking is based
on local revenues in 2005.
Also in January, Carolinas AGC
(Associated General Contractors)
presented the Presbyterian Women's
Center project team the Pinnacle
Award for "Best Building Project" of
In December 2005, President &
CEO Pat Rodgers was named "2005
Business Person of the Year" by the
Charlotte Business Journal. The
award is based on the following
· Contribution to Charlotte's strength
In November 2005, the Academic
Center at Johnson & Wales University
received the Eagle Award for
"Excellence in Construction" from
ABCC (Associated Builders and
Contractors of the Carolinas) in the
Institutional Projects category.
ImaginOn: The Joe & Joan Martin
Center received the Merit Award
from ABCC for "Excellence in
Construction," also in the Institutional
We are blind until we see
That in the human plan
Nothing is worth the making
If it does not make the man.
Why build these cities glorious
If man unbuilded goes?
In vain we build the world
Unless the builder also grows.
Chairman
B. D. Rodgers
looks out over
Reedy River
Falls behind
Rodgers
Builders'
Greenville
Regional
Office.
p
h
o
t
o b
a
n
i
e
l W
r
i
g
h
t
News for Employees and Friends of Rodgers Builders and Mid-Atlantic Construction