Rodgers Builders Rodgers Report Spring 06 Page 8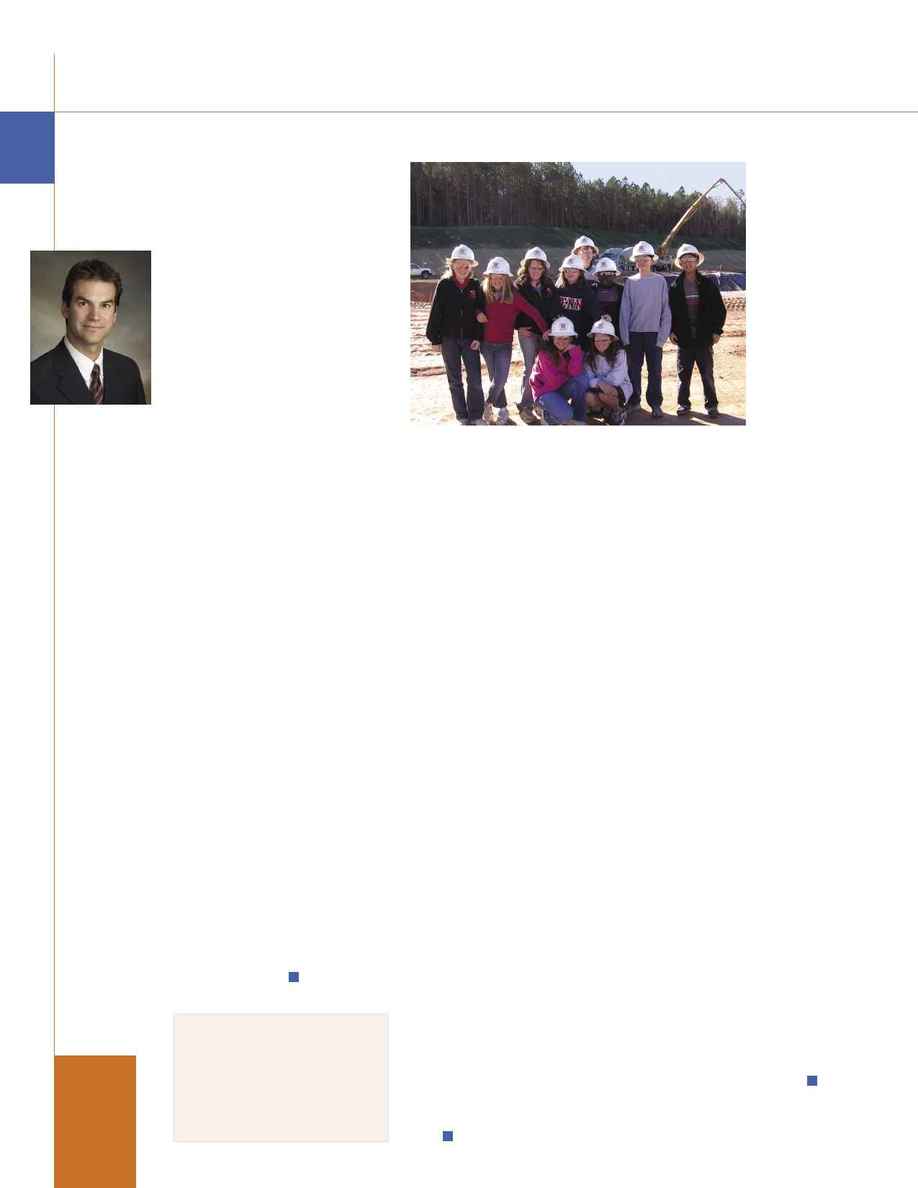 Blueprint reading and estimating
classes offered for subcontractors
Subcontractors and suppliers in the
Wilmington, North Carolina area
were recently offered a series of
classes through the HUB Academy
(Historically Underutilized
Businesses), a collaborative effort
of the Carolinas AGC and the
University of North Carolina
Vernetta Mitchell, Rodgers
program manager, Bill Lorenzo,
preconstruction project manager,
and James Clayton, assistant project
manager, were involved in the
program in a volunteer capacity.
Vernetta serves on the HUB
Academy steering committee, Bill
taught a 4-session class on blueprint
reading, and James taught a class
series on estimating. The classes
were held at UNC Wilmington.
The goal of the program is to assist
subcontractors and suppliers in
working with the State of North
Carolina on construction projects
in the University system. Rodgers
Builders also benefits by developing
relationships with the local trades
through community outreach.
The Wilmington area class
graduated on February 28, 2006.
Subcontractors and suppliers who
have taken these HUB Academy
classes will potentially have the
opportunity to work together with
Rodgers Builders on projects in the
Education moves from classroom
to construction site for young
On November 18, 2005, a group
of 5th grade students toured the
U. S. National Whitewater Center
project, located near the Catawba
River. The nine children are
members of the Junior Honors
Program at Northside Christian
Academy in Charlotte, NC, and are
currently learning about blueprints
and building construction.
In addition to touring the facility,
the children participated in a
geography contest hosted by Scott
Carr and Will Myer, members of
the Whitewater project team. Safety
Director Paul Cooper explained the
importance of safety on the project
site and gave each child a pair of
safety glasses and a hard hat.
Among the group of students was
10-year-old Ashley Zimmerman,
daughter of Marc and Susan
Zimmerman. Marc has worked as
a preconstruction project manager
at Rodgers Builders since 2002, and
Susan is the elementary computer
instructor at their daughter's school.
The construction tour provided an
opportunity for the students to get
first-hand experience on a project
Learning at all levels builds
Clemson University team creates
a winning proposal for design-
build student competition
On October 21, 2005, Clemson
University's team of engineering
and architecture students earned
First Place in the 2005 ASC-AGC
Region II Design-Build Student
competition was based on an actual
design-build project constructed by
Each student team prepared a
design for the project and a written
proposal, and then gave an oral
presentation to the panel of judges.
Rodgers' employees Stacy Jarrett,
quality program manager, and Eric
Reichard, senior vice president,
coordinated the competition and
Rodgers Builders sponsored
the event to support the AGC
(Associated General Contractors),
the ASC (Associated Schools of
Construction) and to help students
to learn about our industry.
Additionally, for Rodgers, the event
was a first-rate look at upcoming
talent at the college level.
Fifth grade
students studying
construction
get a site tour of
the U. S. National
Whitewater
Center.
"Giving pays the highest interest
rate, and has the longest term
of any investment available."