Rodgers Builders Rodgers Report Spring 06 Page 6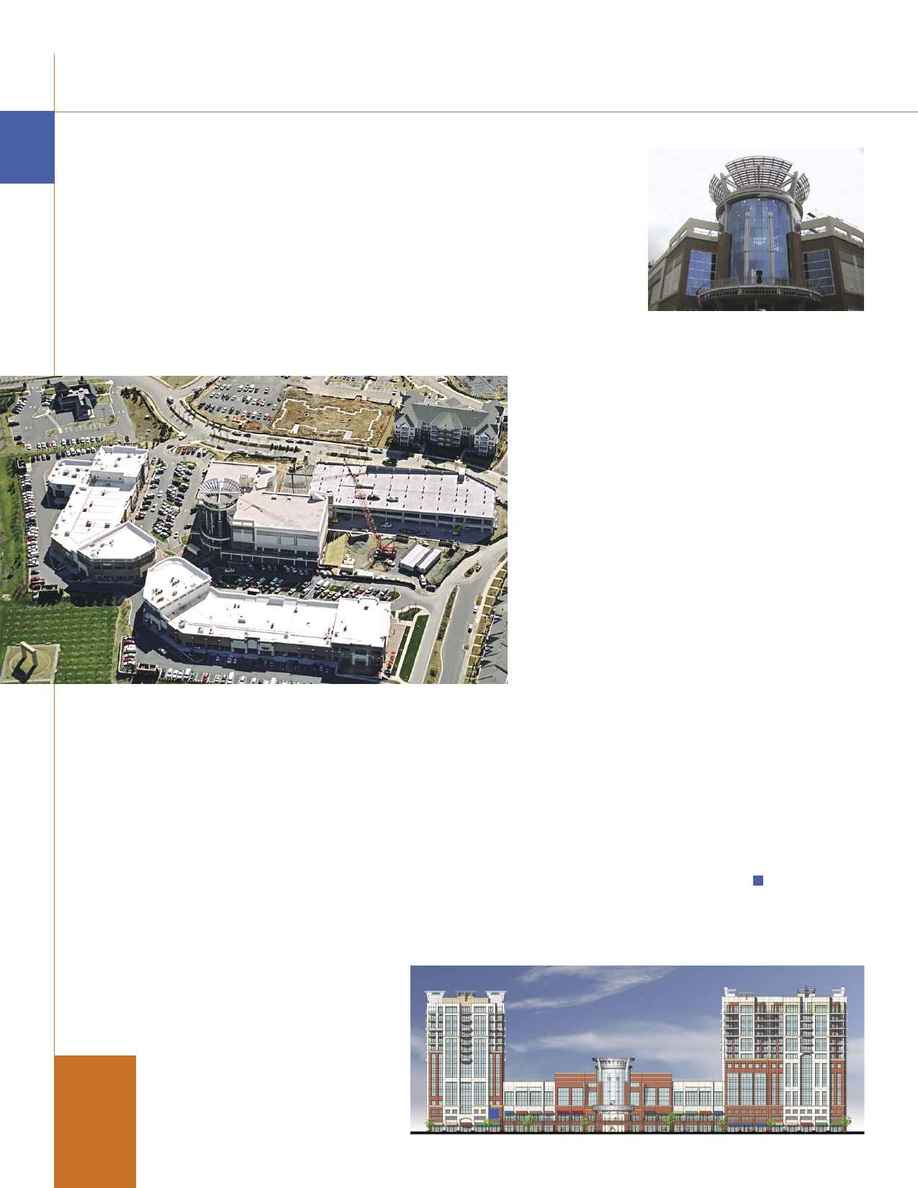 The four-level, 200,000-square-foot
parking deck will be complete in
Spring 2006, in conjunction with
Mid-Atlantic performed the
concrete package for the cast-in-
place structure, which connects to
the movie theater building with a
Constructed on a fast-track
schedule, the parking deck is
designed to accommodate the
future expansion of three additional
levels of parking and six levels of
residential above the deck.
Innovative, upscale, and pedestrian
friendly, Ballantyne Village offers
the benefits of technology and
here is something special
about Ballantyne Village.
The mixed-used development
RodgersDooley is situated on
the corner of Ballantyne Square
in South Charlotte. It includes
upscale retail, restaurants and office
space--with future plans for more
offices and residential units.
This spring, Ballantyne Village will
introduce an innovative concept
that is unique to the surrounding
area. A signature glass tower marks
the centerpiece of Ballantyne
Village--an art and independent
The upscale movie house will offer
its patrons a variety of alternative
films in a comfortably elegant
setting, along with a select menu
of food--such as sushi--beer, and
wine to enhance the experience.
The theater occupies the third and
fourth floors of the 118,000-square-
foot central building, while the first
and second floors house retail space
including apparel shops, a coffee
single, high-speed, secure network.
Flat screens throughout the
connectivity by announcing
information about upcoming
movies, restaurant and retail
Building A, a two story, 55,000-
square-foot facility, is already
90% occupied including a YMCA
branch, restaurants, and retailers.
Ballantyne Village offers unique concepts
Ballantyne's glass tower marks an
independent film theatre where
moviegoers will be able to watch
a thought-provoking movie in a
comfortable leather seat, perhaps
with a glass of red wine in hand.
An architects' rendering shows the
front view of Ballantyne Village,
with the central tower, theater and
retail flanked by two buildings
showing planned residential and
office phases.
p
h
o
t
o b
a
n
i
e
l W
r
i
g
h
t