Rodgers Builders Rodgers Report Spring 06 Page 5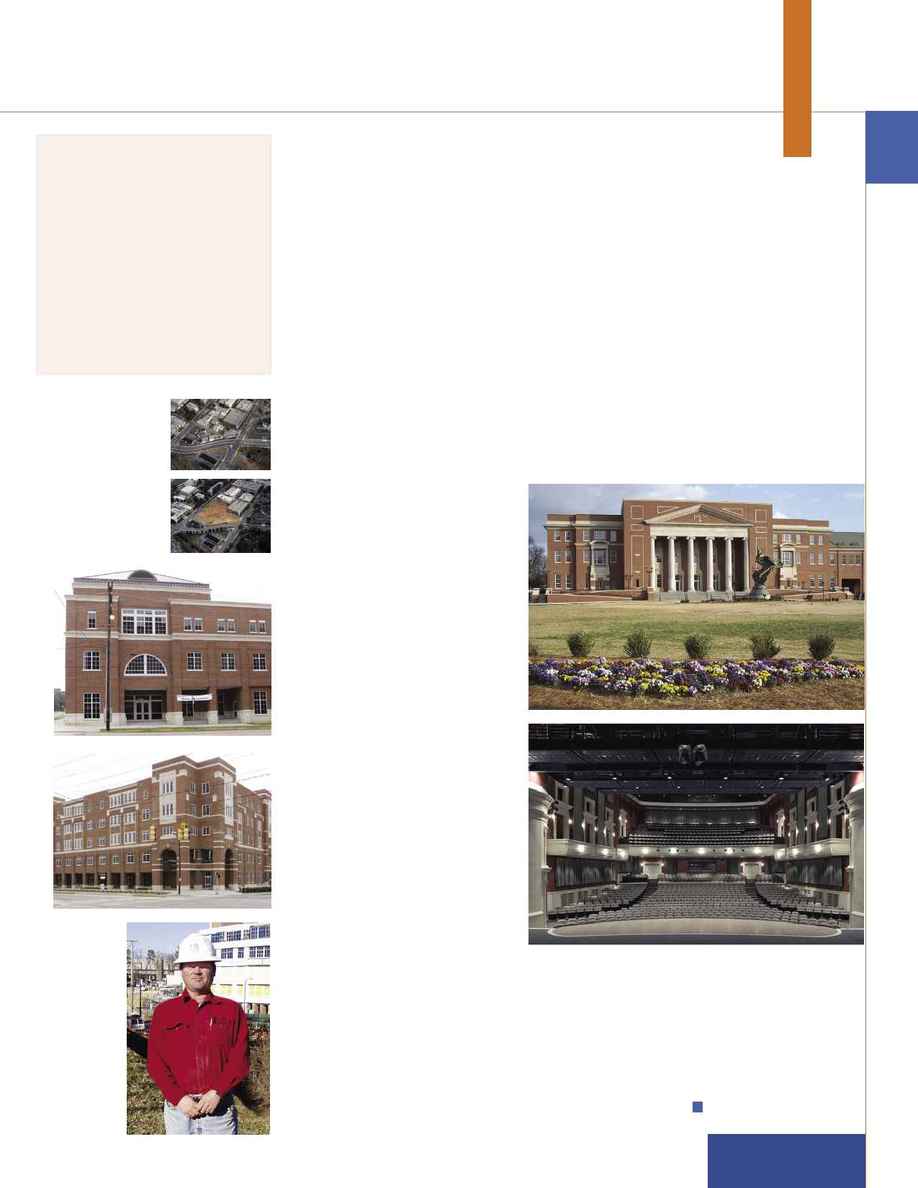 Integrity.
Quality.
Satisfaction.
Concern.
New buildings give campus classic style
within 18 feet of high voltage lines
running along Independence
Boulevard, which could not be
relocated. The hot and chilled water
lines for the Central Energy Facility
crossed over the same street and
ran under the student parking deck,
which had to remain functional
Due to a high water table on the
Academic Building site, the building
had to be supported by 600 steel
piles driven 50 feet into the ground.
The foundation, especially around
the orchestra pit, was protected with
RodgersHardin completed Phase I
of CPCC's Central Campus Master
Plan on-time and within budget. In
Fall 2005, taxpayers approved a $47
million bond referendum allocating
funding for additional construction
within the Central Campus and the
Piedmont Community College's
Academic & Performing Arts
Center in July 2005, marked the
sixth interrelated project within
the Central Campus Master Plan,
which RodgersHardin began in
2002 as Construction Manager. The
new buildings give the community
college a traditional look.
The visually impressive Academic
& Performing Arts Center has
been hailed the campus' "grandest
building" with its Neo-Georgian
classical style of architecture and
striking Ionic limestone columns
that rise 37 feet and weigh
approximately 25 tons each.
"Viewed from center city Charlotte,
the building has really created a
brand new face to the College, in
addition to framing the streetscape
along Elizabeth Avenue," said
Senior Vice President Bob
Project Superintendent Mike
Crook has been involved with the
projects since construction began,
and knows the obstacles the team
had to overcome. "One of the
most important challenges was
constructing the buildings within
an operating campus where each
project was on an individual site,"
noted Mike. The logistics were
coordinated with precision since
construction could not obstruct the
flow of city traffic or interfere with
student and pedestrian access.
Parts of the telecom system had to
be left on-line and protected during
demolition and construction since
they controlled the majority of the
campus. These conditions existed
for both the Academic Center and
The site designated for the Majors
Bookstore building was tightly
confined and had to be constructed
Central Piedmont Community College (CPCC)
Central Campus Master Plan Phase I
· Demolition of 13 Buildings
· Central Energy Plant Expansion
· Campus Bookstore Building
· Academic & Performing Arts
From right:
· Before demolition
· After demolition
· Central Campus