Rodgers Builders Rodgers Report Spring 06 Page 3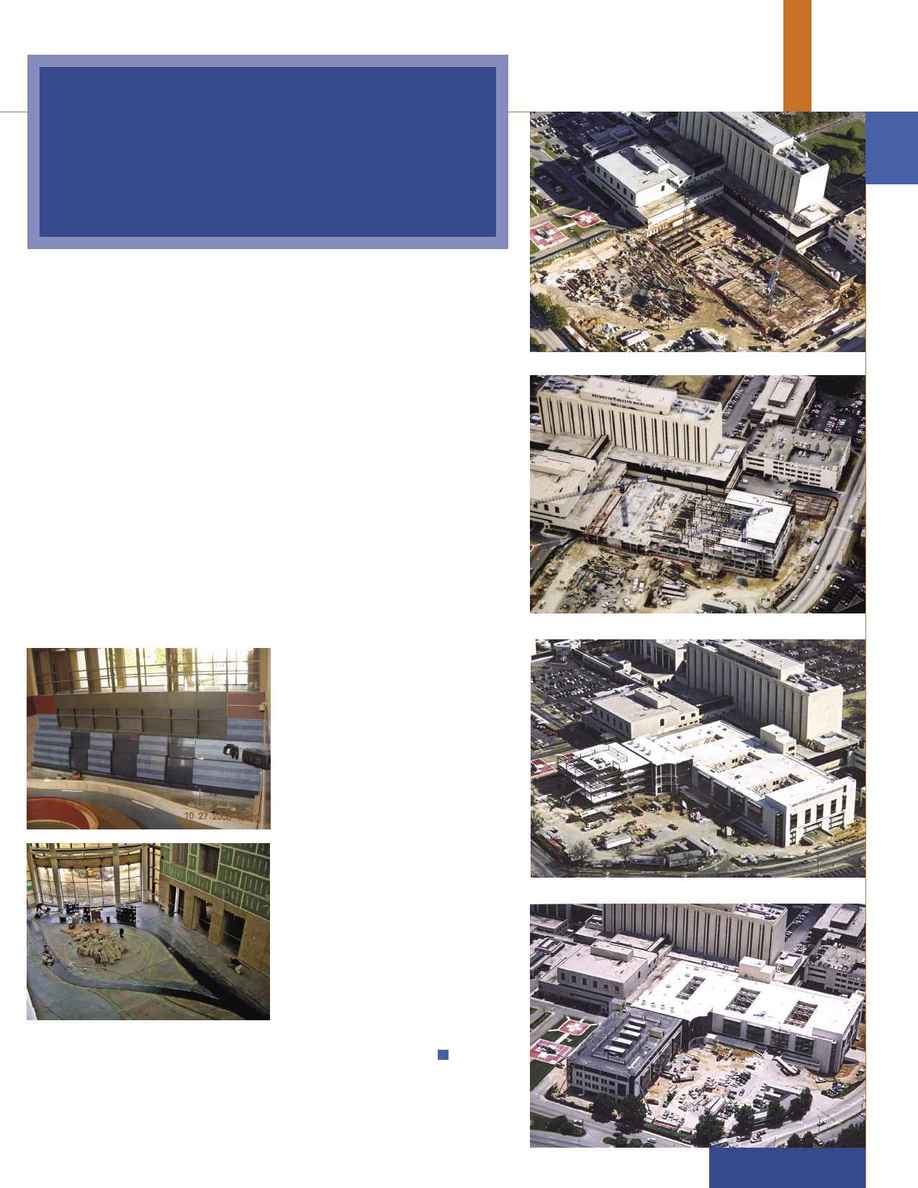 Integrity.
Quality.
Satisfaction.
Concern.
The project included a central
energy plant to house the chillers,
cooling towers, and generators
needed for the new Heart Hospital,
with a 220-foot long underground
utility tunnel connecting it to the
For fire protection, each floor
of the hospital is divided into
multiple smoke compartments.
The building's automation system
controls the HVAC to these
compartments, with two air handler
units serving each floor. In case
of fire, the surrounding areas are
pressurized to contain smoke
within the affected compartment.
The atrium also has its own smoke
evacuation system, which controls
several automatic doors, six fire
smoke shutters, and a bank of fresh
air louvers. The complexity of the
smoke control system required
extensive testing to ensure proper
operation before the building was
turned over to the owner.
Inside the atrium, which connects
the Heart Hospital and the medical
office building, three cascading
fountains symbolize the Saluda,
Broad, and Congaree Rivers of
Midland South Carolina, while
intricate patterns in the terrazzo
tile create the illusion of flowing
water. Overhead, a mobile of flying
Purple Martins uses special lighting
to create a dramatic effect. Graceful
palmetto trees line the drive up
to the main entrance, welcoming
patients and visitors into a peaceful
place for hearts to heal.
For more information, visit:
With the building footprint
measuring 300 feet in length, two
tower cranes were needed in order
to access all areas of the building
site. The cranes were placed within
the footprint of the building during
construction, and the steel and
concrete portions of the structure
were filled in after the cranes were
Palmetto Health Richland's heliport,
adjacent to the Heart Hospital site,
was relocated during construction.
Throughout the duration of the
project, crane operators maintained
radio contact with the helicopter
pilots to ensure crane operations
didn't interfere with critical flight
· 124 private inpatient rooms
· One nurse's station for every two
· Critical care units
· Telemetry and progressive care units
· Labs and diagnostic test areas
· Cardiac rehabilitation program
· Pulmonary rehabilitation program
· Gift shop, coffee bar and restaurant
· Atrium connects to medical office
building and Palmetto Health
Facts About Palmetto Health Heart Hospital
Above: Quarzite tile in shades of blue
accents the three fountains symbolizing
Below: Intricate terrazzo tile patterns
on the floor carry the water theme
p
h
o
t
o
s b
B
a
r
t B
o
d
k
i
n