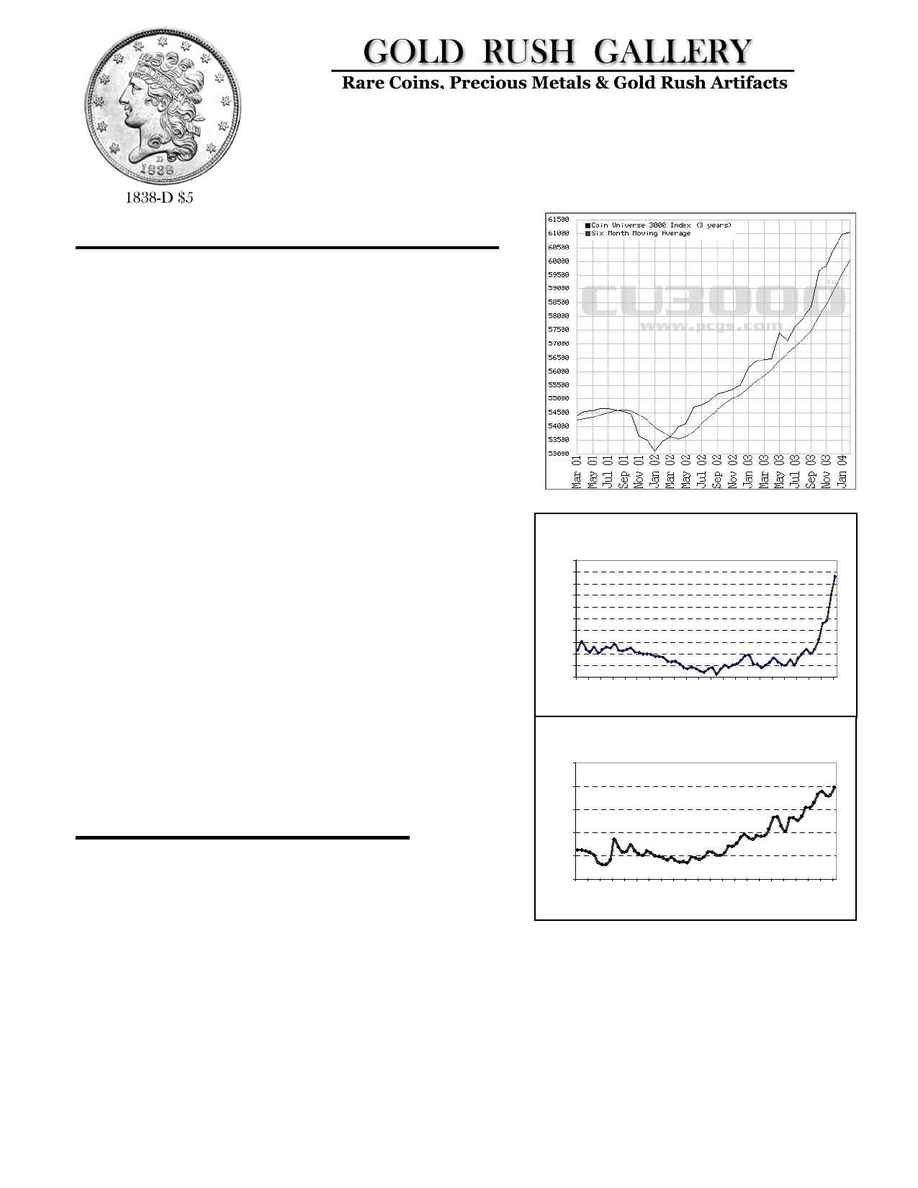 June 2004 Newsletter ­ Memphis International Paper Money Show
www. GoldRushGallery.com * (404) 630-1861
Rare-Coin Bull Market by Al Adams
Recent months have seen dramatic increases in precious
metal prices. These changes, in addition to other economic
factors such as strong internet, eBay®, Home Shopping
Channel® and other mail order retail, have created an
incredible market for rare coins.

Since their 2001 lows, gold and silver have both nearly
doubled. Silver went from just over $4.00 in November 2001
to over $8.60 in early April and has since stabilized in the
$6.00 range. Gold rose from the $260s in February 2001 to
$427 an ounce in early April and has stabilized in the $390-
400 range. Rare coin activity at Gold Rush Gallery has been
particularly memorable over the past few weeks, as we've
had the pleasure of handling complete sets of Dahlonega and
Charlotte Gold Coins, six $4.00 Gold Stellas (including a 4-
piece set), a major collection of gold nuggets, and numerous
other coins. These coins, exceeding $5,000,000 were bought
and sold privately, in-house, to our clients.

National-level rare coin conventions are exciting places this
year as collectors continue to buy while prices are climbing.
Auction prices are consistently strong and the buzz at coin
conventions and auctions is exciting! While this increased
demand means that virtually all areas of the market are
experiencing price acceleration, there are still many areas that
remain undervalued!

We Have Moved ­ May 31st!
The rapid changes in the coin economy has kept us on the
road extensively this year both attending major coins
conventions around the nation and servicing our southeast-
region clients. Our travel schedule is so extensive that we are
no longer able to maintain daily store hours at our retail location on Dahlonega's Historic Square.

Effective May 31
, 2004, we have closed our retail gallery on Dahlonega's Historic Square and relocated
to an appointment-only office in Dahlonega at 81 Crown Mountain Place #A-200. All coins are stored in
a bank vault, so they can only be shown with an advance appointment. Our mailing address and phone
number have not changed.

Take advantage of special close-out prices on select antiques, collectibles, framed art, and select
coins as we close our retail gallery.
CU3000 Rare Coin Market Index
Courtesy Collectors Universe. The CU3000 Index is a conglomerate indicator of
the overall rare coin market.
J
an-99
p
r-99
l
-
9
9
t
-
99
J
an-00
p
r-00
l
-
0
0
t
-
00
J
an-01
p
r-01
l
-
0
1
t
-
01
J
an-02
p
r-02
l
-
0
2
t
-
02
J
an-03
p
r-03
l
-
0
3
t
-
03
J
an-04
p
r-04
J
an-99
r
-
9
9
l
-
9
9
t
-
9
9
J
an-00
r
-
0
0
l
-
0
0
t
-
0
0
J
an-01
r
-
0
1
l
-
0
1
t
-
0
1
J
an-02
r
-
0
2
l
-
0
2
t
-
0
2
J
an-03
r
-
0
3
l
-
0
3
t
-
0
3
J
an-04
r
-
0
4