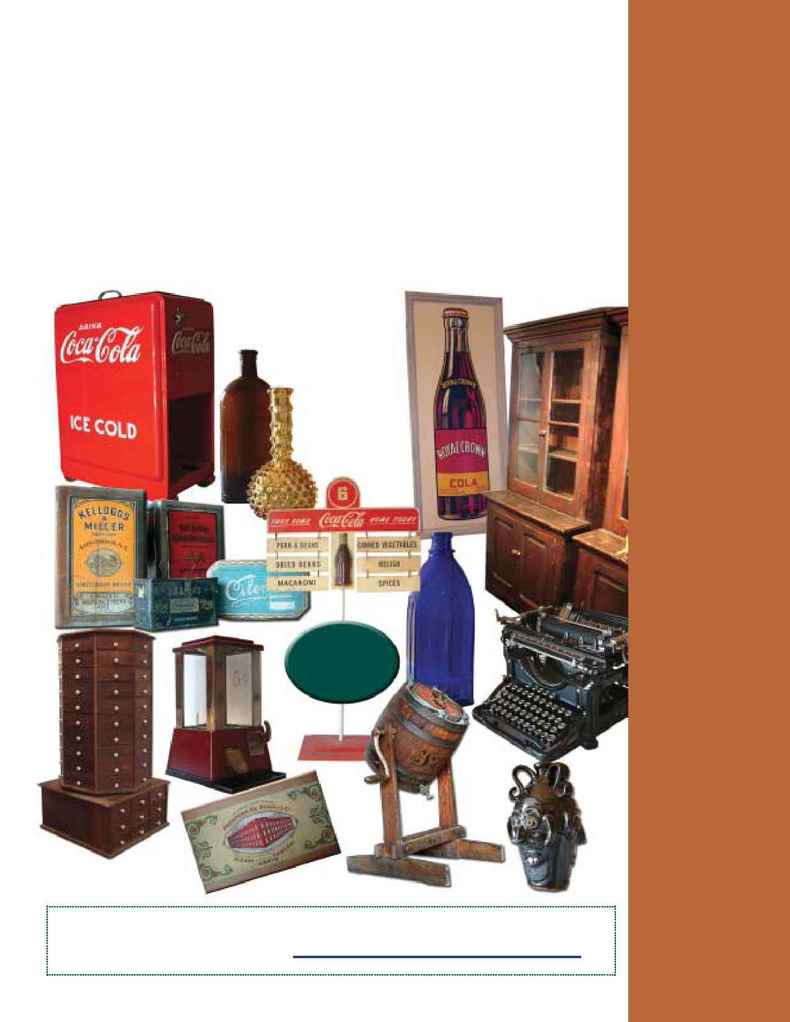 A N T I Q U E T R E A S U R E L I Q U I D A T I O N
COCA-COLA
MEMORABILIA
COUNTRY
STORE
ITEMS
SHOWCASES
& DISPLAYS
ADVERTISING
SIGNS
POTTERY
3
REVOLVING
BOLT CABINETS
MATCHED PAIR
STEP BACK
CUPBOARDS
Advertising
Signs and Tins
Early Step-Back
Cupboards
Barber Cabinet
with Supplies
Postal
Sorting Desk
Revolving
Bolt Cabinets
Double-sided
Railroad Bench
Carpenter's Tool
Chest & Tools
Coca-Cola Signs,
Drink Boxes,
& Memorabilia
Giant Wooden
Pulleys
PLUS TOO
MANY SMALL
COLLECTABLES
TO MENTION!
Collecting and decorating with ANTIQUES offers a connection to the past and a bridge
to the future. It enables us to interact with the aesthetic ideal, to learn, to appreciate, to
belong and to some how take our place on the Great Golden Chain. It seems to be a
basic human need to gather, preserve, study, enjoy, record and display that which was
created earlier.
Our store and warehouse are loaded with hundreds of antiques that will be sold, at
some price, by year's end. Over the past three years, we have carefully assembled a neat
variety of rare and precious goods----No yard sale junk here!
NOW, just prior to the Holidays, while our selection is large, is truly your opportunity
to buy that special antique at close-out prices. No reasonable offer refused. All credit
cards accepted. Delivery available.
OTHER VINTAGE COLLECTIONS FROM OUR 35 YEAR ARCHIVES
VIEWABLE ON-LINE AT
WWW.GOLDRUSHGALLERY.COM
JUST A
SAMPLING
OF THE
ANTIQUES
ON SALE!