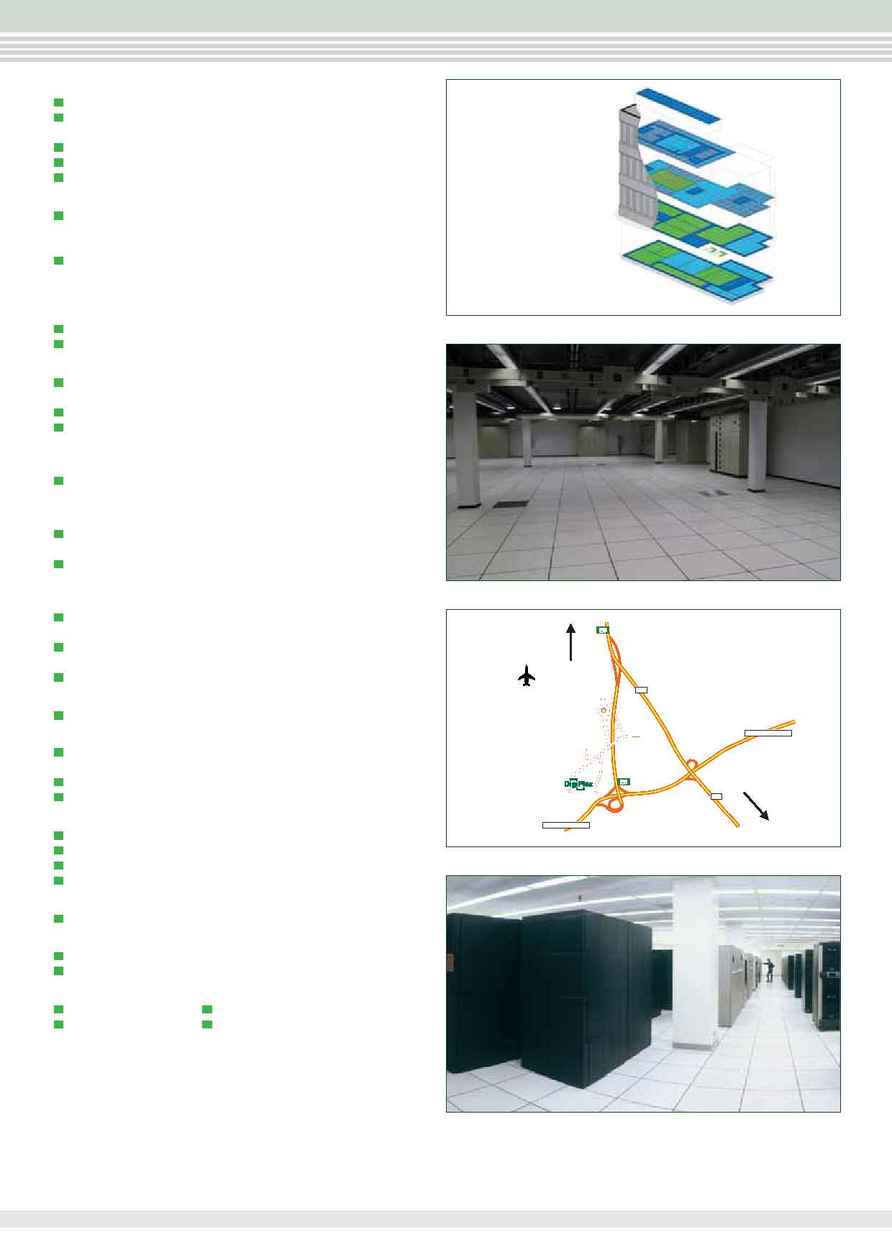 Disclaimer: None of the information contained herein constitutes an offer to purchase or sell a service by
DigiPlex. DigiPlex assumes no liability for the accuracy or completeness of the said information nor for
any damage arising from actions taken on the basis of the information contained in this or other of its
publications subject to mandatory provisions of any applicable laws. DigiPlex expressly reserves the right
at all times to alter the prices or product composition it displays.
www.digiplex.no
DigiPlex Norway AS
Oslo City Centre
10 min
Gardermoen
Oslo Airport
E6 highway or train
20 min
Contact details
The Digiplex Centre
DigiPlex Norway AS, Ulvenveien 89b, Oslo 0152, Norway
Tel: +47 (23)20 78 60
Construction
The centre provides 9,000m
of various grades of space
The base construction is from 1981, and has since benefitted
from substantial refurbishment and upgrades
Good space utilisation with generous internal column spacing
Heavy duty floor loading capacity, very high capacity in key areas
Range of floor to ceiling heights up to 4.0 m available
Building Design
Master plan caters for substantial conditioned module, office
and associated spaces together with other space available for
fit out to customer specification
Particular customer specifications can be incorporated
including Electromagnetic Protection, fire suppression and
special power supply arrangements
Power
3.2 MVA 3-phase 400V available immediately.
4.8 MVA provision potential, subject to customer demand
Conditioned Power
Diverse static & rotary UPS systems provide A&B parallel
redundant clean power
-48 VDC redundant power
Master plan provides for 1.6 MVA of A&B parallel redundant
UPS in support of customer growth
Emergency Power
1.5 MVA of 3-phase 400V diesel standby power generation
with a 12,000 litre fuel storage capability
HVAC
Conditioned modules are supported by 1,000 kW duty &
standby chillers feeding in-module redundant close control units
Master plan provides for installation of 3 air-cooled chillers
with free cooling in support of customer growth
Fibre Infrastructure
DigiPlex are carrier neutral but host multiple independent
fibre carriers
Provision of underground fibre ring around building. Diverse
points of entry
12 100 mm fibre ducts for access to two secure Meet Me Rooms
Elevators
Two passenger and goods service lifts
Fire protection
High grade very early smoke detection apparatus in
conditioned modules
Argonite fire suppression system in selected areas
Monitored automatic smoke detection throughout
Security
On site 24 hour 365 day manned security presence.
Internal and external advanced security surveillance camera systems
Intruder detection and card access systems throughout
High grade boundary fencing with secure access control
Roof space
Substantial satellite / antennae space with good line of sight vantage
Parking
Secure surface parking for 60 cars
3,000Kg freight elevator planned (subject to customer demand)
Accessibility
More detail will be provided upon request.
Roof
Third
Second
Ground
Basement