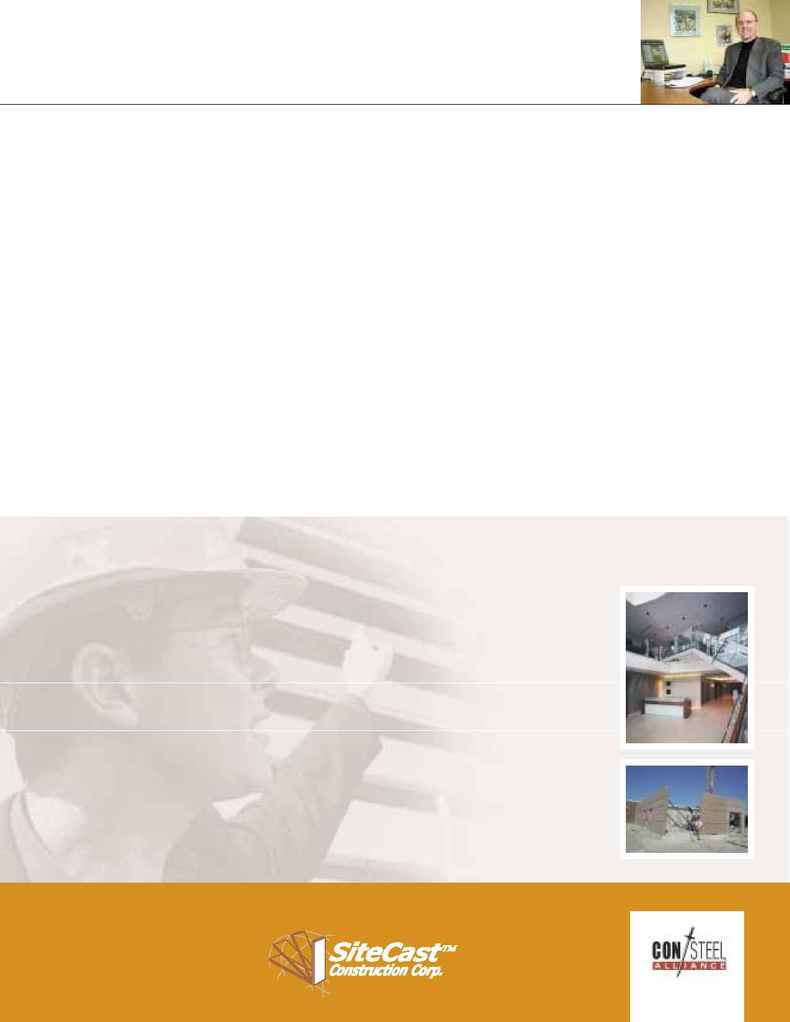 This spring we begin construction of a twelve classroom addition to the Beckwith School in Carleton Place.
These classrooms will be completed for the 2004-05 school year. The exterior and classroom walls are being
constructed utilizing our SiteCast concrete panels. The exterior insulated wall panels will have a brick and
exposed aggregate finish to compliment the existing school. Watch our website to monitor our progress,
including the installation this summer -- www.sitecast.ca.
Our Project Managers have been busy with a multitude of new projects and building improvements. As the
construction arm of Colonnade, SiteCast Construction provides the Leasing representatives and Property
Managers with detailed budgets for the many tenants and various properties. SiteCast Construction manages
and coordinates the design and construction of Tenant improvements projects, from the preliminary budget to
the final occupancy permit.
We appreciate all feedback! Kindly e-mail, call, or stop by our office, our door is always open!
WE WOULD LIKE TO
HEAR FROM YOU
Is your office too hot, too
cold? Is the housekeeping
satisfactory? Are the restrooms
clean? Are you satisfied with
the quality of the hand towels
and soap products provided in
the restrooms? Do you require
lights replaced in your office?
Is there a condition that you
feel is a safety hazard at your
property? Are you thinking of
reconfiguring your offices? Do
you require more space?
If you have any concerns or
issues related to your tenancy,
we honestly would like to hear
from you. If you're unsure
who to contact, simply contact
our office at 225-8118 and our
outstanding receptionist, Pat
Townshend will direct your
request to the appropriate
individual.
Although our staff makes every
effort to manage and maintain
the properties effectively and
efficiently, it is often difficult to
ensure that we are addressing
everyone's concerns. It is
possible that we may be
overlooking an aspect of the
property that affects your
occupancy and comfort. Your
co-operation and partnership
in advising our office of any
concerns or issues will ensure
that we are able to satisfy your
expectations.
The staff at Colonnade
Development will work
diligently to satisfy your issues
and concerns. There may be
situations when we are unable
to resolve your concerns to
your complete satisfaction due
to the potential impact on
other tenants, or other related
circumstances; however, we are
very reasonable and will work
with you to assess and
implement mutually acceptable
alternatives.
There are a number of staff
involved in the management
and operations of the
properties within the
Colonnade Development
portfolio. Although we visit
the properties on a regular
basis, the partnership and co-
operation of our tenants
provides an additional
perspective of issues and
concerns that can be
overlooked during the regular
day-to-day operations of a
property. It is an added
perspective that makes our
properties and service level
stand apart from the
competition.
All issues and concerns are
recorded and monitored to
ensure that re-occurring
problems are identified before
they become more costly
repairs. We therefore
encourage you to direct all
issues and concerns to our
office at 225-8118.
For further information on our
Property Management services, contact
Greg Johnston
613.225.8118
gjohnston@colonnade-dev.com
PROPERTY MANAGEMENT UPDATE
For further information contact:
Shawn Hickey, Vice President
613.225.6646 shickey@sitecast.ca
www.sitecast.ca
PUSHING THE
ENVELOPE