eMembrane IC Report Red Herring Newsletters April May 2004 Page 1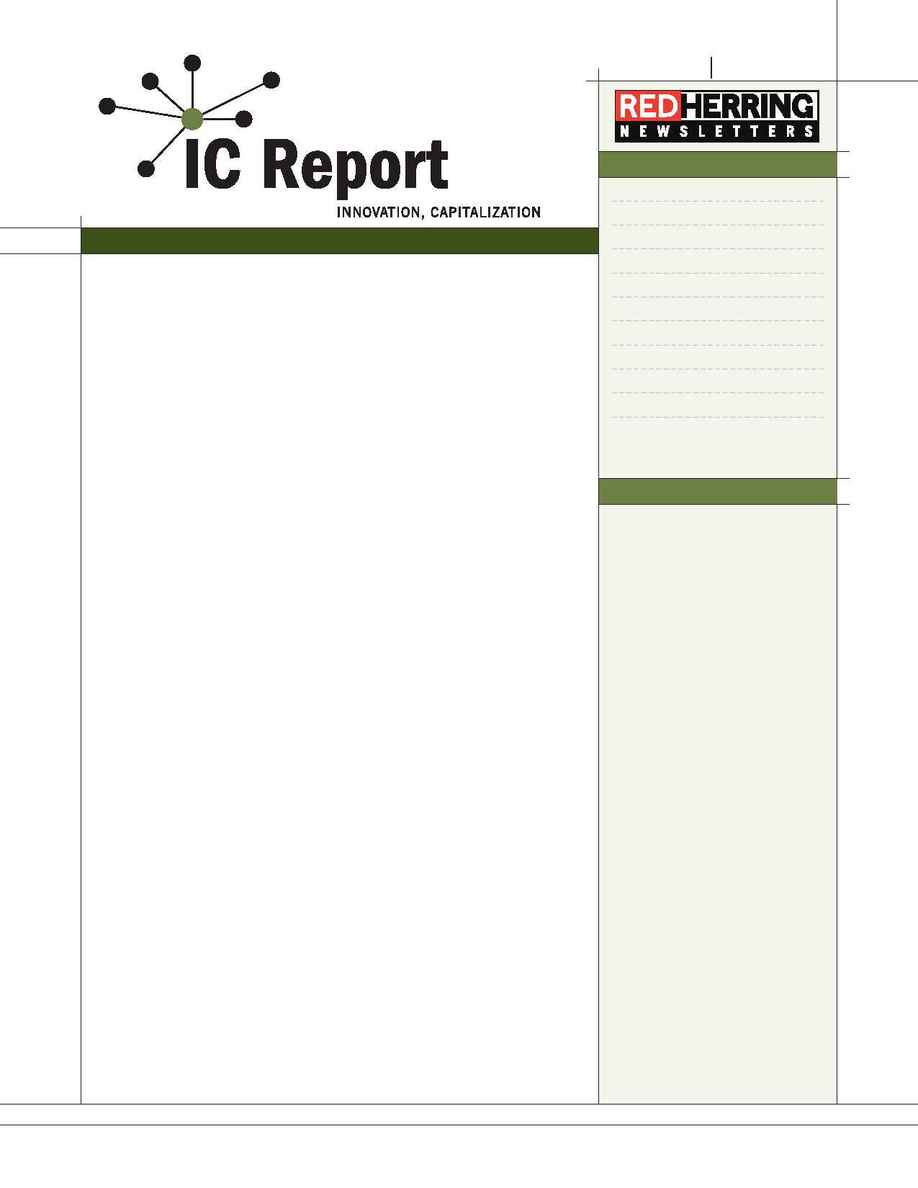 CONTENTS
Biomedicine Focus
1
Metrics
3
Biomedicine
5
Electronics
6
Communications
8
Q&A
9
Energy
10
Nanotech
10
Software
11
Defense & Security
12
Q&A
14
WELCOME TO IC REPORT
Two forces drive the world economy:
innovation and capital. IC Repor t
brings them together in a newsletter
that is current, candid and indepen-
dent. IC Repor t goes inside univer-
sity labs, corporate research centers
and early-stage star tups around the
world to tell readers what's new, why
it matters and what it's wor th. Each
month, IC Repor t of fers business
analysis of developments in seven key
sectors: biomedicine, communica-
tions, defense and security, elec-
tronics, energy, nanotechnology and
software. IC Report explores promi-
sing technologies in each sector and
gives a clear picture of each tech-
nology's market, financing and com-
In each of these sectors we have
selected several intriguing young tech-
nologies that show market promise.
These technologies are in various
stages of development: some are
already funded and in product stage;
some are looking for capital; some are
still in the lab; none of them is a "sci-
ence project." All have the potential
to significantly alter the dynamics of
their respective markets.
BIOMEDICINE FOCUS
VOL. 2, NO. 4, 5
APRIL, MAY 2004
Copyright © 2004 Red Herring, Inc. / IC Report. All rights reserved.
Vital Signs
BIOTECH HAS SPENT THE LAST SEVERAL YEARS ON
LIFE SUPPORT. BUT AN INFUSION OF TECHNOLOGIES
FROM OTHER FIELDS IS RETURNING THE SECTOR TO
GOOD HEALTH.
Having followed dotcoms into the thin air of overinflated expectations, life sci-
ences companies came back to ear th with a thud and have spent the past few
years struggling to find their feet.
Recently, though, the sector has taken giant steps. Of the top 10 venture-
backed IPOs in the first quar ter of 2004, biopharmaceutical companies
accounted for eight, raising $550 million (see Metrics, page 3). That's more
IPO activity than during the entire year of 2003.
But as investors return to the life sciences sector, they are approaching with
a measure of caution. Rare today are the bets on longshot star tups. Instead,
much of the venture capital attention is focused on medical device companies,
which produce enabling technologies and have a safer market prognosis than
more speculative biotech outfits.
The U.S. market for medical devices was $68 billion in 2003 and will grow
to $76 billion this year, according to research firm Economy.com. And the rise
will continue ­ to $85 billion in 2005.
The medical device market is also increasingly global. Between 1989 and
2000, imports rose from $3 billion to $10.8 billion, while expor ts went from
$5.1 to $15 billion. Among the top U.S. trading partners are Japan, Germany,
Mexico and Canada. "During the 1990s the domestic market saw competition
increase dramatically as the value of medical devices imported more than tripled,"
says Amit Bohora, industry manager at Frost & Sullivan.
The strength of the medical device sector is due in large part to an influx of sil-
icon technologies. For instance, the not-far-off union of advanced electronics and
mechanics will pave for the way for devices known as biosensors to treat patients by
adjusting dosage levels with little intervention from a medical practioner. Already
on the market is a new generation of high-tech medical devices for diagnosis and
treatment that includes implantable and external defibrillators, drug-eluting stents,
space-age orthopedic devices and highly accurate diagnostic-imaging systems.
The new devices born of the marriage between biotech and silicon circuitr y
are generating optimism among venture capitalists and entrepreneurs, although
not necessarily surprise. "Advances in medical devices have been there," says
Bob Langer, the Germeshausen Professor of Chemical and Biomedical
Engineering at Massachusetts Institute of Technology. "It just takes a long time to
CONTINUED ON PAGE 2
1